When Is 'The Big Bang Theory' Series Finale? Kaley Cuoco Cries Over Final Episode Date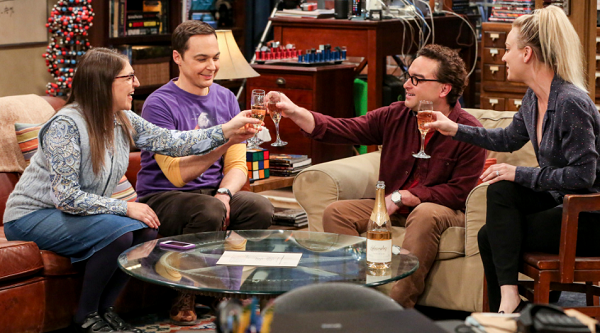 The end of The Big Bang Theory is near. CBS announced the air date for the final episode of the series on Monday, instantly sparking an emotional response from cast members and fans of the show.
Kaley Cuoco, who stars on the show as Penny, was one of the first cast members to share her reaction to the final air date, which is set for May 16. "I'm not crying you're crying!" Cuoco wrote alongside a photo of her character on Instagram Stories on Monday.
Castmates Kunal Nayyar, who plays Raj Koothrappali, and Mayim Bialik, who stars as Amy Farrah Fowler, also shared the CBS announcement on their Instagram Stories.
Johnny Galecki, who's played lead character Leonard Hofstadter since the show's 2007 beginning, shared a cast photo on his social media in honor of the series upcoming finale. "273 episodes filmed. 26 days left on the Big Bang stage. 6 episodes to be filmed. 66 days until the 1-hour finale airs," Galecki wrote. "All VERY surreal. Much [heart emoji] to all the fans."
While details on the final events of Season 12 have yet to be released, Cuoco recently revealed one aspect she hoped the series finale would include. "I would like the elevator to get fixed," Cuoco said during an appearance on The Late Late Show with James Corden ahead of the Season 12 premiere in September.
"Simple request, right?" she continued.
As fans may recall, the elevator between Penny and Leonard's apartments has been out of service since The Big Bang Theory's first episode. A Season 3 flashback revealed Leonard and Sheldon (Jim Parsons) were the culprits behind the broken elevator after Leonard created a formula for rocket fuel that wasn't properly used in a model container. Sheldon put the makeshift rocket in the elevator and closed the door right before it exploded, and maintenance never bothered to fix it.
"The stairs have gotten more and more exhausting as our seasons have gone on," Cuoco said. "Seasons 1 and 2, we're running up there. Now it's Season 12, we're all a little bit older, it's a little more difficult getting up those steps, so I'd like that elevator to work."
Cuoco also noted there "wasn't a dry eye in the room" when the cast learned the show would end after the Season 12 finale. "It wouldn't have mattered when it ended, we all would've been completely devastated. It's been a long run and we've been very grateful," she said.
Cuoco added: "It's time to move on to other things, which is so heartbreaking, but it would have been heartbreaking no matter when."