'Big Bang Theory' Star Kaley Cuoco Married Karl Cook in Barn Wedding
Big Bang Theory star Kaley Cuoco married professional equestrian Karl Cook on Saturday. The pair have been dating since 2016. Cuoco announced the news via her social media late Saturday night. The pair was married in a barn wedding surrounded by family and friends, People reports.
Cuoco fan accounts posted videos of the reception, showing the pair's intimate, self-written vows. Cook can be heard detailing his willingness to take care of any stray bugs in their home, and Cuoco speaks of the lack of words she has for how much she loves Cook.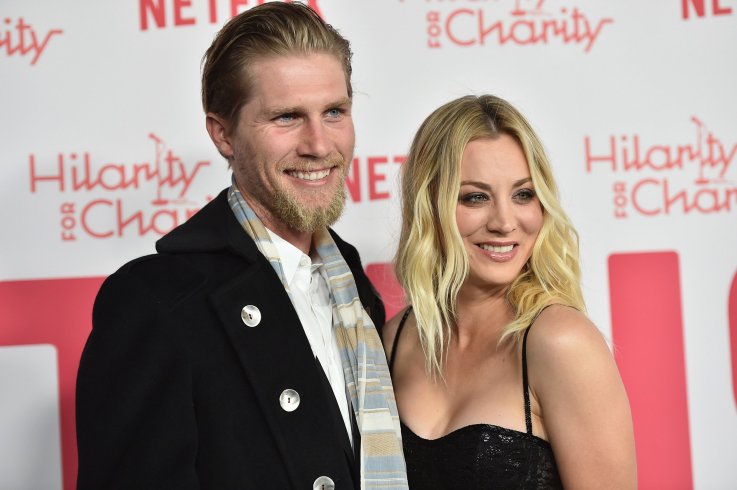 In an interview with People, Cuoco described the unique connection she and Cook have. "He lets me wake up in the morning and say, 'I want to go and rescue rabbits.' And he's like, 'All right, let's get a coffee and let's go.' And that is him," she said. "We are the same, our views are the same, our morals are the same, he is my perfect match."
Cuoco wore a lace wedding dress and cape for the ceremony and changed into a lace pantsuit for the reception.
The couple were engaged in November 2017, they shared with fans via Instagram. In a video, a tearful Cuoco shows off her ring before Cook explains she had yet to say "yes" to his proposal.
Cuoco is most known for her role as Penny Hofstadter on The Big Bang Theory, a girly-girl among a group of scientist friends. The show has been on for 11 seasons. She's the second highest paid actress, only behind Sofia Vergara, and has started her own production company, Yes, Norman Productions.
Cuoco was married to professional tennis player Ryan Sweeting from 2013 to 2016. She told Cosmopolitan she didn't expect another marriage after her disheartening divorce. "My ex ruined that word for me," she said. "I married someone the first time who completely changed. The person I ended up with was not the person I originally met. And that wasn't my fault—that was his."
When Cook met Cuoco, the pair immediately bonded over their mutual passion of horses, he told US Weekly. "We met at Thermal in 2016 and the day we met, I actually ended up asking her out to dinner," he said. "We met each other because of horses. Horses are a big part of our lives individually and together it's amplified because it's something we share and we can do it together."
'Big Bang Theory' Star Kaley Cuoco Married Karl Cook in Barn Wedding | Culture