A big bear with a chicken feeder stuck on its head has been saved by New Jersey biologists.
The bear in Sussex County had been trapped with its head inside the plastic cone for months. Biologists believe it became stuck not long after leaving its mother's side last year, the New Jersey Herald reported.
New Jersey Fish and Wildlife officials were finally able to trap the female black bear on May 9, a spokesperson told the New Jersey Herald. They tranquilized the bear, who weighed about 89 pounds. They were then able to remove the chicken feeder from its head, and check she was unharmed.
Some matted fur was removed from the bear, the New Jersey Herald reported, and tags were put in her ears for identification purposes.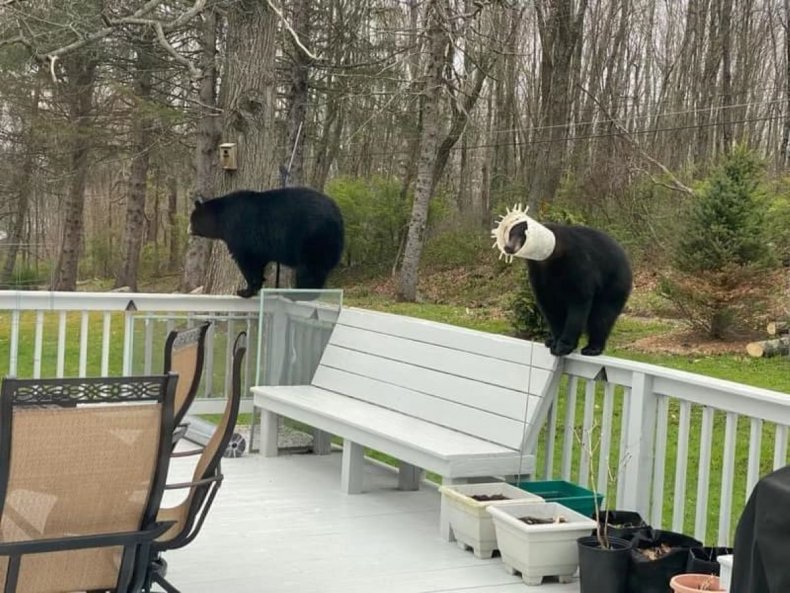 As she appeared "unharmed and healthy," the bear was allowed to wake up naturally before she wandered off into a wooded area.
The bear had been spotted by residents and campaign groups several times these past months.
Pictures of the bear before it was freed show her head completely enclosed inside the plastic feeder.
Jody Williams, founder of Help Asheville Bears—a Facebook group of bear watchers and campaigners—told Newsweek that since November 2021, there have been a total of three bears in the area with something stuck on their head.
"And there was another just before that in Florida and one more here in NC before that as well....so it does happen," she said.
Biologists from New Jersey Fish and Wildlife had made previous unsuccessful attempts to free the bear from its predicament, according to John McGinnis, a local resident.
He told the New Jersey Herald that one of the traps set to capture the bear, and remove the feeder, was set up near his property.
He told the news outlets that the biologists had been "very professional" while rescuing the bear.
Many social media users have been following the progress of the trapped bear online.
When news of the bear's freedom was posted to Help Asheville Bears, many Facebook users were delighted that the operation had been successful.
Biologists are not certain how the bear came to be trapped in the feeder in the first place, however it often happens to animals who are in search of food and water. Animals may put their head into something that smells of food and be unable to remove it again.
Black bears in particular are known for being attracted to pet food and grains, which may have been what attracted this bear to the chicken feeder.
In November, another bear in Florida with a plastic container stuck on its head was rescued by officials. The bear was trapped this way for about 28 days.