Big Blew: How Michigan Football Got So Bad, So Quickly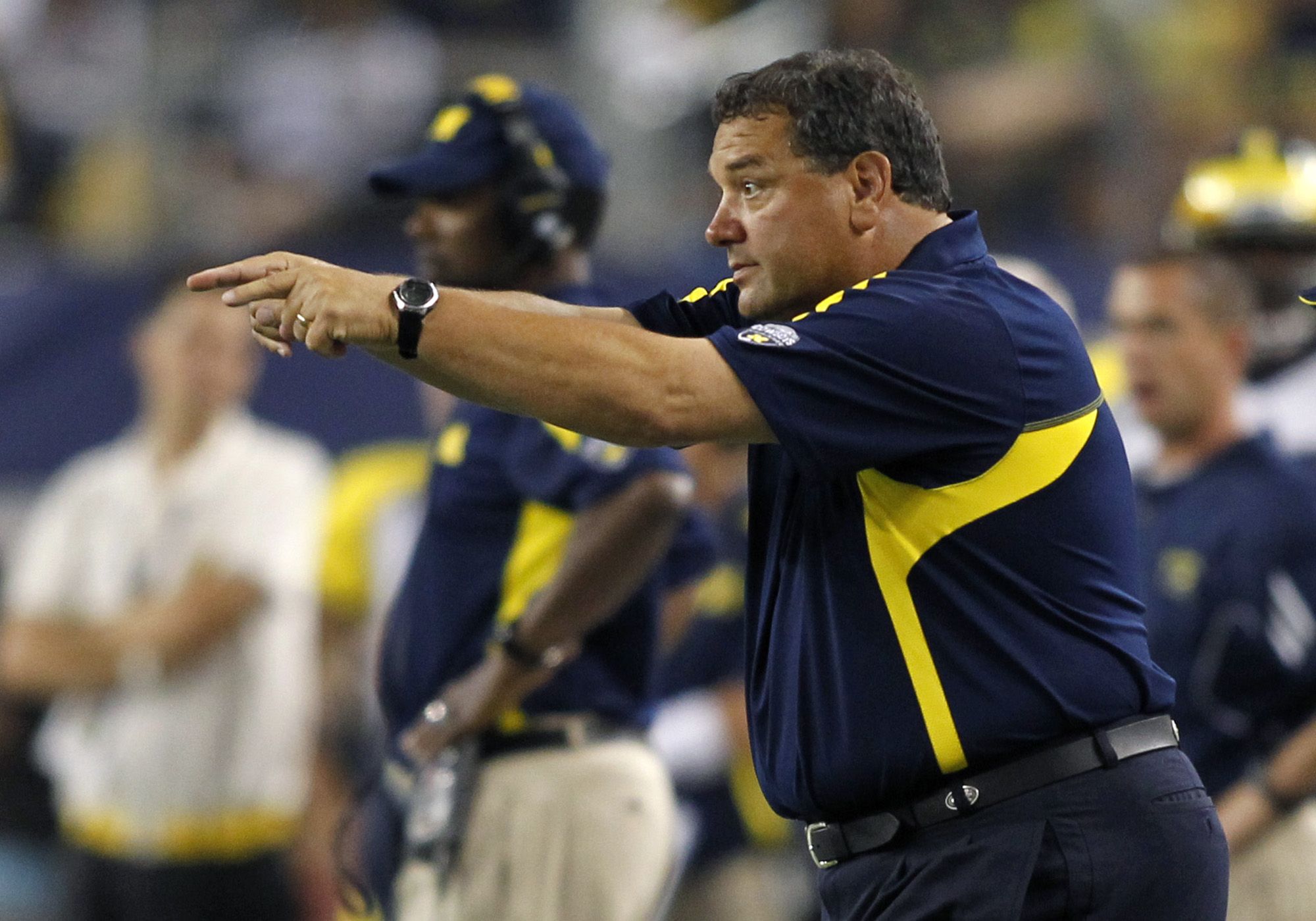 When the University of Kansas fired head football coach Charlie Weis last Sunday morning, the college football Twitterati reacted with mild surprise. Surely, if a portly gridiron CEO at a Midwest university was going to be canned midseason, the most likely candidate had to be Michigan's Brady Hoke.
Hoke, now in his fourth season, is finished in Ann Arbor. It is not a matter of if but when (and by the time you read this, it may already have happened). The death knell unofficially rang last Saturday morning, hours before the Wolverines suffered their third loss of the season to drop to 2-3. The man who pulled the rope was Michigan alumnus Desmond Howard ('92), a Heisman Trophy winner. During a segment about the Wolverines' woes on ESPN's popular College GameDay, Howard, an analyst on the program, noted that at a practice he recently attended, "I didn't see one guy on that field, based on his practice habits, who wanted to be great."
Accusations on national television don't come much more damning than that. And make no mistake, Howard's words were an indictment of the coaching staff, not the players.
September – and the employment of Hoke and perhaps also of athletic director Dave Brandon – cannot end soon enough for fans of, as some have put it, the "Malaise and Blue." The program's three losses in September are a first in its history, which dates back to 1879. Earlier this month the Wolverines lost 31-0 at rival Notre Dame, ending an NCAA-record streak of 365 games without being shut out.
After a 26-10 defeat at Michigan Stadium, a.k.a. The Big House, to unranked Utah, the athletic department announced a promotion offering two tickets to the following Saturday's home game against Minnesota with the purchase of two Coca Cola products. At a school that only a year ago set a new American football attendance record (115,109) for a game against Notre Dame, this represented a precipitous drop in interest. Once news of the stunt went viral, Michigan rescinded the offer, blamed it on Coke (which had purchased a block of tickets), and promptly went out and lost to the unranked Golden Gophers, 30-14.
Hoke. Coke. Joke.
It gets worse. New England Patriots quarterback Tom Brady, the only ex-Wolverine more renowned than Howard, was subbed out of an embarrassing 45-14 defeat on Monday Night Football last night. And swimming god Michael Phelps, also a Michigan alum, was arrested on Tuesday morning on a DUI charge.
When it "Hail! Hail!s" in Ann Arbor of late, it pours.
The trials of Brady and Phelps are incidental, of course, to the woes of the winged-helmet bunch. The latest misstep, and perhaps the final nail in Hoke's – and Brandon's – coffin occurred in last Saturday's loss to Minnesota. Quarterback Shane Morris suffered a concussion after taking a hit and remained in the game for one more play. Then, after his replacement, Devin Gardner, had to exit the contest for one play by NCAA rule because his helmet had come off, Morris was sent back into the game.
It is far-fetched to assume that Hoke, no matter how desperate for a victory, would knowingly reinsert a concussed quarterback into a game. However, the school's handling of the matter, be it due to miscommunication on the sidelines to a written apology from Brandon that was emailed to the media at 1:30 a.m. this morning, do not inspire confidence. In the automobile-manufacturing heart of America, Michigan's football program resembles anything but a well-oiled machine.
That will change. After all, this is Michigan, man, one of the four or five true aristocracies in college football, along with Notre Dame, Alabama and its neighbor to the south, Ohio State (and, just to avoid getting hammered in the comments, I'll throw in USC, Texas, Oklahoma and Nebraska). The Wolverines are No. 1 all-time in victories and No. 2 behind the Fighting Irish in winning percentage – and if Notre Dame has to vacate its 12 wins from the 2012 season due to a pending academic investigation, Michigan will reclaim pole position there as well.
But the Maize and Blue are currently neither number one in their own conference or even their own state: Michigan State, which won the Rose Bowl last season and is ranked No. 8 in the nation right now, has had the upper hand in the Upper Hand the last couple of years. That in itself is enough to foment change in Ann Arbor.
So now what? Hoke, a former defensive line coach at Michigan under Lloyd Carr, appears to suffer from an acute case of Charlie Weis Syndrome: an assistant coach who has been promoted above his leadership capacity. The most successful college coaches, such as Alabama's Nick Saban and Ohio State's Urban Meyer, are stone-cold CEOs. Brian Kelly, who succeeded Weis at Notre Dame (Weis then took an assistant coaching gig at Florida before heading to Kansas), wears a suit to his Tuesday noon press conferences. The suit is not what makes Kelly successful; the self-awareness that he is at all times representing his school does, though.
Hoke is not a CEO type. Former Michigan quarterback Jim Harbaugh, now the head coach of the San Francisco 49ers, is. Harbaugh, whose father was an assistant coach under legendary Wolverine coach Bo Schembechler, is such a perfect fit for this role that if anyone else replaces Hoke it will be a let-down. But Harbaugh claims to be happy – or as near to happy as Harbaugh ever gets -- in the NFL.
A winner everywhere he has coached, Harbaugh has also been a royal pain in the ass at those precincts as well. While he guided San Francisco to the Super Bowl just two seasons ago, the NFL Network's Deion Sanders reported this week that a lot of 49er players would not mind seeing him 86'ed. Is a Harbaugh homecoming imminent? We'll see.
Perhaps the only optimistic sign for the Wolverines in a season nearly devoid of them was seen in Manhattan on Monday. There, Michigan native and recent retiree Derek Jeter was seen strolling the streets of the West Village with his girlfriend, Hannah Davis, wearing a Michigan t-shirt.
Meanwhile, the ignominy in Ann Arbor continues. When Utah humbled Michigan at home on September 20, the Utes' Kaelin Clay returned a punt 66 yards for a touchdown and then mimicked Howard's famous Heisman pose in the end zone. That's cold. On the other hand, it was nice to see someone playing in the Big House who wanted to be great.