Big Boy Restaurant Chain Threatens Legal Action Against Franchisee for Violating Michigan's COVID Orders
A Big Boy restaurant in Sandusky, Michigan faces legal consequences for violating COVID-19 state orders by staying open for indoor dining, and will be forced to drop its name and affiliation with its corporate head, Big Boy Restaurant Group.
The local restaurant vowed to stay open after Michigan Governor Gretchen Whitmer announced a ban on indoor dining from November 18 through December 8, in an attempt to curb the spread of COVID-19, ClickonDetroit.com earlier reported.
In a statement written online, the restaurant manager, Troy Tank, wrote that the franchise would "continue to serve the community and customer base that we love," despite the new state order.
In response, the Michigan Department of Health & Human Services (DHHS) has issued at least $5,000 in fines, and sent a cease-and-desist letter to the restaurant alleging a breach in health and safety measures during the pandemic.
"At this point we have had documentation delivered to us that we have incurred
$5,000 in fines from the MDHHS....With verbiage also stating that for everyday we remain open we will have another $1,000 added," Tank wrote on a GoFundMe page meant to raise money for the local restaurant to stay afloat.
A Sanilac County Health Department Health Officer confirmed to the Detroit Free Press that the fines were cumulative for each day that the restaurant stayed open.
The restaurant has also faced harsh criticism its corporation.
Chief Operating Officer of Big Boy Restaurant Group Bob Scavo disavowed the local restaurant by calling it a "rogue franchise," and said that the corporation had taken the legal steps necessary to terminate its relationship.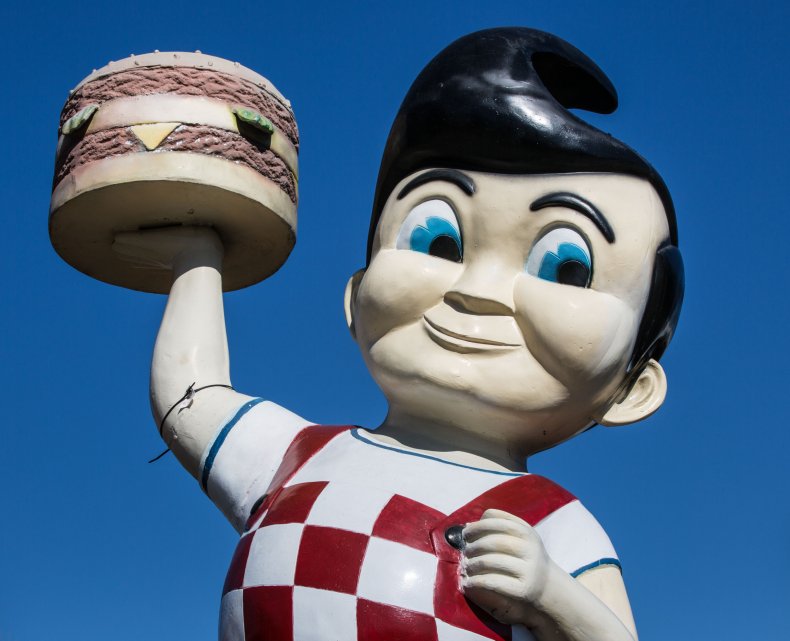 On Friday, the local Big Boy wrote on its Facebook page that the restaurant had been forced to terminate its franchise agreement.
"Unfortunately we have been contacted by corporate Big Boy and they are planning on taking legal action against us. It is our decision at this time due to our hand being forced to terminate the franchise agreement we have with them," the Sandusky Big Boy wrote.
"We had hoped that after 35 years of working together that corporate would sympathize with our cause and rally behind us, they did not."
Since the corporation owns the name, recipes and rights to the Big Boy characters, the franchise will be forced to rebrand itself and take down anything identifying it as a Big Boy.
As of Saturday morning, the Sandusky restaurant was still calling itself Big Boy on Facebook, but had blacked out the name of the Big Boy sign on its cover photo.
In the GoFundMe page created by Tank, the restaurant changed its name to "Sandusky Family Restaurant (formally BB) Fund."
"As true American patriots all of us here at SFR encourage you to join in our fight to keep our most basic everyday freedoms intact," the page stated.
As of Saturday, the restaurant had received $8,727.
The new order banning indoor dining in Michigan comes as COVID-19 continues to surge across the state.
In a statement given to Newsweek, Whitmer said that the new measures "are the right thing to do to protect our families, stop our hospitals from being overwhelmed, and protect the frontline heroes who are putting their lives at risk to care for us."
"Our confirmed COVID-19 cases and deaths are skyrocketing, hospitals across the state are at or nearing capacity, and our frontline workers are burning through PPE at an unsustainable rate. A leading model shows us that if we do not take serious action now, we could experience 1,000 deaths per week here in Michigan by the end of the year," she wrote in an email.
As of Saturday morning, Michigan has had at least 369,022 cases and 9,352 deaths since the beginning of the pandemic, according to a New York Timesdatabase.
Newsweek attempted to reach out to the Sandusky Big Boy for additional comment, but did not hear back in time for publication.