Big Boy Toys: High-End Wireless Speakers for Air Guitar Stars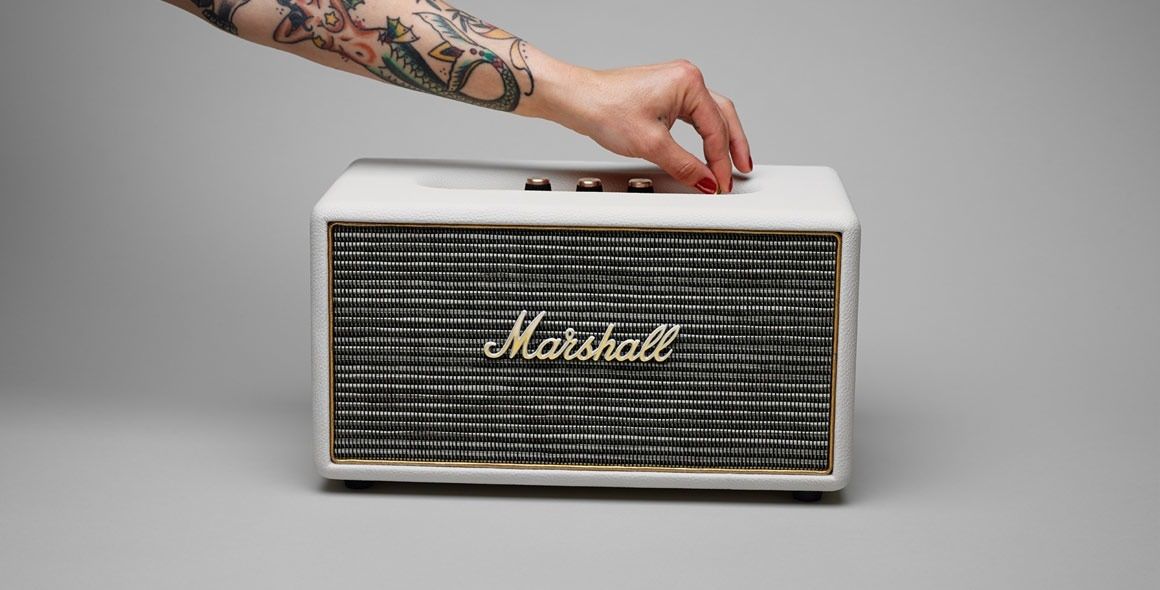 Remember that culture-clash moment in Mike Nichols' The Graduate when Dustin Hoffman (as Benjamin Braddock) is accosted poolside and offered unsolicited counsel from one of his father's buttoned-down friends? "Just one word….plastics," the blowhard whispered with boozy confidence. "There's a great future in plastics." Ben promises to "think about it," his deadpan manner belying such a vow.
Nowadays, I'd like to find a young acolyte to similarly advise. "Wires," I would say, "this whole wireless thing will prove to be its own undoing. The future is in wires." Eventually, intuition tells me, there will be more digital devices than, um, available bandwidth and the world will have to return to coiled strands of copper. By then, I will have cornered the market and bought a humble redoubt adjacent to Pebble Beach. Mr. Buffett, are you listening?
In the meantime, I must perforce heel to and talk about the foolhardy but impressive array of wire-less, Bluetooth-powered speakers crowding the marketplace. Sure, there's nothing to trip over or entangle your feng shui, but reportorial duty calls! Here's a roundup of some higher-end entries in the field. For those who prefer portability to power (and saving some bread), Jabra's Solemate or Jawbone's Mini Jambox will do the job at a fraction of the price.
Microlab FC60BT:
Microlab, one of those innumerable Chinese outfits operating out of ShenZhen, is a dependable name in portable electronics. They've just dropped an appropriately Zen-looking trio of multimedia speakers, all dressed in virginal white: the FC60BT Bluetooth/NFC-2.1 system, comprised of a muscular 8-inch subwoofer and two see-through satellites. Its fat, boomy bass is a must for adrenaline-pumping gamers, while music and movie fans will appreciate the apple-crisp high-end. There's something for every ear, but Microlab is taking dead aim at the man-cave market. Comes with a 360-degree remote control, meaning Dad needn't come out of the fetal sports-watching position to mute commercials or jack up the bass. (www.microlab-global.com, $400 to $449)
Marshall Stanmore:
Yes, air guitar warriors, that Marshall. The same folks who have stacked their amps on a billion beer-stained stages have styled a portable Bluetooth speaker that lives up to its iconic logo. Weighing in at eleven black vinyl-wrapped pounds, and pumping out 80 watts of juice to its three speakers, the Stanmore has plenty of punch and clarity for the diehard rock and roll zealots likely to lay out four-hun on these babies. Brahms boosters may want more definition and accuracy in the midrange, but then again, them squares is probably listening to, like, vinyl! From its brushed brass control panel to its gold-plated knobs, this box of digital bolts is tech-fetishism at its post-modern best. (www.marshallheadphones.com, $400)
IK Multimedia iLoud:
The Stanmore may appeal to six-string fantasists, but the iLoud is a Bluetooth speaker array that doubles as a legit guitar amp. It sounds fine streaming wireless audio, but there's also a 3.5 mm wired input for even better reproduction. And yes, you closet Claptons—that's an actual quarter-inch guitar jack in the back in case you can still find that bargain Strat you bought 10 years ago. Plug it in, connect the iLoud to your iOS device and run the signal through IK's AmpliTube app to add crunch, tremolo and psychedelic echo. Now close the garage door and wail like Jimmy or Jimi—it sounds fat enough to fuel your fantasies, and stays charged for a good 10 hours if you really start to find your groove. (www.ikmultimedia.com/products/iloud, $269 to $299)
Groupies sold separately.