Big Boy Toys: Shake Some Righteous Golf Booty for Father's Day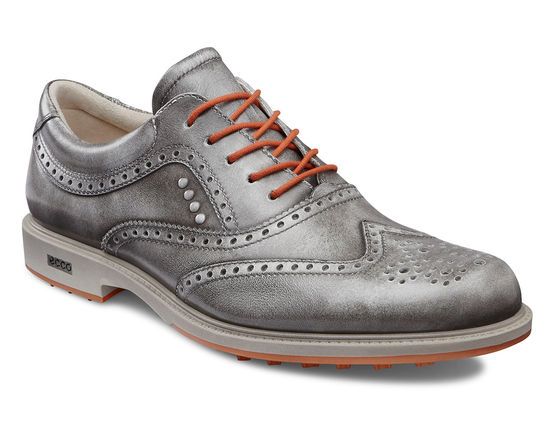 What better way to honor the old paterfamilias than to regale him with golf gifts on Father's Day? After all, part of a good Roman daddy's responsibilities included his priestly duties, which in this desacralized age would probably involve praying to the oft-invoked golf gods. But why leave one's handicap in the hands of those capricious overlords, especially when technology has made the game so (relatively) easy that it would be foolhardy not to keep up with the Jetsons when it comes to the latest gear?
Those of us in the turf brotherhood are well-used to advances in club and ball design—so much so that yesterday's courses have proven too short for modern-day hitters. But there has also been attendant progress when it comes to the game's accoutrements: shoes and shirts, ergonomic pull-carts and a beeping and blinking array of feedback gizmos that turn your tablet or smartphone into a digital version of Hank Haney. Imagine that—swing analysis without fear that your coach will air your private business in a salacious memoir six months later. I'd pay any price for that reputation insurance!
Golf club manufacturers know that most duffers want to maximize how far they hit the ball, while professionals desire consistency over raw yardage. Pleasing both worlds is a new product called Game Golf, a GPS-based device that records exactly how far you're hitting each club in your bag. Screw on a small plastic disc to the top of each grip, clip a small plastic box to your belt and then tap them together before striking the ball. After the round, the data are downloaded to your favorite mainframe to tell you exactly how far you hit each club on your way to breaking the course record. The USGA has even approved its use in competition, since you can't consult the device until the round is completed.
Most golfers know approximately how far they hit a given stick, but Game Golf will average out the pure swings and the mishits to give you a potentially humbling appraisal of your actual performance. But next time you're standing over a shot wondering what club to choose, a little empirical evidence couldn't hurt. Oh, and an anemometer might come in handy too (also available for your smartphone at www.vauvuud.com), but let's not go too crazy here—golf is supposed to be a greeny respite from the death-grip of The Grid. (www.pgasuperstore.com/technologyandtraining, $249)
Archimedes was one badass polymath, but he couldn't make a three-footer for the money if his gold-plated protractor depended on it. He did have a few useful things to say about leverage, however, which for present purposes should read: "Give me a place to stand, and I will hit it 300 yards." Add to that equation a pair of Ecco golf shoes and physics makes felicitous friends with comfort, a surefire recipe for success when it comes to walking five miles across the average golf course.
Old school golf shoes not only looked exceedingly dorkish, they induced a considerable amount of pain by the time you took them off. So here's the good news: You never have to remove said brogans except when it's time for bed. "Echoing" Billy Crystal, it's better to look good than to feel good, but you can do both with a pair ofECCO's Tour Hybrid wingtip golf shoes, which transition from turf to asphalt to cocktail party without having to bend over to untie your laces. And if you're wondering whether the 100 polyurethane "traction bars" will root you properly to the earth while swinging, ask ECCO-Men Fred Couples or Graeme McDowell if they're competition-worthy. P.S.: Dyspeptic golf enthusiast Larry David wears them too. (www.us.shop.ecco.com, $140 to $240)
When it comes to actual golf clubs, Ecclesiastes had it right long before any techno-talk about "moment of inertia" or "coefficient of restitution" (a.k.a., the trampoline effect): There truly isn't much brand-spanking-new under the sun. But that doesn't stop wily manufacturers from boasting of game-changing improvements from season to season. Nonetheless, props are in order for TaylorMade's new SLDR Mini Driver, a miracle stick that bridges the gap between a hard-to-hit three wood and a hard-to-control driver.
You may remember when financial whiz–pro golfer Phil Mickelson won the 2013 British Open without benefit of a driver, preferring the accuracy of a 3-wood off the tee. TM's Mini is meant to be used that way—to keep the ball in the short stuff without sacrificing much distance, especially possible with its 12-degree loft and 260 cubic centimeter head. That's larger than the typical fairway wood but smaller than those behemoth 460cc drivers most players are using off the tee. Also available in 14- and 16-degree lofts. (www.taylormadegolf.com, $279)
Finally, what good is hitting the ball longer and straighter if you can't seal the deal with a true-rolling putt, preferably for birdie? Enter Scotty Cameron, the Brunelleschi of modern-day flat-stick designers, whose new Titleist Select Newport 2 Dual Balance has a classic blade putter look but with a novel weighting system for improved stability. The head weight is 50 grams heavier than usual, and another 50-gram counterweight in the butt of the 38-inch shaft helps golfers make a more consistent stroke. With the anchoring ban coming in 2016, the Dual Balance is the next best thing to a sternum when it comes to keeping that pesky putter on line. (www.titleist.com/golf-clubs/putters, $349)