'Big Brother' All-Stars Is Finally Getting Good: What You Missed During the Triple Eviction
Big Brother All-Stars has moved very slowly, with much of the gameplay staying in the hands of the biggest alliance. While that still hasn't changed (and The Commission alliance has eliminated all of their enemies), the show's nearing its end. Now, there's nothing left to do but watch that alliance fall apart.
Thursday night featured the first-ever triple eviction in Big Brother U.S. history. The unprecedented change in gameplay forced The Commission to make some big decisions, including that of targeting their own players. The bottom-tier members were quickly identified when it was time for eviction, and it ended up with one slightly unpredictable decision.
First to go home during the triple eviction was Kevin Campbell, who has been on the block since the start of the game. David Alexander was next to go. Once those two, who were primarily regarded as floaters in the game, were gone, The Commission was forced to look internally for their next victim.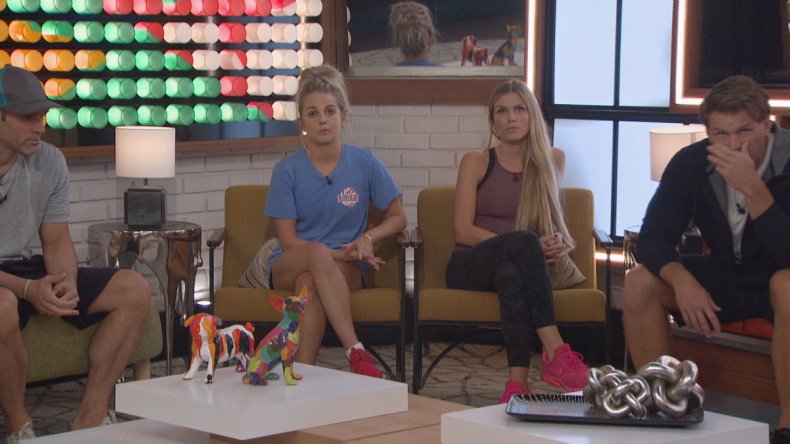 But things began to change when David was on the block. He sat beside a terrified Nicole Franzel, one of the season's most controversial players. While Nicole wasn't sent home during the triple eviction, she was nominated for eviction twice. Regardless of whether or not Nicole is a real target, or was simply a pawn, it shook her up enough to be tearful in front of her houseguests. With her remaining in the house, it seems inevitable Nicole will sit on the block again in the coming weeks.
In turning on their alliance, The Commission chose to send Dani Briones home. This may have been shocking to weekly viewers who didn't watch behind-the-scenes chats. But live feed viewers were clued into some pressing conversations throughout the week that showed Dani become a target of her own allies.
The houseguests were given a heads up about the triple eviction, which apparently gave them time to plan for the spontaneous eliminations. It appeared to work out exactly as they'd hoped, based on pre-elimination conversations. But the weeks to come promise at least a bit of unrest.
The remaining players have ties to each other, and some even have final-two agreements. That means the largest alliance in the house, which has led this All-Stars season to be undeniably boring, will be forced to crumble and fight it out. Some action is expected now, which will hopefully make up for the weeks of watching the alliance, which is led by white men, target people of color and women until they secured all the power for themselves. All we can hope now is that the final days in the Big Brother house prompt some wild drama to pay off whatever interest viewers have left.