'Big Brother' All-Stars: Possible Houseguests Teased By Julie Chen Moonves Promotional Photo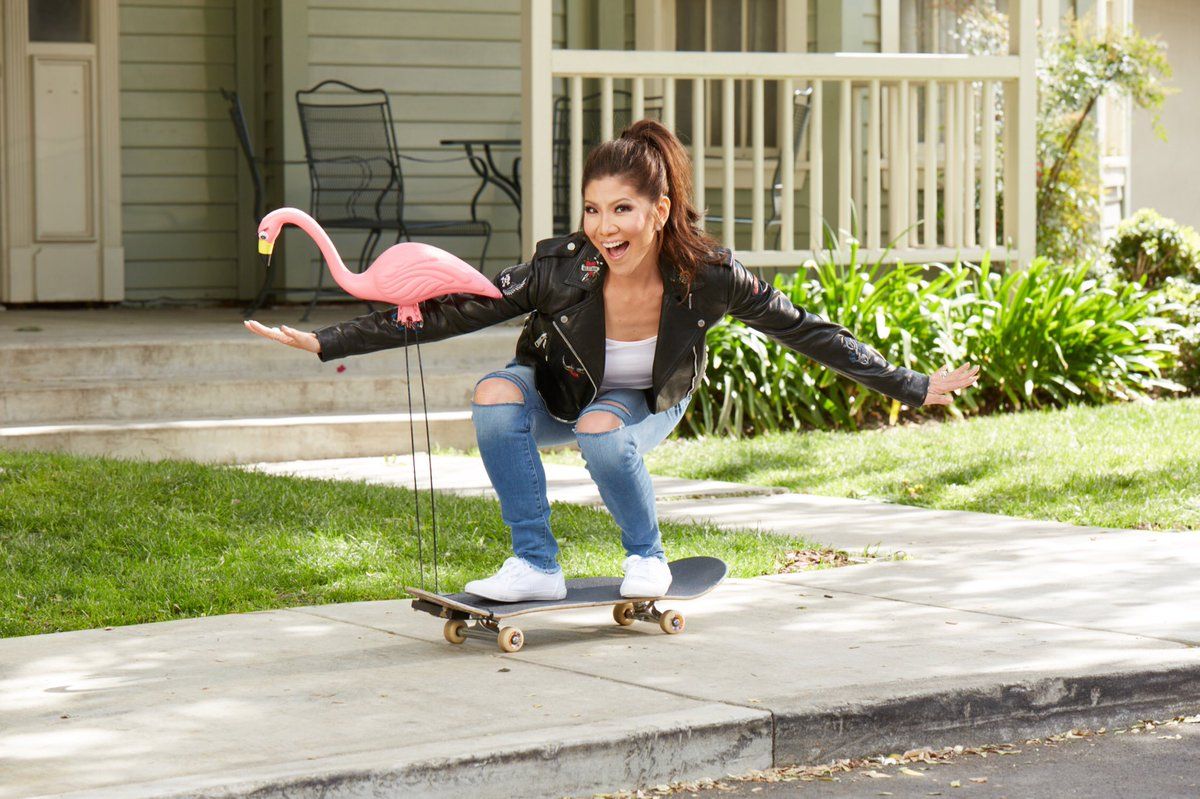 A Big Brother All-Stars season could be coming this summer, according to fan's take on the latest Julie Chen Moonves promotional photo.
Theories that the BB House could once again be filled with returning players flew after a photo of Chen Moonves riding a skateboard while wearing a leather jacket showed a possible easter egg: a patch reading All Stars on the collar of Chen Moonves' jacket.
While the patch is the most glaring possible hints that fans have grabbed onto for the BB All-Stars theory, there may be a handful of other teasers on display in the photo. Here are some of the best theories of possible, returning houseguests, along with the reasons why these clues could be hidden in the photo.
Frankie Grande — The Flamingo
One of the more obvious hints, if Big Brother is in fact planning an All Stars season, is the pink, decorative lawn flamingo in the skateboarding shot. Former houseguest Frankie Grande, maybe best known for being the brother of pop superstar Ariana Grande, is known for this nickname.
Fans may remember Grande returned to the show along with other cast members in "The Revengers" short film as a superhero, fittingly named The Flamingo. The name seemed to be a reference to the former houseguest's signature, pink-dyed hair.
Grande did not immediately respond to Newsweek'srequest for comment on if he'd appear on another season of the summer reality show.
Paul Abrahamian — The Leather Jacket; Skull and Crossbones
Could Paul Abrahamian really have a third attempt at the Big Brother title? The leather-wearing, clothing designer has been runner up on two seasons of the show already. Not only is she sporting a very Paul-like leather jacket, the skull and crossbones on Chen Moonves' jacket seem to point to the outgoing houseguest. Abrahamian has a clothing line named DeadSkull Apparal, which would properly reflect the skull reference.
Cody Nickson — The Anchor
A long-standing fan-favorite could return to the Big Brother house, as implied by an anchor stitched on Chen Moonves jacket sleeve. The anchor may point at Nickson's ties to the Marines. While the actual U.S. Marine Corps symbol is a bit different, incorporating an eagle and a globe, it does include an anchor. Nickson is an obvious choice to return because he won America's Favorite Houseguest, and found love on the series. He and former houseguest Jessica Graf, just welcomed their first child. The couple not only appeared on The Amazing Race but won their season, so they are officially part of the CBS reality show canon. It leaves the question: Would Graf sign on, too?
Another possible houseguest could be reflected in the anchor: Megan Lowder. Lowder left BB19 on her own terms, after suffering from PTSD. Lowder was in the Navy, who's symbol also includes an anchor.
James Huling — The Fishing Lure
There's also what appears to be a fishing lure pinned to Chen Moonves' jacket, which could imply James Hurling will return. Hurling, who has appeared on the show twice, often posts photos on his Instagram of himself and friends fishing, and spending time on the water.
Some UK Big Brother Star — The British Flag
Hidden swiftly behind the lawn flamingo on Chen Moonves jacket is a small peak of what appears to be the British flag. Could this imply a former houseguest from the UK branch of Big Brother may make their American debut?
There are two other patches on Chen Moonves' jacket that can't be seen well enough to deliver a clue. One is on her right collar, and the other on her right arm.
It's important to note, CBS has not confirmed any rumors about the upcoming season, and certainly said nothing about returning guests or an All Stars cast. The network did not immediately respond to Newsweek's request for comment on if former houseguests would be seen in the house this summer.
Big Brother, All Stars or not, will premiere on June 25.
This article has been updated to include the correct spelling of James Huling's last name.