'Big Brother' Spoilers: Here's What the Veto Winner Thinks of Janelle Pierzina
Things aren't looking great for Janelle Pierzina and Kayser Ridha in the Big Brother house, much to the dismay of All-Star fans everywhere. The longtime favorites are the clear target this week, and spoilers make it tough to hope for a possible comeback.
Most of the house seems to want Janelle gone, and Kayser is a close second.
Each week, the Big Brother Head of Household curates two nominations for eviction. On Thursday nights, the houseguests vote to eliminate one. But there's a chance the nominations can change before Thursday. It all has to do with who wins the "Power of Veto," a special medal that can save one person from the chopping block.
Tyler Crispen is the Head of Household this week. He's the first All-Stars player to make a big move by nominating Janelle and Kayser for eviction. The pair, who have worked as an alliance in three seasons of Big Brother now, have been enemies of the household leaders, including Cody Calafiore and Memphis Garrett, both of whom have already acted as Head of Household.
Only one person is expected to go home this week, so Janelle and Kayser do each have a chance at staying. What matters now is the result of the Veto competition.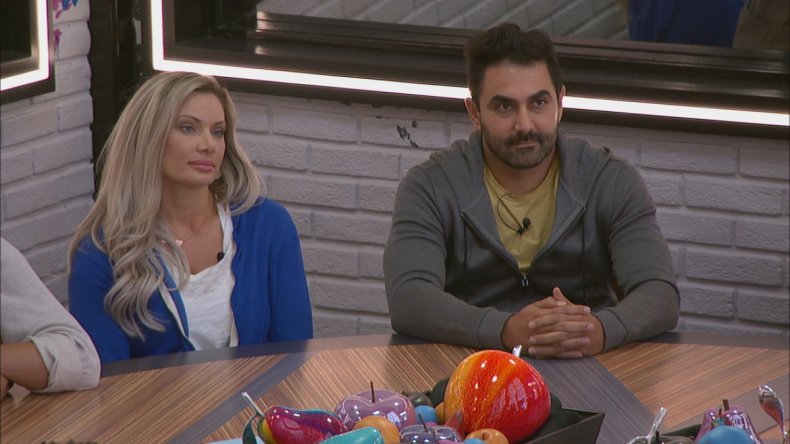 This week, Cody won the Power of Veto. Because of his tight relationship with Tyler, and his genuine want to see Janelle and Kayser removed from the game, it's unlikely Cody will use the Power of Veto. But there's always a chance for a dramatic change.
Because of the house's general desire for her eviction, it seems Janelle is probably going to become the third person evicted from the Big Brother house on Thursday night. But Cody has a concern about eliminating the All-Star player.
Cody has expressed concern about eliminating a third woman from the show, in live feed conversations, according to Cinema Blend. So far, two women have been evicted: Keesha Smith and Nicole Anthony.
In Cody's mind, it seems eliminating all women so early in the game may leave a bad taste in the mouths of the remaining women. This could split the house by gender, and risks exposing Cody's close alliances with some of the men in the house, like Memphis, Tyler and Enzo Palumbo. Cody appears conflicted with letting Janelle go... simply because she's a woman.
In all reality, that probably won't stop Cody and the rest of the house from casting Janelle out of the game quickly. And as frustrating as it is to see such a great Big Brother player eliminated because of another unbeatable bro-centric alliance, it makes sense. Janelle is a constant threat to everyone in the game because of seasons past; her past appearances prove she's hard to beat.
The rest of the house seems to expect Janelle will walk out the doors on Thursday, Big Brother Daily's live feed reporting shows.
Even if she is eliminated, there's always a chance Janelle will make another appearance on All-Stars. Big Brother has been known to throw eliminated players back in the game to shake things up.
While she may not have the best odds of staying, here's hoping Janelle's game isn't over just yet.
'Big Brother' Spoilers: Here's What the Veto Winner Thinks of Janelle Pierzina | Culture