Big Ed's Girlfriend Rosemarie Didn't Get Engaged To A Woman After '90 Day', She Says
90 Day Fiancé: Before The 90 Days star Rosemarie just shot down rumors that she got engaged to a woman after filming the show. The reality star explained the claims are false after fans went crazy with speculation.
Rosemarie addressed the rumors in an Instagram comment. "The rumor that I'm engaged to a woman is NOT TRUE #stopthelies," she wrote, as recorded by this Reddit post.
While Rosemarie is dating Big Ed, an American man, on the season of Before The 90 Days, there's speculation Rosemarie is already engaged to someone else. With the season currently airing, there's no way to tell for sure if the pair are still together.
The closest thing to confirmation of a split is the photo that sparked the rumors of Rosemarie's possible engagement. A photo of Rosemarie with what appears to be an engagement ring on her finger, with a person named Ejhay, has been circling the internet. Fans expressed confusion as to what gender Ejhay identifies with, and that seemed to spark the claims that Rosemarie is engaged to a woman.
There's additional fuel to that fire, according to Screenrant. A few people who are friends with Rosemarie on social media apparently said she's a member of a couple of LGBTQ groups on Facebook. Still, according to Rosemarie, she's not dating, or engaged to, a woman.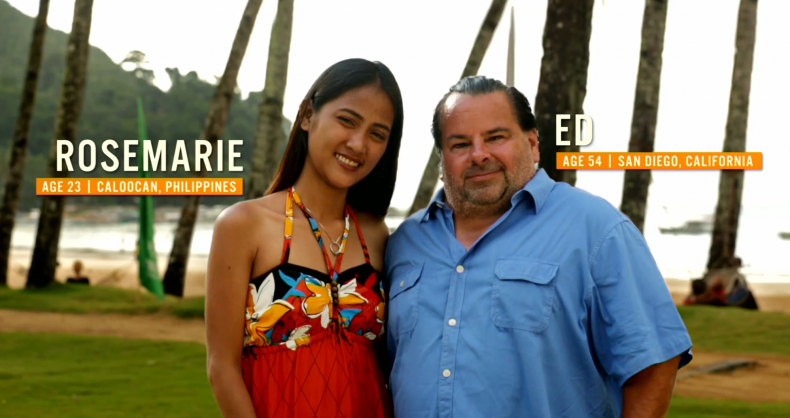 Fans seem to want Rosemarie's relationship with Big Ed to crumble after a few super-awkward moments on the reality dating show. Most notoriously, Ed tried to convince Rosemarie to shave her legs. The couple is considered odd all around by viewers who have the potential to break the internet just by talking about the pair.
The pair have already gotten into a few arguments, including Big Ed's concern that Rosemarie is only dating him for his money. Early in the season, the pair went shopping and Rosemarie appeared to spend Ed's money carelessly. This seemed to frustrate him. In addition, Rosemarie's sister reached out to Ed directly in an attempt to ask him to fund her retail store.
One of the biggest issues for the couple could be that Rosemarie wants more children and Ed doesn't. Before even meeting in person, Ed tried to figure out how he'd tell Rosemarie he wants to get a vasectomy.
To truly know what's going on with Rosemarie and Ed in real-time, fans will have to wait until the end of the season.