Our Favorite Indie Games From Brazil's BIG Festival
Brazil's BIG Festival featured 54 indie games from 22 developers throughout South America and the rest of the world. The five-day event culminated in an awards ceremony last Friday that saw a total of 19 different winners across 20 categories.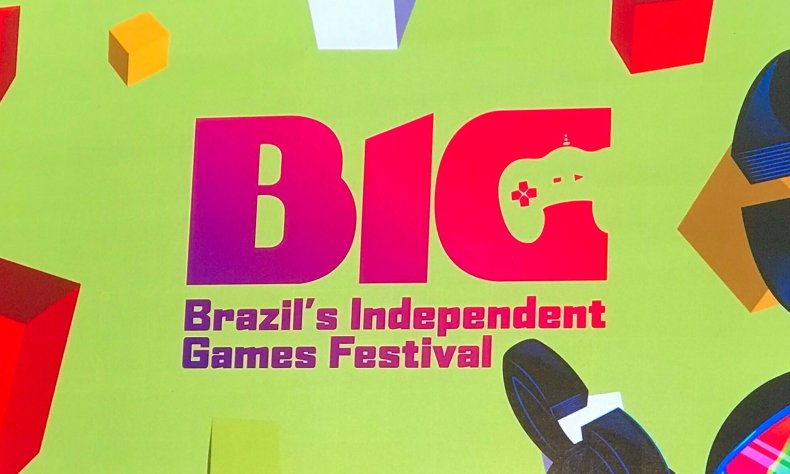 There were so many great games available to play at BIG, and we wanted to bring some attention to the ones we enjoyed the most.
SPEED BRAWL (Double Stallion Games)
Nominated for Best Gameplay
A "beat 'em-up" on speed, Speed Brawl serves up hyper combat with a huge variety of aliens and bosses to punch into oblivion. Set in a 1980s London-inspired dystopia, you'll need to keep moving fast while unleashing special moves and tagging back and forth between multiple characters. There's a local co-op mode, and one of the fighters is a luchador. (You can never go wrong with a luchador as a playable character!)
BEDTIME FRIGHT (RevStudio)
Nominated for Best Brazillian Game
Turn off the lights before going to bed seems like an overly simple premise for a game, but it works great in this puzzle title. Your child hero is afraid of the dark, upping the ante and turning this into a scarier story. If you make a wrong move in turning off the lights in the proper order, a ghost will summon you into darkness. The true highlight of this game is when you fail, and your character... well, wets himself in terror. Poor kid.
MANA SPARK (Behemutt/Kishimoto Studios)
Nominated for Best Brazillian Game & Best Gameplay
As far as pixel art games go, Mana Spark had a very special feel. It was very challenging for an RPG, with AI capable of formulating different ways to kill you on the play. There are plenty of dungeons to explore with loads of smart enemies. This isn't a game you'll just breeze and button-mash through.
QUANTUM LEAGUE (NGD Studios)
Nominated for Innovation, Best Multiplayer, & Best Latin American Game (Winner)
Drawing some of the biggest crowds of the weekend, Quantum League keeps players stuck in a time loop, where a reset causes them to be cloned. This tactic-building FPS requires you to keep recording actions for each of the clones to replay in real time, all while trying to take in the possibilities of future accounts.
SKY RACKET (Double Dash Studios)
Nominated for Best Brazillian Game & Best Gameplay
Sky Racket was another super-popular title at BIG among both fans and judges. While it didn't take home any awards, it did manage to win more than a few hearts. It's a fast-paced "block breaker" style game that takes your character flying through wonderfully colored worlds armed with a laser tennis racket. Enemies shoot items that you must swiftly swat with the racket to send them back and bust some blocks. Its fast-paced shoot 'em-up mechanics are something truly special.
Check out the full list of nominees from BIG here to see all the other great indies showcased at the show. Did some of your favorites make this list? Let us know which games you're most excited for in the comments below.