'The Big Flower Fight' Is Going to Be Your Next Netflix Reality Show Obsession
A new, lighthearted competition show is coming to Netflix to bring you joy in these difficult times.
The Big Flower Fight will introduce viewers to some truly extravagant floral arrangements and the ultra-talented people who design them. Like the title says, these displays are big. Each episode gives flower experts the chance to design monumental sculptures for a chance at serious exposure.
Ten teams will compete in the face-off competition, which is a Netflix original and will stretch across eight episodes. Though there's not too much known yet about the specific projects—other than the flowers will be used to create giant pieces of artwork—we do know that the series will be comparable to shows like The Great British Bakeoff or Amy Poehler and Nick Offerman's crafting series, Making It.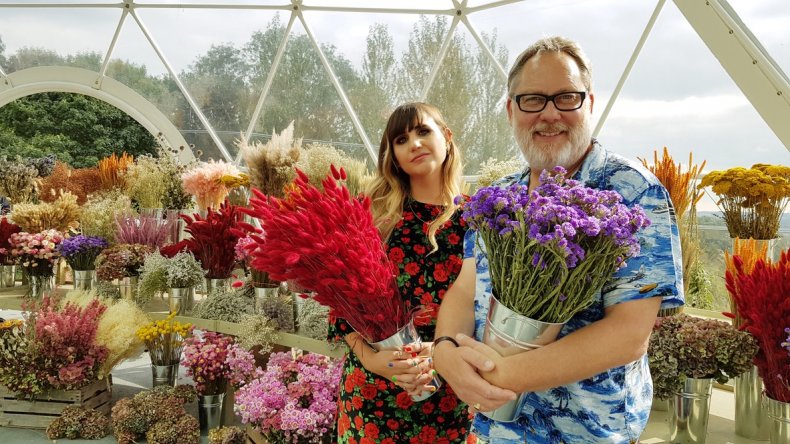 Sure, the content and focus of The Big Flower Fight is different, but the general idea is the same: Creative people get to show off their enviable skills and beautiful work. Oh, and there's a great prize for the winner—they'll have one of their sculptures displayed at London's Royal Botanical Gardens.
Kristen Griffith-VanderYacht is the leading judge on the series, according to Good Housekeeping. He won't be the only one weighing in, of course. Each week, the celebrity florist will be aided by a guest judge.
And the hosts will be none other than comedians Vic Reeves, known for Vic Reeves' Big Night Out and Natasia Demetriou of What We Do In The Shadows, which seems to imply an extra bit of lighthearted fun for the competition.
It's not all about fun and beauty, though. The Big Flower Fight is also set on prioritizing environmental conservation. Instead of just crafting designs based on looks, each contestant is asked to consider what benefits the sculpture may bring to the earth—like which flower types further pollination goals.
To judge Griffith-VanderYacht, this is also a way to bring flowers to the forefront.
"My mission is to help flowers finally get the respect they deserve," he told Good Housekeeping. "This isn't your basic bunch of blooms. This is the real deal. So buckle up and get your shovel ready for some farm fresh floral fantasy realness!"
The Big Flower Fight will be released globally on Netflix May 18.