North Carolina Town Honors the Original King of Social Distancing—Bigfoot
Bigfoot could have written the book on social distancing. The creature—while a mythical one—has a long-standing history of keeping out of sight. But even in the times of coronavirus, Bigfoot's stealthy hiding skills can't stop people from looking for him.
One town in North Carolina is continuing its annual Bigfoot hunt by taking some cues from the folklore legend himself. They're doing this by keeping to themselves as they search for sasquatch. Instead of scouring the woods in big groups, McDowell County is hosting a Bigfoot Scavenger Hunt, in which residents can participate individually. The county's tourism board announced the shift to the scavenger hunt on Monday.
"Bigfoot is the social distancing champion of the world," Landdis Hollifield with McDowell County Tourism told WLOS Channel 6 News. "There are a lot of traditional businesses that have been in the community for a while that are part of the hunt, and some new ones further out that are going to test people's knowledge."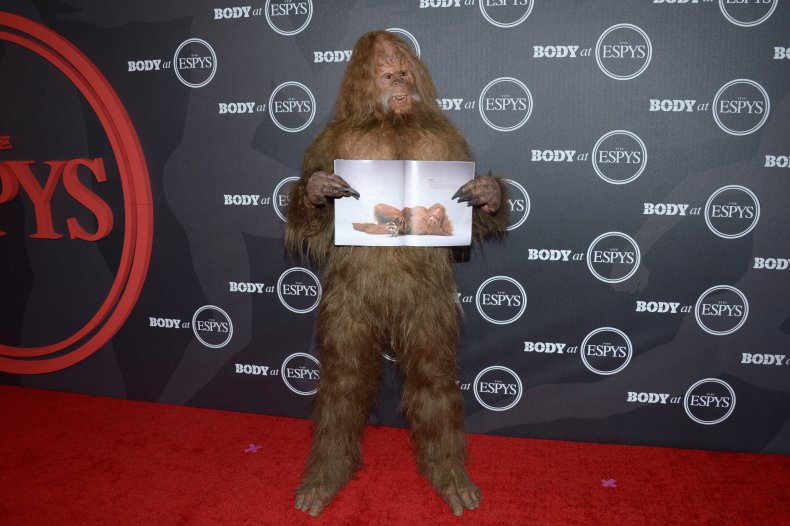 Bigfoot emblems will be planted all throughout the county at various local businesses. Once participants find enough of them, they can be eligible for a prize.
Usually, McDowell County hosts an elaborate Bigfoot Festival each year in July. However, the event was canceled this year due to the coronavirus pandemic, but organizers said they hoped to be able to reconvene the festival in 2021. More than 186,000 people have tested positive for COVID-19 in North Carolina.
While a Bigfoot Scavenger hunt is on the agenda for some folks in the south, farther north in Massachusetts, one woman spotted him out in the open at the height of the pandemic.
Okay fine, so it was actually a 6-foot-tall bronze-colored statue of Sasquatch that was planted at the end of a driveway. In an essay released on Monday, author Sarah Prager wrote of the comfort her occasional Bigfoot sighting provided during the height of the pandemic.
She first spotted the statue in someone's front yard while trying to soothe her crying baby with a nighttime drive. As the lockdown and social distancing regulations increased isolation throughout the U.S., she noticed the Bigfoot upped the ante on his coronavirus messaging too. Often she'd drive past the statute to see his face covered with a mask or holding up signs that read, "Sasqwash your hands for at least 20 seconds," or "Safe distance = six (big) feet."
Newsweek was unable to contact Bigfoot for comment.