Drink Like the 'Monterey Five' and Try These California Wines While Watching 'Big Little Lies'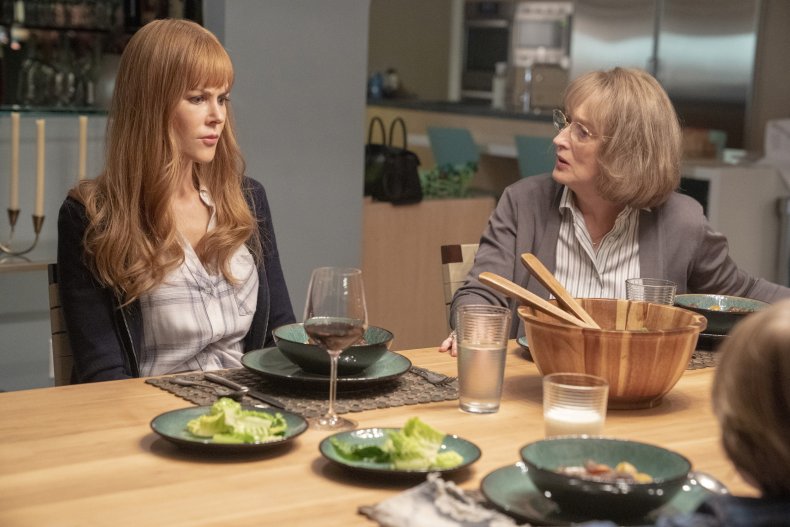 So far, Season 2 of HBO's Big Little Lies has been utterly stressful.
The arrival of the seemingly mousey Mary Louise (Meryl Streep) and her unbearable passive aggression, mixed with the burden of the secret of Perry's death, is quite literally driving the Monterey Five to drink. Meanwhile, viewers at home are similarly filling their wine glasses with a lot more than the standard six-ounce pour while anxiously watching the women navigate all the drama.
By the end of it, we'll all likely be throwing fierce temper tantrums like Renata (Laura Dern) and needing to schedule an appointment with Celeste's (Nicole Kidman) therapist.
Before that happens, though, there will be plenty of opportunities to cope with all the suspense of the season with a bottle of wine. Why not get through it with a few grapes from the California region where the show is set? After all, that's what the Monterey Five are sipping on—33 varietals from Monterey, Santa Cruz and Santa Lucia Highlands to be exact.
To help you get through the remaining episodes of the season, we've compiled a list of a few standout wines capable of easing some of the tension of the show. Check out the quick list of Monterey wines to try below.
This rosé is as delicate as our dear fragile Bonnie (Zoë Kravitz) but it still radiates with vibrant personality similar to the woman we knew before she fatally pushed Celeste's abusive last season. Aromas of pink grapefruit and guava are unmissable while the wine fleshes out with crisp notes of watermelon, strawberry and blood orange.
Hess Select Monterey Chardonnay
Thanks to the cooling fog and Pacific coastal breezes, Monterey is able to produce Chardonnay with more character than the typical buttery, vanilla notes the grape is loved for in other wine regions of the world. Hess Select's varietal is a prime example of that. The brand's Chardonnay has as much attitude as Madeline (Reese Witherspoon) thanks to its bright and crisp acidity highlighted with notes of apple and citrus fruits. Retails for about $12.
A Pinot Noir with intense dark fruit flavors that are as ripe as Mary Louise's amateur detective skills. While Pinot Noir is traditionally considered a light wine, this one likes to straddle the bold line with its silky tannins and firm acidity. Definitely and Pinot that shouldn't be underestimated, much like Streep's character. Retails for about $17.
If you're looking for a wine that's as enjoyably dry as Jane (Shailene Woodley), Wrath EX Sauvignon Blanc is the perfect pick. It's a balancing act of bright and vivacious acidity that's mellowed out with tropical fruit and berry flavor. Retails for about $20.
Hahn Winery Cabernet Sauvignon
There is a possibility Celeste's red wine comes from Hahn Winery. The estate is one of the brands Big Little Lies showrunners worked with for Season 2. The producer's Cabernet Sauvignon is a local favorite and rightfully so. It's got all the robust body wine lovers enjoy in a Cab Sauv, complete with dark cherry and berry flavors. The tannins are noticeable at first sip but they round out in the smooth, long-lasting finish. Retails for about $14.
Francis Coppola Sofia Blanc de Blancs
We can't think of any reason not to pop a bottle of bubbly to celebrate a season of rich cinematography and award-deserving acting, especially of the Monterey Five actually manage to keep their big secret under wraps. This refreshing blend of Pinot Blanc, Muscat, and Riesling, which exudes vibrant flavors of stone fruits and honeysuckle can certainly help with the celebration. Retails for about $15.