'Big Little Lies' Season 2 Premiere Recap: Streep, Kidman, Witherspoon and Oh So Much Drama
The wait is finally over. Big Little Lies has returned to HBO for its second season. After an incredible first season, the biggest question going into this new installment was can it live up to the tension of the first season? The first episode of the new season plants some seeds for drama that are sure to blossom in the weeks to come.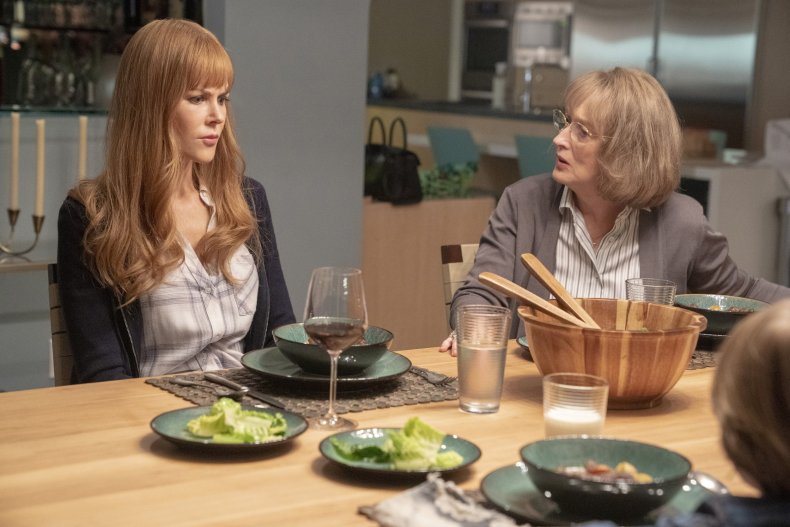 Spoilers below. Consider yourself warned.
When news broke that Meryl Streep was joining the cast, the internet basically exploded. She plays Mary Louise Wright, the grieving mother of the recently deceased Perry Wright (played by Alexander Skarsgård). You know what? The internet was right. Streep creates a new level of tension among the women, especially with her daughter-in-law Celeste (Nicole Kidman), who is balancing grieving over the death of her husband Perry while coming to terms with his abuse. The scenes between Streep and Kidman are a dance of two strong women—and incredible actresses—each with very different motives.
In an exchange with Madeline (Reese Witherspoon), Mary Louise not only makes it clear that she intends to learn the details of her son's mysterious death, but is also a force to be reckoned with.
"You're very short...I find little people to be untrustworthy," Mary Louise says to Madeline, catching her off guard.
Throughout the episode, Mary Louise is looking for clues about her son's death. She's even listening to Celeste's nightmares, as she talks in her sleep, picking up on potential hints. In one dream Celeste says "rape," causing Mary Louise to ask her about it. Later on, Celeste yells, "I'll f—king kill you," while waking up from a dream. Mary Louise comes in to comfort Celeste, then asks, "So, who are we planning to kill?"
If you only knew, Mary Louise. Or do you already know?
Meanwhile, the women regularly meet to discuss how they're going to keep their stories straight with police about Perry's death at the end of Season 1. He was pushed down a flight of stairs by Bonnie (Zoe Kravitz). Even though it was in self-defense, Madeline told police Perry slipped, causing Bonnie and the rest of the women to lie. Bonnie is haunted by the lie and distances herself from Madeline, Celeste, Jane (Shailene Woodley) and Renata (Laura Dern).
In one scene, Madeline meets with Bonnie to see what's wrong. Bonnie knows she would have gotten off if she had told the truth, but Madeline insists she made up the story to protect Bonnie.
"I am angry with myself," Bonnie tells Madeline. "If I had just told the truth, I would have gotten off. But then you said he slipped and everyone joined in on the . . . chorus."
"That was to protect you," Madeline says, though it's not exactly clear why she thinks she needed to protect anybody. Could it just be another case of Madeline meddling? Or something more?
Bonnie is clearly leaning towards telling the police what really happened, which will force Celeste to admit to her boys and mother-in-law that Perry was not only abusive but also raped Jane, which resulted in her having Ziggy.
Even though the start of the new season feels a bit rushed, they had a lot to pack in a lot to the first episode to catch audiences up. It kind of also has the feel of a more mature version of the film I Know What You Did Last Summer, which isn't exactly bad. With Streep on board, we're guaranteed for an exciting Season 2.
Big Littles Lies airs Sundays on HBO at 9 p.m. ET.