Review: HBO's 'Big Little Lies' Leaves TV's Male Anti-Hero Era Behind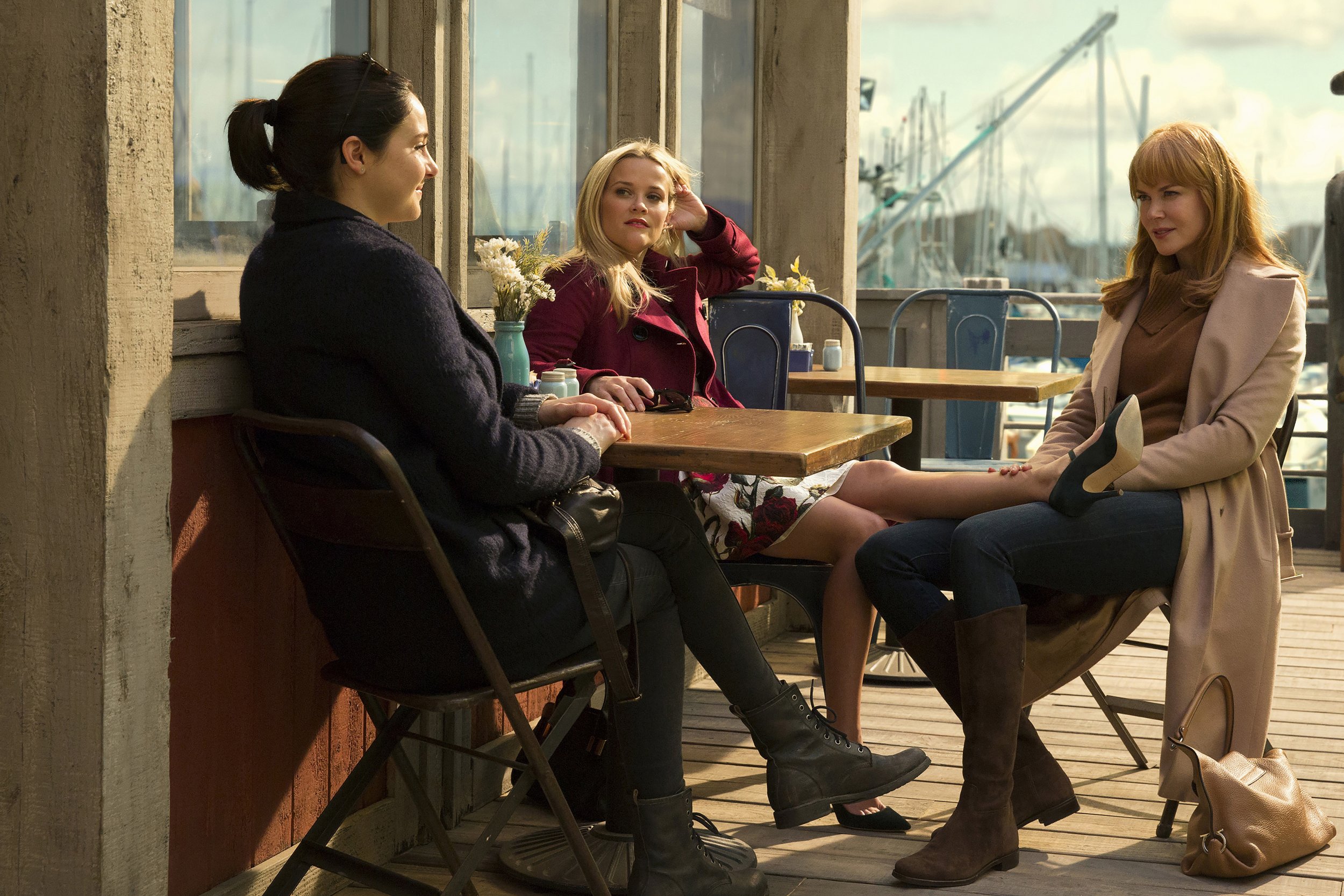 Anyone who thinks premium cable television is awash in testosterone should feel well disposed toward Big Little Lies, the new series from HBO.
Adapted from Liane Moriarty's 2014 darkly funny best-seller about competitive women and abusive marriages, it stars Nicole Kidman, Reese Witherspoon and Shailene Woodley as three mothers whose children all attend the same kindergarten in Monterey, California. Think of the show as a riposte to Tony Soprano, Walter White, Don Draper, or any other of the anti-heroes whose pockmarked psyches have held us in thrall these past few years. What the Bada Bing! strip club was to Tony and his boys, the kindergarten drop-off is to these power moms—an arena for alpha females staking out their territory in a bloody turf war.
RELATED: Denzel almost too much as 'Fences' patriarch
Jane (Woodley) is the single mom, new to the area, whose son Ziggy is accused of bullying by another mom, Renata (Laura Dern). "Isn't there due process for a first-grader?" asks Madeline (Witherspoon), a blond busybody in spike heels. Ziggy's defenders and accusers are soon lining up—and, as frequent flash-forwards make clear, the battle will end with real bloodshed: a dead body at a school fundraiser. Meanwhile, a series of witnesses give to-camera interviews that act as a curtain-twitching Greek chorus. "Things never blow over when Madeline gets involved: They blow up," opines one of these commentators. "We still don't know the truth about Jane," offers another.
Are the battles of these women being set up as a cliquish comedy, or is the show intent on opening a genuine jugular? Moriarty's book had the feline purr of good gossip, but it's darker elements felt depthless, the characters all froth and dark secrets with little in between. David E. Kelley, the veteran television writer and creator of Ally McBeal and Boston Legal, airlifts the action of the novel from suburban east coast Australia to Northern California, and it seems a smooth enough transition, acquiring extra resonance in the wake of a U.S. election decided by antipathy toward America's coastal elites. You want elites? In Big Little Lies you get to see them in their natural habitat, trading barbs between yoga sessions, wine tastings and board meetings. And yet something about Moriarty's plotting has not survived the transplant. Dern launches her accusation of bullying with little in the way of teacher oversight—there are no witnesses to Ziggy's alleged behavior—yet it proceeds to cleave the school and the community wholly in two.
The characters inspire first our envy, then our pity, at intervals so precise you could time them with a stopwatch. Woodley wears the pained, patient expression of a woman whose backstory will not show until Episode 4, while Nicole Kidman is spaced out and Stepford Wife-ish as Celeste, who Instagrams perfectly curated images of her two young sons and hedge-fund husband—until we finally find out what's eating her, at which point the performance clicks. Witherspoon, on the other hand, simply guns it in unstoppable comic-meddler mode.
Her playground know-it-all is cast from the same mold as Tracy Flick, Witherspoon's late-'90s high-school bossyboots in Election, and is a performance that seems to be in a different show from Kidman's wan victim. As Madeline, she collects grudges like moss: "I can't even keep track of the number of fights you start," says her second husband, Ed (Adam Scott). "Somebody ought to invent an app." By the end of the first few episodes, Madeline has a three-front war on her hands: with Dern; with the local council over a play featuring foulmouthed puppets; and with her first husband, a good-looking flake named Nathan (James Tupper). He's now onto his second wife (Zoe Kravitz), a lithe young yoga teacher who, according to Madeline, probably delivers "mint-flavored, organic blowjobs."
The fur flies, teeth are bared, but the question remains: Is the series driving at anthropological satire, or will it take the off-ramp to domestic abuse and murder? Witherspoon's performance, together with all those wagging tongues, suggest the former, but Kidman's drawn, haunted performance leans toward the latter. The first few episodes have the luxury of being able to punt. Director Jean-Marc Vallée fills the gap with lots of arty shots of sea foam and a feel-your-pain soundtrack including Stevie Nicks and Neil Young , but Kelley's script will eventually have to decide between the two. I hope he lets one of these momma grizzlies summon a real roar.
Big Little Lies begins Feb. 19 on HBO, Feb. 20 on Showcase, and in March on Sky Atlantic.