Man Records Himself Spitting Into Big Mac Before Handing Sandwich To Homeless Man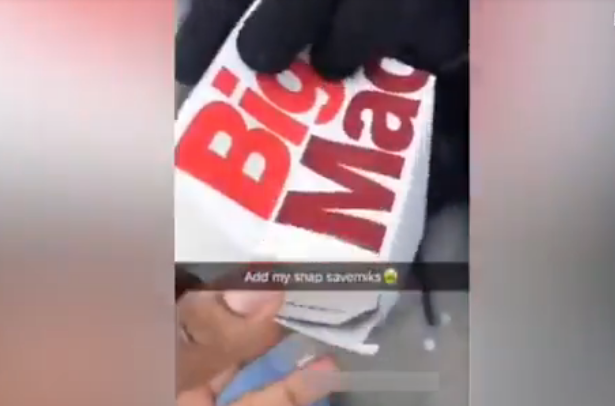 A cell phone video recorded in Barking, East London, has been widely criticized on social media for showing a man purposely spitting in a Big Mac before handing it to a homeless person on the street.
The video was posted to Snapchat Wednesday by user Mikel Edwards under the account handle, "savemiks." The caption on the video, which has since been shared across Instagram and Twitter, reads "I got no heart innit." The footage shows a man clearly spit into the half-eaten McDonalds sandwich as he insidiously offers the Big Mac to the man lying on the ground.
"There's a full Big Mac there," the man recording the video can be heard saying as he records himself walking toward the homeless man. "Watch, watch this now," he then boasts as he spits into the sandwich and others around him are heard gasping in disgust while some others can be heard laughing. "Do you want a burger as well?" Edwards asks the man lying on the sidewalk next to blankets and pillows as he hands him the McDonalds sandwich.
"No problem man. Enjoy it," he says casually, as he records the man consuming the burger before he cuts away. Seemingly appearing to boost people following his Snapchat account, the caption on Edwards' video also reads, "Add my snap savemiks" with an emoji showing a vomiting action.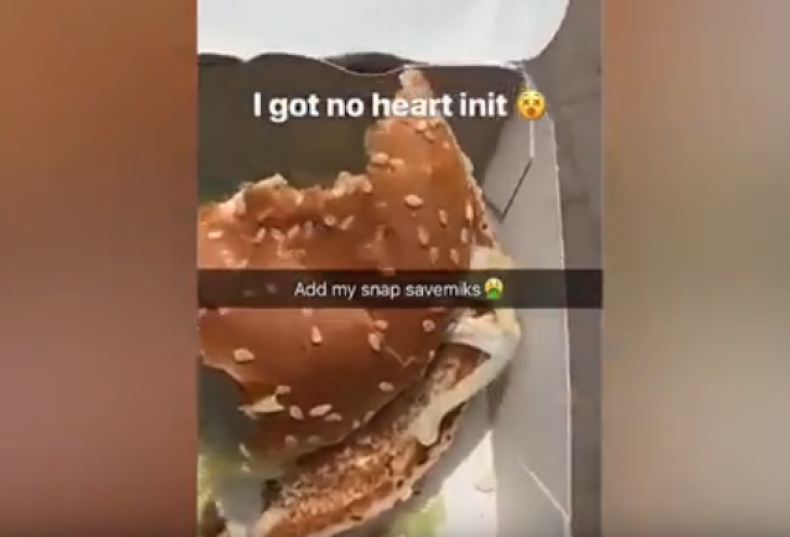 The "savemiks" account links over to a "savagemiks" account in which the "Wavey Mikel" username encourages fellow Snapchat users to follow his "main" screen name. The user also has several images shared to a U.K. street blogs account that is private. Thousands of responses on Instagram and Twitter have condemned the video as "repulsive" and "disgusting," with several social media users posting links to several homeless charities in the U.K.
Homelessness in East London was already under scrutiny this week after three large billboards were placed in front of a church in the Hackney borough urging action on increasing homeless hangouts, iNews Hackney first reported. The St. Mary's church posted the signs to illuminate a lack of police effort and government funding, with one of the signs noting there are 6,167 people classified as homeless in the immediate area. The church hosts the Hackney Food Bank, Hackney Migrants' Centre and Hackney Winter Night Shelter to help homeless people.