'Big Mouth' Season 3: Show Creator on How They Got Nathan Fillion to Appear in Sex Fantasy Scene
Big Mouth has always managed to get celebrities to play characters unlike any they've played before, and Season 3 is no exception. The Netflix series' most recent outing, for example, persuaded Brooklyn Nine-Nine star Chelsea Perretti to play a sexually voracious cell phone, Unbreakable Kimmy Schmidt's Carol Kane to be a Menopause Banshee and Bridesmaids comedian Kristen Wiig to play a talking vagina.
Nathan Fillion, however, might have the craziest Big Mouth role of all in Season 3, which has the Castle and The Rookie star play himself in a fan fiction sex fantasy that sees him romping with a man/horse called Gustavo (played by Carlos Alazraqui).
Newsweek spoke to Big Mouth co-creator Andrew Goldberg about how he got Fillion to appear in the unique sex scene.
According to Goldberg, the Firefly actor did not need much persuading for his first appearance in the show in Season 1, leading the writers to dream up more and more elaborate things for him to do.
Newsweek subscription offers >
The Big Mouth producer said: "Nathan Fillion is so much fun. Nick [Kroll, Big Mouth co-creator] knew him because he had been on Kroll Show.
"So in Season 1, we were talking about what kind of man would be Missy's [played by Jenny Slate] celebrity crush, and we landed on Nathan Fillion. He's so funny and such a good sport and so much fun when he comes in and plays himself that we keep wanting to use him more and more."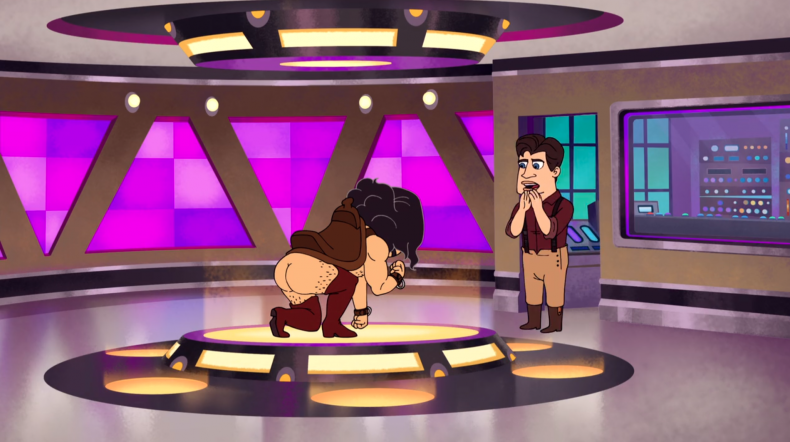 Fillion is not the only celebrity Big Mouth have had a easy time persuading to be in the show. Goldberg said: "In the case of Kristen Wiig, I believe Nick texted her and said 'do you want to be Jesse Klein's vagina?' and she was like 'yeah!' And Jon Hamm was eager to play a plate of scallops. A lot of it is down to how much people trust Nick to give them funny stuff to do and to allow them to improvise."
Newsweek subscription offers >
In fact, one of the only people who turned them down was Howard Stern, who they had their eye on to play a Hormone Monster on the show but who unfortunately "declined" to appear.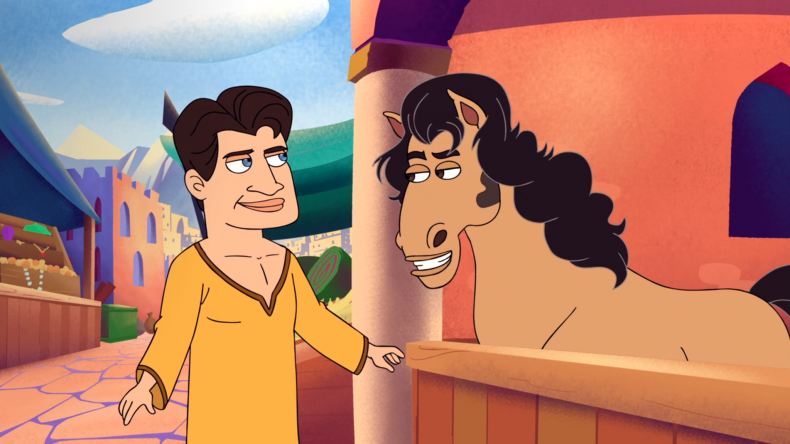 In Fillion's case, far from being an excuse to get him to cavort with a horse, the writers saw his scene in Season 3 as a crucial point of bonding between Missy and Jay (Jason Mantzoukas) that also provides a mash-up fans were waiting for as Fillion meets Gustavo, the star of Big Mouth Season 1 book The Rock of Gibraltar, the tale of a Catholic man who turns himself into a stallion to be with his Islamic love Fatima.
Goldberg said of this: "That Missy and Jay storyline is the first time they had interacted that much and they're a really fun, powerful connection as they both these kind of horny urges and Missy introducing Jay into a creative outlet for that was really fulfilling."
It was so fulfilling, in fact, that Goldberg hinted this might not be the last fan fiction they dream up together. "Maybe we'll have to release the actual book of Nathan and Gustavo. Jay could illustrate it!"
Big Mouth Season 3 is streaming now on Netflix
'Big Mouth' Season 3: Show Creator on How They Got Nathan Fillion to Appear in Sex Fantasy Scene | Culture