Big Oaks Lodge Fire: Legendary Santa Clarita Biker Bar Gutted by Blaze
A famous biker bar in Santa Clarita has been destroyed in a blaze late on Saturday night.
The Big Oaks Lodge on Bouquet Canyon Rd was engulfed in flames at around 11:30 p.m. despite the efforts of firefighters. The flames become so severe that firefighters had to focus on controlling the inferno until it burned itself out.
The fire spread to brush around the building, but it was contained by the crews of more than 100. According to The Signal, in Santa Clarita, dispatch supervisor Michael Pittman of the Los Angeles Fire Department's Command and Control Office said the fire had quickly grown to 50 feet high.
The Big Oaks Lodge continued to burn for almost two hours before it was extinguished. The building had stood for 84 years before being destroyed by the fire. Pittman confirmed no one was injured.
Speaking to the Daily News, local rider Tony Ciro said it "broke his heart" to see the building gone. He said he had been a regular of the bar for years. "You used to be able to smell the bacon and eggs up in the canyon," Ciro said. "You'd see the bikes in the daty, and the locals would come in to drink cold beers at night."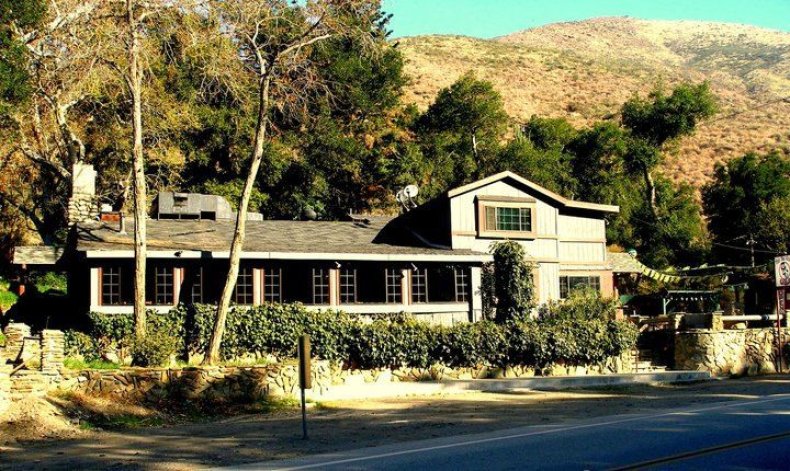 Ciro had lost a leg in a motorcycle accident several years ago but maintained his passion with a metal prosthesis. He said it was not the first time the Big Oaks Lodge had been under threat from fire.
The morning after the blaze, all that stood was the brick chimney, the kitchen and another cabin. The Santa Clarita Valley Sheriff's Station announced on its Twitter account that an investigation was underway to determine the cause of the fire. The blaze was called in by a night commuter, the Sheriff's Station said.
The site had gone up for sale in April last year for $449,000, according to The Signal. The listing included the lodge, three cabins and a liquor license on just under and acre of land. It is situated in Angeles National Forest, which was established by former U.S. President Theodore Roosevelt in 1908.
Los Angeles Fire Department did not immediately respond to a request for comment.