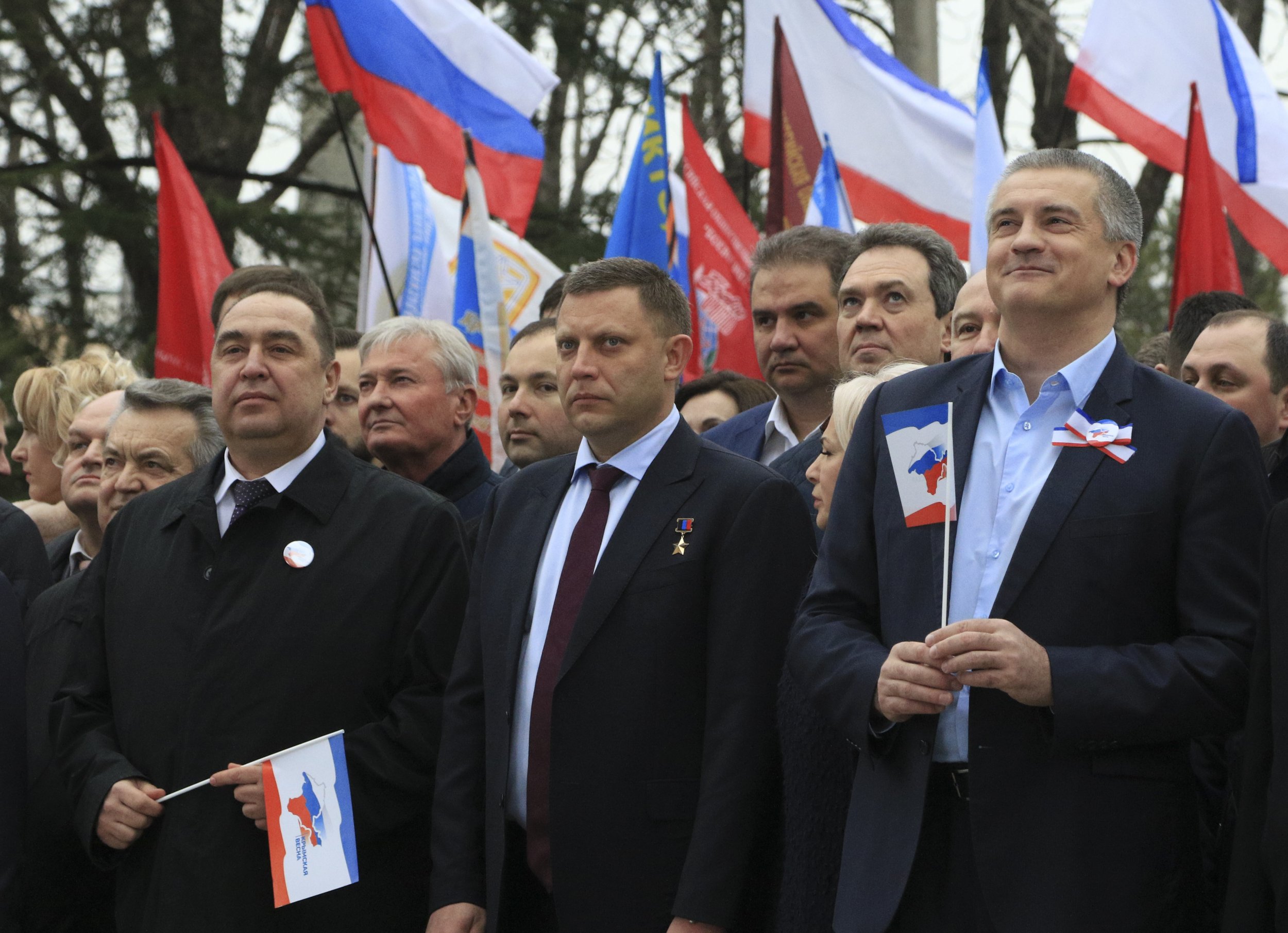 The Russian-backed rebels in eastern Ukraine have declared their ambition to rule the country under the banner of Malorossiya—literally translated as "Little Russia." Original recipe Russia is not taking the homage too well.
"The statement made by [Alexander] Zakharchenko this morning on the topic of Malorossiya seems to be his own personal initiative, and in Moscow we learned about it this morning in the press," Dmitry Peskov, spokesman of Russian President Vladimir Putin said on Tuesday.
Related: Fidget spinners will turn your children against Putin, Russian state media warns
Commenting on the rebel leader's words, Peskov said the Kremlin was committed to the current ceasefire deal in Ukraine—something the Malorossiya announcement flies in the face of.
Separatist militants took over parts of eastern Ukraine in 2014, and Russia has conceded that it has provided backing for the groups. However, the Kremlin has always sought to deny that the militants under Zakharchenko's command in Donetsk and under separate leadership in Luhansk are ultimately led by Russia's own forces.
Other officials backed Peskov's interpretation, which likely dealt a blow to the Russia-facing ambitions of Zakharchenko. "I interpret this only as an invitation for discussion," said Boris Gryzlov, former chairman of Putin's United Russia party, who now leads Russia's delegation in Ukraine peace talks. Speaking after Zakharchenko's rhetorical bombshell, Gryzlov told state news agency Itar-Tass on Tuesday he did not expect it to have "any statutory consequences."
Speaking much more bluntly, but off the record, a Russian government official told news channel RBC that Vladimir Surkov, Putin's pointman on Ukraine policy, was not involved in Zakharchenko's announcement.
"The initiative 100 percent did not come from Surkov," one official told RBC. Another mirrored Peskov's words and underlined that "the administration was not in the loop."
In previous instances Russian press and officials were quick to spread the rebel side of the story, such as in 2014 when Malaysia Airlines Flight 17 was shot down in eastern Ukraine by what now all but Moscow and Donetsk agree was a Russian-made rebel missile—but the Malorossiya announcement received a skeptical response.
A Russian political expert widely linked to Surkov, Alexey Chesnakov, poured more skepticism on the Little Russia idea, telling Tass that "within a month everyone, including the authors of the idea, will forget about Malorossiya."
"The project of creating Malorossiya is propagated by bloggers and writers close to the leadership of the Donetsk People's Republic," Chesnakov said, referring to Zakharchenko's separatist formation. "Among DNR's very leadership, many do not consider it seriously."
In Luhansk region, the other separatist-infested Ukrainian territory where rebels have themselves shown a penchant for maverick announcements, such as challenging the Ukrainian president to fisticuffs with the country's fate at stake, also distanced itself from Zakharchenko's idea.
While Russia's annexation of Crimea from Ukraine in 2014 is still a point of pride for many Russians, in 2016 70 percent of Russians said they no longer follow news from Ukraine with any particular interest or at all.