Big Show Talks 'The Big Show Show,' Season 2 and Getting Stone Cold Steve Austin
Paul Wight, better known to fans as the wrestler Big Show, has branched out from the wrestling world in a well, big way with his The Big Show Show series on Netflix.
The sitcom sees Wight playing a recently-retired version of himself as he navigates being a stay-at-home father and husband to his family. The series premiered in April with eight episodes, but Show and his family are ready to crossover with another Netflix original series, Mr. Iglesias starring comedian Gabriel Iglesias in the special, Game On: A Comedy Crossover Event, which premiered August 10.
The series, which has yet to be greenlit for a second season, is a passion project of Wight's and despite working in television and film before, the 48-year-old was not prepared for what it takes to shoot a sitcom.
"This was nothing like I expected," Wight told Newsweek in July. "I was the first and last person on the set everyday and I had a huge learning curve to catch up. I've done a lot of shows, but it was intermittent stuff here and there, this is the first time my name was on it and I had to carry my weight."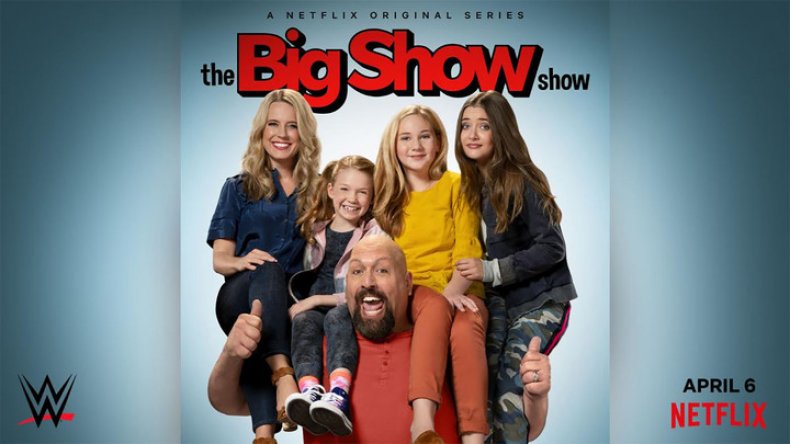 Wight says that learning to tell jokes in rehearsal properly before the next script rewrite, not overshadowing his on-screen daughters--literally--and simple tasks such as opening and closing a door while not reciting a line were all things he had to learn on-set.
"These are motor skills that you have to learn and I had to improve pretty fast, but I learned to love it and I don't think I've worked harder in my life," Wight explained. "I don't think I've had as much fun either. I had an incredible cast, crew and it was a dream opportunity. I wanted to do something like this for 14-15 years. To get the crew and to have the product turn out as well as it did I'm super happy and grateful."
Interesting enough, Wight says cutting promos in front of cameras and thousands of screaming fans is a whole different animal than doing a scripted comedy. Wight explains that when you're doing your lines in front of a live audience for the show there's a different rhythm than when you're rehearsing. Sometimes the audience will laugh and sometimes they'll laugh when you didn't expect it.
This is especially true when working alongside Jaleel White, who famously played Urkel on Family Matters, who is a recurring character on The Big Show Show. Wight's on-screen daughters Lola (Reylynn Castor), Mandy (Lily Brooks) and "J.J." (Juliet Donenfeld) and on-screen wife Cassy (Allison Munn) also were big reasons Wight had a hard time keeping a straight face when filming.
"I'm working with Jaleel White who played Urkel and you see a guy like him when everything that comes out of his mouth is funny," Wight said. "A lot of times with the stuff we were doing I had to try hard not to bust out laughing. This guy brought the words to life that it was so fun to work with him. The girls were making me laugh too. Juliet and her jokes, she's the closer she comes in at the end of every scene and hits the closer joke and knocks everyone. She's my little sniper, I can count on her to make a scene."
Although it's a family comedy, The Big Show Show has plenty of references to wrestling and the WWE. One episode in particular saw cameos from former WWE Superstars Mark Henry, Mick Foley and Rikishi.
The experience was great for Wight but as the performer admits there was a time that he thought he'd be replaced.
"They are old school veterans, they know how to get over, just put a camera on them and watch them work," Wight said with a laugh. "The funny part is my cast fell in love with Mark Henry so much and it started worrying me a little bit. Was it going to become the Mark Henry show?"
Wight says that if a season 2 of The Big Show Show happens, Henry is going to be on a lot more. However, the "World's Strongest Man" won't be the only WWE superstar to appear in a new season if Wight has his way.
"I did a Broken Skull Sessions with Stone Cold and I have a verbal commitment. He hates scripted TV, but I have a verbal commitment that if we get a season 2 we have an episode in mind with Stone Cold and JJ so we want to put those two together. "
Wight wants to continue exploring the characters on the show and what it means to evolve as you go into the next stage of your life in a second season. While Wight admits that The Big Show in the show is a lot kinder and funnier than he is, the wrestling themes are taken from his real life. Spending years on the road and missing birthdays and anniversaries was a very real occurrence for Wight, and although he hasn't retired from professional wrestling in real life, the thought of "what's next?" is always on his mind and that's something he wants to explore in a new season.
"As we start moving on to season two and developing more of the characters and bringing them along, this will give me the chance to indulge in some real creative options," Wight says. "Whatever Big Show does in season 2 for a job we'll find out. I'm not going to let anything out of the bag."
The Big Show Show is available to stream anytime on Netflix.