Hundreds of residents remained evacuated as crews continue to battle a wildfire in the Big Sur area along the California coast.
The blaze, dubbed the Colorado Fire, started in the Palo Colorado Canyon in Monterey County on Friday evening.
The cause of the fire is under investigation. By Sunday evening, it had burned about 700 acres and was 35 percent contained, according to the California Department of Forestry and Fire Protection (Cal Fire).
Officials said better mapping shows the fire is smaller than the 1,050 acres that had been reported on Sunday morning, when it was reportedly 25 percent contained.
One structure has been damaged, but no injuries have been reported, Cal Fire said.
Almost 300 firefighters are battling the fire, which has drawn a response that includes crews from multiple Cal Fire units. Three helicopters were also tackling the fire from the sky.
"Winds continue to create challenges for crews along the fire perimeter," the department said in a situation summary.
"Seasonable temperatures are expected much of this week and relative humidity values are forecast to increase Monday. Firefighters continue to strengthen control lines and mop-up hot spots."
Highway 1 remained closed from Garrapata Creek to Point Sur, according to Cal Fire. "Both Fire and PG&E have equipment in the roadway and need the road closed so they can continue their work," the Monterey County Sheriff's Office said in a post on Facebook.
Meanwhile, evacuation orders remained in place for a sparsely populated area between Carmel and Big Sur.
The Red Cross opened an emergency shelter at Carmel Middle School, but said it would be closing at 7 a.m. on Monday. "Those in need of assistance can still access shelter info by calling 2-1-1, & Red Cross volunteers will remain on standby," the Red Cross Northern California Coastal Region wrote in a tweet late Sunday.
About 500 people had been told to evacuate, Cecile Juliette, a public information officer with the California Department of Forestry and Fire Protection, told the Los Angeles Times over the weekend.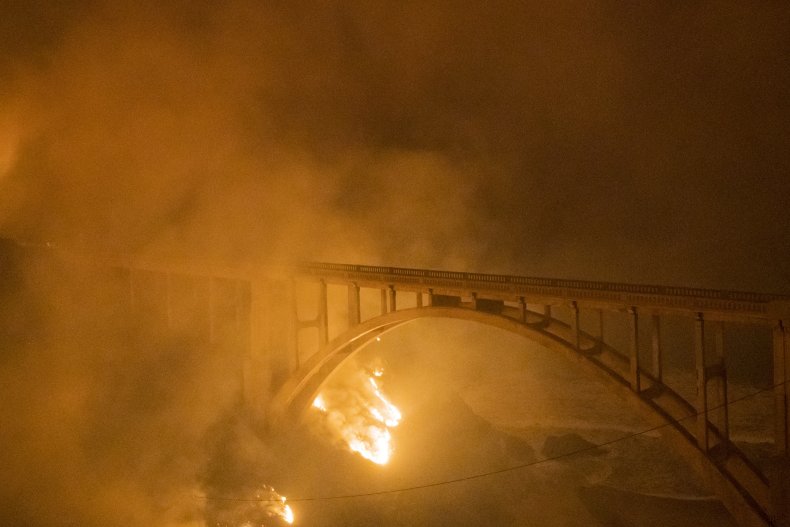 Juliette attributed the rapid spread of the fire to poor overnight humidity recovery and a lack of coastal fog, as well as gusty offshore winds that dried out vegetation. "It is very unusual to have a fire of this size in January so close to the coast in this area," she said.
She added: "It is very unforgiving terrain. It's incredibly steep and wooded, there are large trees including lots of redwood, lots of large brush. Lots of steep drainages, very hard to access."
The California Department of Forestry and Fire Protection has been contacted for additional comment.