Big Taxi Vs. Uber. What About Complaints?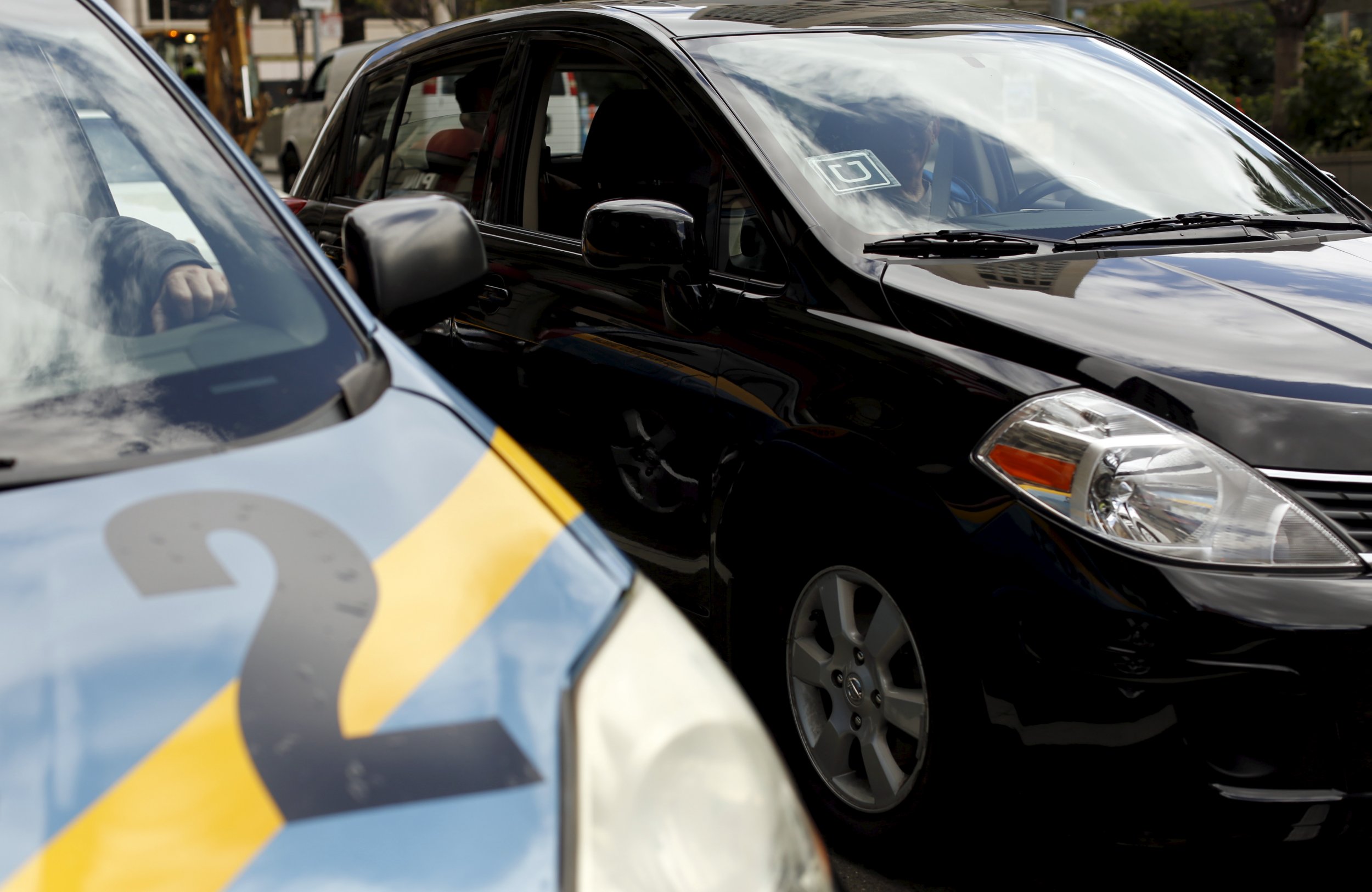 How long does it take to register a complaint against an Uber driver, and how long does it take for the Uber driver to be aware of the complaint?
That time period would generally be measured in seconds or minutes from when the ride ends—as soon as they leave an Uber car, riders can instantly and effortlessly rate the driver using their smartphone on a scale from 1 to 5 stars and the driver sees that rating immediately.
And how long does it take before an Uber driver with bad ratings is warned, disciplined or fired?
That time period is probably measured in weeks or maybe months. Business Insider recently provided some details about how the Uber driving rating system works, and internal documents from Uber indicate that "4.6 is the important number when it comes to driver ratings. If a driver's rating is 4.6 or lower, then Uber is going to start considering kicking that driver off the system."
How long does it take to register a complaint against a Washington, D.C., taxi driver, and how long does it take for the driver to be aware of the complaint?
Recently, that time period would generally be measured in years, and in some cases it could be as long as three years!
First, to file a complaint against a D.C. taxi driver, you start by filling out this complaint form with the District of Columbia. You are supposed to know the taxi company name, the taxi license plate, the taxi number and the taxi driver's "Face ID Number."
Then you need to provide the origin address, the destination address, the trip date, departure time, whether the taxi was hailed or dispatched, the number of passengers, the number of child passengers and their ages, the taxicab type (car or van), the number of pieces of luggage and whether the driver or passenger put the luggage in the trunk, the fare paid and a copy of the fare receipt.
Then you are asked to fill out an area where you provide "additional information, comments, concerns or complaints." You can fill this form out online, send it by fax or email to the DC Taxicab Commission.
(Note that almost all of that information gets automatically and permanently recorded by the Uber ride-sharing app, including a detailed map of the exact route taken.)
After filing a complaint with the District of Columbia Taxicab Commission, how long does it take before the driver is notified?
Up to three years, according to this news report today from WAMU 88.5 (American University Radio), here's an excerpt:
Hundreds—possibly more than 1,000—of Washington taxi drivers are facing large fines as the D.C. Taxicab Commission (DCTC) works to clear a backlog of nearly 1,600 passenger complaints dating to 2012, raising questions about due process and excessive penalties at a time when many cabbies are struggling to survive as Uber and other ride-hailing apps drain their customer base.
In January, the commission faced a backlog of nearly 1,100 passenger complaints. Although the agency had resolved more than 1,800 complaints over the previous three years—with 910 resulting in a fine, suspension, or revocation of driving privileges—a shortage of staffing had left the new interim taxicab commission chairman, Eric Rogers, with a mountain of old complaints against cabbies to resolve.
The number of complaints now scheduled for mediation is 1,598, commission spokesman Neville Waters said in emailed responses to questions from WAMU 88.5. Over the past five months, DCTC has collected $52,410 in fines from drivers for the D.C. Treasury. Drivers have paid $2,320 to refund customers.
The backlog was the result of a lack of staffing, administrative inefficiencies "due to a paper-heavy process," and a spike of complaints from passengers who claimed drivers resisted or refused to accept credit card payments. The DCTC's troubled rollout of universal credit card acceptance took place two years ago.
The number of complaints against D.C. taxi drivers is astounding—the backlog alone is nearly 1,600 going back three years—and that doesn't count what might be many thousands more that have likely been resolved.
And the complaints filed with the DCTC only represent the likely small minority of dissatisfied customers who actually have all of the information required and have taken the time to file a complaint. The glacial speed of the DCTC's response to customer complaints that sometimes takes three years is also astounding, although not completely unexpected for a government agency.
In contrast, ride-sharing services like Uber operate at lightning speed when it comes to recording any customer complaints (instant feedback), sharing customer complaints with drivers (instant feedback) and dealing with drivers who get low ratings from passengers.
What takes years to happen in the Big Taxi, Big Government world happens almost instantly in the ride-sharing world. And that's just one more reason why the loathed Big Taxi is doomed, and why ride-sharing services like Uber represent the future of transportation for millions of enthusiastic "ride-sharing evangelists."
As I wrote last fall on CD:
Loathed Big Taxi is loathed for a very good reason—it has government protection against competition through taxi medallion systems and other forms of restricting and limiting competition—something that Uber, Lyft, Sidecar, Gett, Getaround, Zip Car and Car2Go don't have.
And that's why millions of "ride-sharing evangelists" (Washington Post columnist and "Big Taxi evangelist" Catherine Rampell's term) are so enthusiastic about the transportation market today—they are no longer at the mercy of Big Taxi's high prices, poor and limited service and extreme inefficiency dealing with customer complaints and they now have a historically unprecedented number of transportation options including the services of the seven companies listed above.
Consumers have clearly and overwhelmingly expressed their preferences—they are "evangelical" about ride-sharing for a very good reason—it's a much better, cheaper, and faster option than Big Taxi. And their complaints about drivers are recorded and dealt with almost immediately, not years in the future.
We ride-sharing evangelists have seen the transportation future, and it sure ain't Big Taxi.
Mark J. Perry is a scholar at the American Enterprise Institute (AEI) and a professor of economics and finance at the University of Michigan's Flint campus. This article first appeared on the AEI site.