Big Ten Calls an Audible, And it Will Now Play Football This Fall
The Big Ten Conference this week looked like a team that appeared to have lost a football game, but miraculously got the ball back and kicked a last-second field goal for the win. That's what it felt like when the conference reversed its course and voted to play sports this Fall.
Only last month, the presidents and chancellors from the 14-team league voted 11-3 to postpone all Fall sports until the spring. Not long after, the Pac-12 postponed its athletics schedules. However, the ACC, Big 12 and SEC went forward with Fall schedules, including football—with fans in the stadiums.
The Big Ten on Wednesday unanimously voted to kickoff its season on the weekend of October 24. The teams will try to play eight conference games in eight weeks, culminating with a conference championship game on Dec. 19. That will allow the conference to declare a champion by the Dec. 20 selection for the College Football Playoff.
The Big Ten will have rapid testing for COVID-19 at all 14 campuses, which will begin Sept. 30. Players who test positive for the virus will have to wait 21 days before returning to competition.
There had been outside pressure on the Big Ten schools to get the season ramped back up. First, there was pressure from players, coaches and athletic directors in the conference. Secondly, there are other major conferences that have begun play. Big Ten teams like Ohio State, Wisconsin, Penn State and Michigan were out of the mix for a potential playoff appearance. (Note: Ohio State was No. 2 in most national preseason polls)
Then there was President Donald Trump, who said the Big Ten should play football.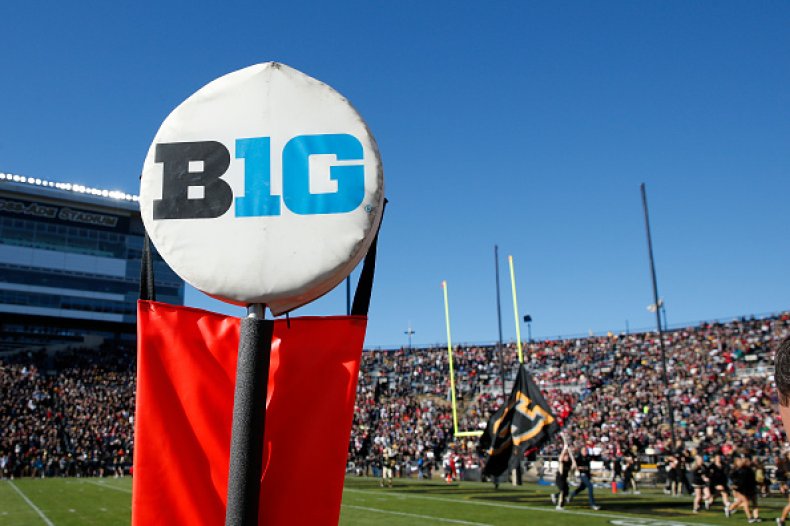 When the Big Ten voted on Aug. 11 to move the season to the Spring, the Pac-12 Conference opted out of the 2020 Fall season, meaning two of the Power Five conferences would not play, putting the entire college football season in jeopardy.
The other three Power Five teams— the ACC, Big 12 and SEC—marched on and said they would play. The ACC and Big 12 kicked off last weekend, and the SEC is scheduled to start its season Sept. 26 with conference games only.
After the Big Ten presidents last month voted to postpone the 2020 schedule, commissioner Kevin Warren said that his league's presidents wanted to see better testing of the virus, and look at more trends of how many people were getting infected.
"It's a combination of where we are in our testing, where we are in our rapid testing, how is contact tracing actually defined? There's a whole litany of issues," Warren told ESPN when the league canceled. "We have incredible policies and procedures in place and our schools, we have 14 schools in 11 different states. People are doing the best they possibly can, but when you go from the acclimation period to getting ready to put on pads and contact, and you look at the overall numbers during this global pandemic as far as caseloads, they have not decreased, they have gone up.
"Trends have not improved, they've become worse. You add that up, and you're getting ready to go into more formal practice, it's just a level of not only concerns, but unknown risks are large. When you're dealing with the health of human beings, it's serious."