Tobacco Companies Admit Smoking Will Kill You, Thanks to Federally Mandated Ads
They can't lie about it anymore.
Big Tobacco is launching a forced campaign to inform the public of the deadly nature of smoking— and its own tactics—in "corrective statements" running in newspapers and on television as the result of a nine-month civil racketeering trial.
The agreement affects Altria, Philip Morris USA, Lorillard and R.J. Reynolds Tobacco, according to the Justice Department, which gave a heads-up about the coming campaign this week.
The U.S. District Court for the District of Columbia found the tobacco giants "lied, misrepresented, and deceived the American public" about the health effects of smoking along with having intentionally designed cigarettes for addictiveness and marketing products to the young.
The court's 2006 permanent injunction also said the firms had falsely presented light cigarettes as less dangerous and denied the hazards of secondhand smoke —and were "reasonably likely" to keep doing so without judicial intervention, DOJ said.
Now, they must "clarify for the public the effects of tobacco use" by way of full-page ads in major newspapers over four months and T.V. spots that will air over the coming year.
The ads, according to samples posted by DOJ, tell the public that "secondhand smoke kills over 38,000 Americans each year" and that "children exposed to secondhand smoke are at an increased risk for sudden infant death syndrome, severe asthma, and reduced lung function."
The company confession campaign, which ramps up this weekend, will also report that nicotine "changes the brain," which makes it hard to quit smoking, and that with an average toll of 1,200 Americans per day, "more people die every year from smoking than from murder, AIDS, suicide, drugs, car crashes, and alcohol combined."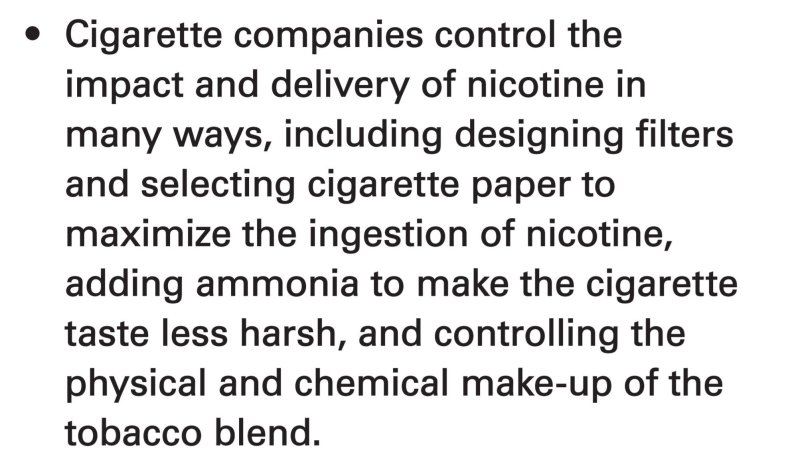 The statements, which will additionally be seen on company websites and package "onserts," are only appearing now because of a string of appeals of the 2006 injunction, according to the Justice Department.
Six health organizations joined the DOJ case in 2005: The American Cancer Society, American Heart Association, American Lung Association, Americans for Nonsmokers' Rights, National African American Tobacco Prevention Network and the Tobacco-Free Kids Action Fund.