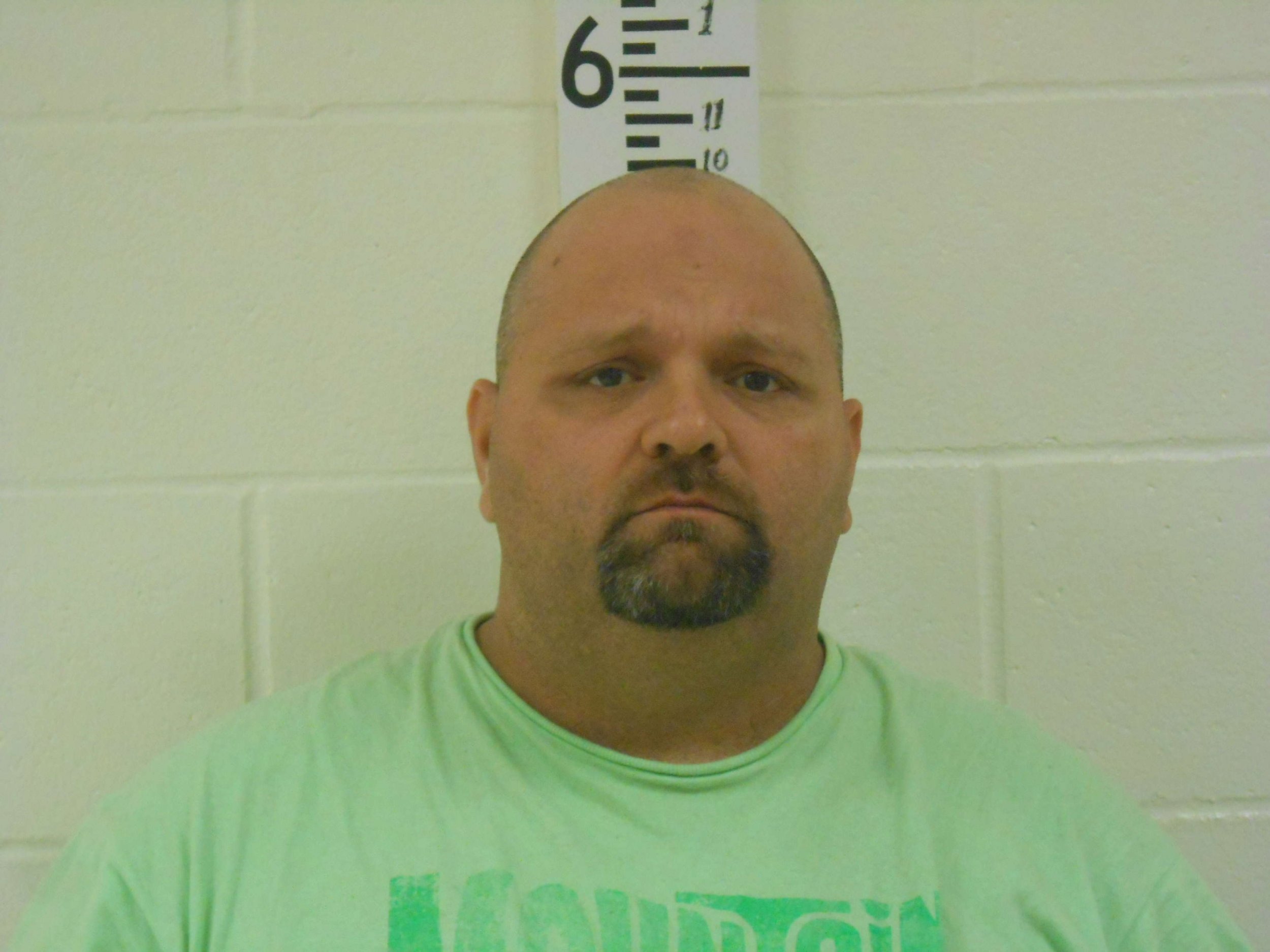 An accused wife-kicking bigamist was a no-show at his Thursday arraignment in Strafford County, New Hampshire Superior Court.
Michael Middleton, 43, was supposed to appear before a judge and answer to allegations that he married three women -- at least one of them says he milked her for thousands of dollars before vanishing.
"I bought him a Z28 Camero and clothing," one of Middleton's wives, Alicia Grant told Newsweek.
His method was all subtlety, avoiding to ask her for cash outright.
"He'd say, 'Babe, I really like this computer! Can we get this computer?'" Grant recalled. "So I bought a computer."
She then learned Middleton would return the gizmo and pocket the cash.
"He would take the item I bought for him and with the receipt returned it for cash," said Grant.
According to an indictment filed on Jan. 18, Middleton was married to two other women before he and Grant tied the knot.
His alleged Cupid con game ended when Grant filed a report with the Dover Police Department in New Hampshire.
It was then that police and prosecutors discovered Middleton was hitched again and again and again.
*UPDATE: 10:05 a.m. EDT—* Michael Middleton was arrested during a traffic stop on a sleepy Columbus, Ohio road by Franklin County Sheriff's Office deputies at 3 p.m. on Feb. 8. They mounted a sting after receiving an anonymous tipster who informed their dispatcher about his fears for his "family's safety" and cited Newsweek's article as proof that the 43-year-old was a wanted married man.
"The anonymous man was worried about his family member's safety," Franklin County Chief Jim Gilbert told Newsweek.
Middleton remains holed up in the local jail as he waits to be extradited back to Maine to face domestic violence charges, multiple law enforcement agencies confirmed. He is also facing a bench warrant in Strafford County, New Hampshire for missing his bigamy court hearing in a case lodged by three of his spouses.
Indeed, the indictment suggests Middleton was playing husband to at least two other unsuspecting women -- one in Alabama and another in Georgia.
Middleton "did commit the crime of bigamy… having a spouse and knowing that he was not legal to marry…" the three women, the indictment reads.
The revelation has Grant convinced her marriage is a "sham" and isn't "valid."
"When I found out that he filed marriages in other states, my marriage isn't even valid. It's void by fact," she said.
After consulting with an attorney she was presented two options: either file a civil complaint and try to get the marriage annulled or go after Middleton criminally for bigamy.
She did both.
Newsweek's attempts to reach Middleton were unsuccessful. Though, a man bearing the same first and last name, who also lived in Old Orchard Beach, Maine (which was listed as Middleton's last known address) was apoplectic upon learning about the suspect's bigamist claims.
"I've never been married, but guess I should see if he's stolen my identity," he said, vowing to call authorities.
The unmarried Middleton called Old Orchard Police to inform them of his concerns, an officer there confirmed.
If the thrice-married Middleton is found guilty he could serve up to seven years and be forced to fork over a $4,000 fine. With his truancy from court, it's likely that a bench warrant will be filed and federal assets will be used to track Middleton down.
But so far, the shady Casanova ducked the women he's accused of scorning and for the most part, the law.
The last time Grant laid eyes on Middleton was on Nov. 7, 2013 -- less than a month into their marriage. Her last image of her husband was him being hauled away in handcuffs by South Berwick Police Department officers.
That's when Middleton was charged with domestic violence
"He was driving my neighbor's car and buying bottle [of coffee-flavored brandy] from Cumberland Farms," Grant remembered.
Among his money and marriage issues, Grant said Middleton was battling alcohol abuse.
So when he returned to the home with the handle of booze, she confronted him the inebriated Middleton and he allegedly turned ornery. When he did, Grant decided to dial 911 and claims that while she was on the phone with a dispatcher, "he kicked my leg."
The authorities arrived and with a neighbor vouching as a witness of Middleton's kick, they took him into custody. (The case remains open.)
When Middleton left, the duped wife said she wasted no time ridding her life of him. She deleted every photo of him, burned his clothes and when she couldn't crack his password for his computer, well, she didn't spare it.
"I burn mostly all his clothes and his computer, I smashed with a sledgehammer after I couldn't' get into it," Grant said.
Grant, who at the time of the alleged attack, got sucked in by Middleton's charm.
As a single mother of two young children had just come out of a long relationship and studying to become a paralegal -- Grant tried playing the field met Middleton on a dating site.
At their first date over coffee, Middleton claimed he'd served in the Army and worked as a bail bondsman.
Maybe it was part of his act, she said.
For it turned out that Middleton wasn't helping to bail out jailbirds. Grant said he earned some scratch as a labor hand from a temp agency.
"I never asked 'Why he was single,'" she reflected. "I was in a long-term relationship since I was 17 until four years before that. I was kind of like not used to dating," the now 35-year-old said.
Middleton was big on matrimony from the first.
"He just kept nagging me," she said of his overtures. "He'd say, 'You know babe, I see this lasting forever. We should just get married.'"
And Middleton allegedly didn't want to just be her husband, but a stepdad to her two young kids ages 6 and 3. "He said if we got married, 'that way I'm a legitimate stepfather to your children,'" Grant said.
At first, Middleton never hurt her. "The only thing is I did find out about was his drinking issue," Grant said.
Middleton proposed to grant sans a ring, and the couple would take their vows a five-minute drive over the Maine border in Dover, New Hampshire's courthouse.
"When we got married we didn't have rings either," she said. "I ordered them off Amazon for $40."
He never shared much of his personal life, save for a single visit to Middleton's "half-brother" in Manchester, New Hampshire.
And before getting hitched, Grant didn't drink and she never suspected Middleton did either.
Then came police phoning her at all hours, informing Grant that her husband was detoxing in a hospital.
"I was trying to get him into rehab programs," she said of Middleton.
Once Middleton was in the wind, Grant started digging and met his other women, including two wives, and another woman who she says reported the man for domestic violence as well.
"It was surreal," Grant said of her coming to Jesus moment talking to the two other wives; one living in Alabama (married on March 11, 2011) and another in Georgia (married on Dec. 12, 2006).
Grant is now embarking on getting her marriage annulled. But like the other two Mrs. Middletons she said, "Nobody can find him so we can't get these marriages dissolved."
She and the other wives have become friends and continue to scour social media hoping to pinpoint Middleton's whereabouts.
Without him, Grant is stuck married to him on paper.
Consequently, Grant said that she can't marry her boyfriend of four years, can't purchase a house because if she did, New Hampshire law grants the "opportunity of each party for future acquisition of capital assets and income." Grant is coming forward because of the injustice in the law that she says has been overlooked for too long.
"This is a huge problem," she said.
To fix the bigamist problem Grant is hoping lawmakers create a kind of federal wedding registry. But rather than pick out gifts for the lucky couple, it would essentially background check anybody attempting to get married.
"If you get a suspended driver's license in California and move to Montana, you can't get a license," she said. "The same thing needs to happen for marriages.
"There needs to be a network for all the states to look into someone's background to see if they're married."