Texas Fugitive 'Bigamist' Caught Buying Jeep in Florida After Months on the Run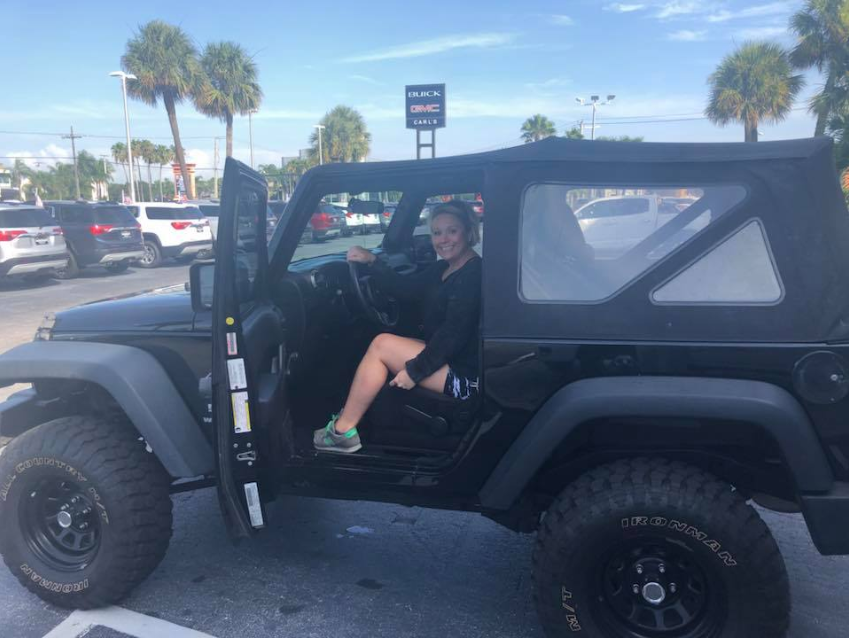 A bail bonds businessman hopelessly searching the country for a blonde 41-year-old fugitive for months was days away from signing a $30,000 check to the Tom Green County Court when he received "a blessing from God."
Actually, it was a blessing from a car dealer on Florida's "Treasure Coast."
"Congratulations and Thank you to Coty Lyn and Jason Veach on the purchase of your Jeep Wrangler!!..." read a July 20 post on Facebook by a dealer from Stuart, Florida.
There was Coty Lyn Veach, beaming in a black Wrangler with monster tires.
She was the same Coty Veach who twice allegedly absconded from court and had been hiding out in a cottage along Okeechobee, Florida, court documents and authorities confirmed.
Ricky Villarreal, a 35-year-old owner of Freedom/Libertad Bail Bonds some 1,400 miles across the country in San Angelo, Texas, had been on the lookout for any sign of Veach.
Special software that Villarreal says he uses delivered a ping instantly after the dealer's social media post, and his several months of searching was almost over—and so were fears of coming up with the sum for the woman's failed appearance back in October and December 2017.
The bailiff on that day announced the name in court and then walked out to the courthouse steps and "called the name of the defendant distinctly three times" with no answer, according to the bailiff's certificate.
"I was the bondsman for her so I would have had to pay $30,000 to the court," he said. "Then I see her in this really nice Jeep and I think, 'Here's this person living it up and buying that!'"
Villarreal mobilized. He phoned fellow bail bondsmen in Florida.
The first ring, nobody answered. On the second call, he found a believer. "I gave him information," Villarreal said.
Why Veach was wanted by the law is murky. She is married on paper to an oil rig worker named Floyd Wayne Jackson. But according to a criminal complaint filed in Tom Green County District Court, Coty Veach never lawfully changed her name and was still legally Coty Shott Jackson.
Newsweek's attempts to reach Floyd Jackson were not immediately returned.
According to the bigamy indictment filed on November 2016—a third-degree felony in Texas—Veach is "legally married to Floyd Jackson intentionally and knowingly lived with Jason Veach, a person other than her spouse, in the State of Texas under the appearance of being married."
She initially was charged in November and failed to appear on June 6, 2017, after skipping town to Ohio, according to court records and bail bondsman Villarreal's account. Veach was bonded again back in October, and during a December 5 pretrial court hearing, she was in the wind. Villarreal suspects she went to Florida and managed to elude capture for months.
If you ask her father, the woman was running for her life.
"Her ex-husband beat on her I don't know how many times and threatened her," Mickey Shott told Newsweek.
There was one time on the father's front yard where he said he saw the man allegedly wail on his daughter.
"He hit her and I got ahold of my shotgun, and if it hadn't been for my granddaughter getting in my way, I would have put him down," he said.
Shott disputed the court's claims that his daughter was lawfully married to Jackson. "There was never a marriage—no papers or anything," he said. "But he kept on with this bigamy deal."
Most critical, Shott said that his daughter suffered drunken-fueled headbuttings, slaps and hits, and that she was keeping away from court out of fear.
"I don't feel like she did nothing," he said. "All she was trying to do was get away from an abusive affair."
Some detective work led the bondsman to Veach's new wheels parked at a small cottage on U.S. Highway 44 along Lake Okeechobee, according to Okeechobee Sheriff's Office reports obtained by Newsweek.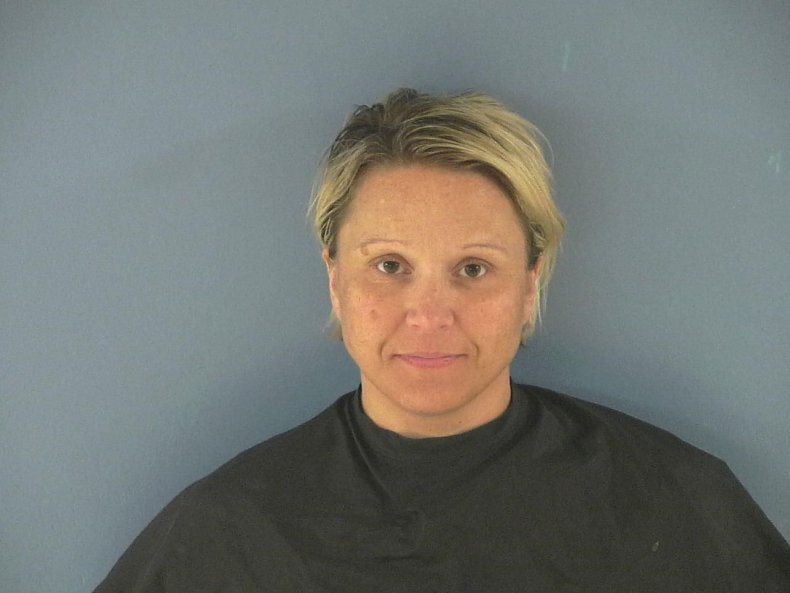 Entering through the side window, the bondsman from Florida described the place as a "disgusting pigsty [sic]" miring the search for Veach.
"The kitchen area, no Coty, under the bed, no Coty, the bathroom was next but vacant," the bondsman summarized and reviewed by Newsweek. "My last door, the closet with a blanket hung over the door as to hide it. I opened the door, pulled down the blanket but the door opened up only halfway. I grabbed my flashlight and shined it through the door jam to find a blond head of hair hiding behind."
"I ordered Coty out and she was placed in custody without incident or resistance," the bondsman added. "One more fugitive heading back in custody; justice served!!"
Villarreal, who has diversified beyond bail bonds to taxes as well as insurance, admitted that had they missed the Jeep purchase, July 31 was going to hurt the pocketbook.
"I was sweating it," he admitted. "God led me in the right direction."