'Bigfoot' PornHub Searches Skyrocket after Congressional Candidates' Twitter Spat
In the aftermath of Democrat Leslie Cockburn accusing her Republican opponent, Denver Riggleman, of campaigning with white supremacists and being a "devotee of Bigfoot erotica" in a tweet Sunday night, the Internet exploded with inquiries at perhaps the most reasonable place American voters would begin to search for such a topic: Pornhub.
The Canadian-based pornography website with offices in the United States and the title of "largest pornography site on the Internet" saw tens of thousands of people visiting the website in search of Bigfoot and his sexual proclivities.
"The last few years have taught us to expect the unexpected when it comes to politics in the United States," the Pornhub analytics and research team wrote on their blog Wednesday. "We're pretty open-minded here at Pornhub, but none of us were expecting that Bigfoot pornography would be at the center of a contentious race for a U.S. House of Representatives seat in Virginia."
Pornhub's research and analysis team reported that searches containing "Bigfoot" surged to more than 8000 percent on July 30th, with the research team discovering that hundreds of "devotees" were searching for Bigfoot porngraphy on an everyday basis, even before the topic became a focal point in the Virginia congressional race.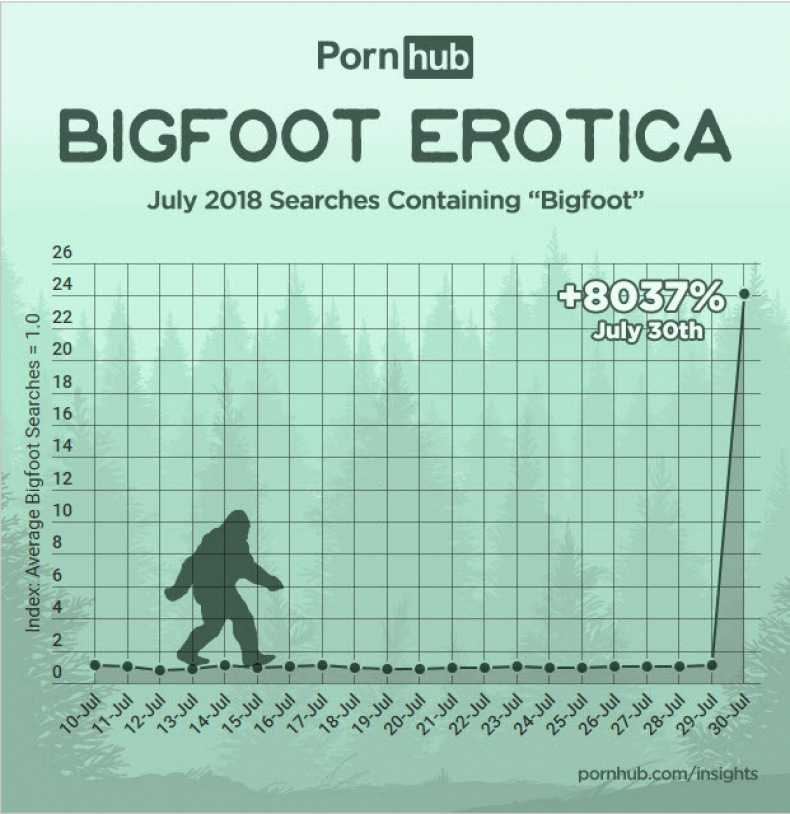 The controversy erupted after Cockburn posted a screenshot of what appears to be Riggleman's Instagram account. The screenshot depicts a hand drawn sketch of a naked Bigfoot with "censored" written over his genital region with the caption saying, "Cover art for #matinghabitsofbigfoot almost complete. I hide nothing in this magnificent tome. Don't erase the censor box."
Another screenshot posted by Cockburn, also allegedly from Riggleman's Instagram account, shows a picture of Bigfoot's body and censored genitalia with Riggleman's photograph superimposed over Bigfoot's head, with Cockburn writing on Twitter, "From my opponent Denver Riggleman's Bigfoot erotica collection."
Newsweek was unable to independently verify that the screenshots came from Riggleman's Instagram account, due to the privacy settings being changed to private.
The Twitter accusations from Cockburn quickly went viral, sparking a plethora of jokes on social media, while others criticized the democratic hopeful for "kink shaming." Riggleman's campaign denied the claims.
Riggleman confirmed to CNN on Tuesday that he was writing two books on Bigfoot, including an unpublished text entitled The Mating Habits of Bigfoot and Why Women Want Him, but lamented that the two books were parody and stemmed from an ongoing, 14-year inside joke he has with his military friends from when he served in the U.S. Air Force.
Riggleman told The New York Times on Monday that he was writing a book about people who believe in Bigfoot, but said that it does not contain any erotic content. In a YouTube video produced by CRTV, Riggleman says that he conducted 10-years of research into Bigfoot for his writings.
Riggleman told CNN that he does not believe in Bigfoot, but does not want his disbelief to "alienate" potential Virginia Bigfoot voters, saying, "I think we probably jumped the shark on stupid," Riggleman said.
The two candidates are competing for the seat left vacant by Republican incumbent Tom Garrett in the Fifth Congressional District of Virginia. Garrett, a former U.S. Army field artillery officer, said he would not seek re-election in order to enter alcohol treatment, according to The New York Times. Garrett has held the seat since 2016.
Cockburn is a two-time Emmy winner, an investigative journalist and former CBS News producer who worked at 60 Minutes, and mother of actress Olivia Wilde. Riggleman is a former U.S. Air Force veteran, who once served as an intelligence officer at the National Security Agency. Later, he became a small business owner, distilling and distributing gin, vodka and whiskey as he continued to provide services to the Defense Department.
The Fifth District race has become contentious in recent weeks as Cockburn has sought to link Riggleman to white supremacists groups—a sensitive topic within the district that includes Charlottesville, the site of last year's deadly "United the Right" rally, that left more than two dozen people injured and one person dead.
Cockburn said Riggleman has been "caught on camera campaigning with a white supremacist," a reference to Isaac Smith, the co-founder of Unity & Security for America. Riggleman has denied any involvement with white supremacists groups.
The social media battle is predicted to continue as the one-year anniversary of the violence at the "Unite the Right" rally approaches next week. On Sunday, Riggleman posted to his Twitter account saying, "To any white supremacists intending to come back to Charlottesville on August 12 this year, I say this: You are not welcome."
On Wednesday, Pornhub also found that Virginia residents are 38 percent more likely to search for "Bigfoot" when compared to the average U.S. citizen.