Biggest Box Office Movie of 2021 Is Chinese Film About U.S. Military Defeat
A patriotic Chinese film about the defeat of American-led forces at the start of the Korean War is about to end the year as the most successful movie of 2021—but it could yet be beaten by Spider-Man.
The Battle at Lake Changjin, a $200 million project commissioned by the Chinese Communist Party's propaganda office, has generated $902 million in ticket sales since it was released to coincide with China's National Day holidays on October 1.
The three-hour action flick—part of the celebrations marking the CCP's centennial this summer—has made more than 99 percent of its revenue from China's own moviegoers, according to IMDb's tracker, Box Office Mojo. It wasn't released in the United States until November 19.
Lake Changjin, which has a Rotten Tomatoes score of 33 percent, is already the best-performing film in Chinese box office history, overtaking 2017's Wolf Warrior 2, also starring the country's go-to action hero Wu Jing. It's the most expensive movie China has ever produced.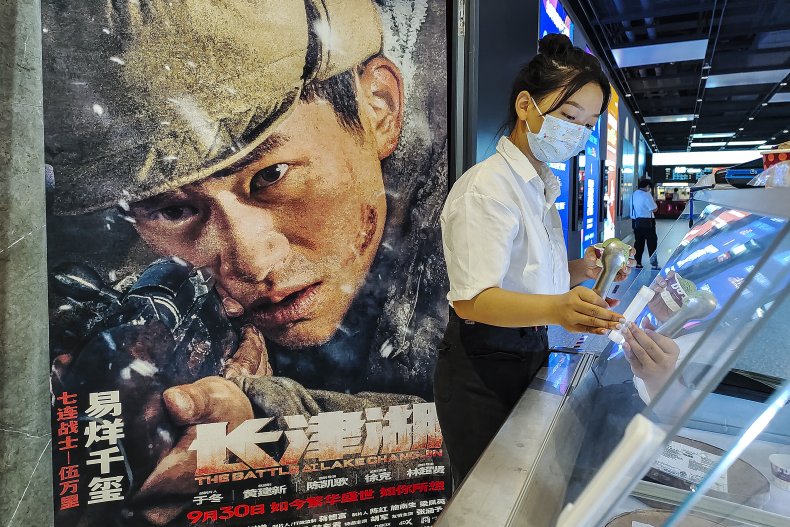 The war epic is an unabashed Chinese retelling of the Battle of Chosin Reservoir, which took place in the winter of 1950 between Chinese soldiers of the People's Volunteer Army (PVA) and U.S.-led United Nations forces.
UN troops pushed Soviet-backed North Korean troops back up the Korean Peninsula after they had crossed the border into South Korea that summer, sparking the conflict.
This part of the Korean War—known in Mao Zedong's legend as "the War to Resist U.S. Aggression and Aid Korea"—is now celebrated for the PVA forcing the better-equipped American forces away from the North's border with China.
The bloody Battle of Chosin Reservoir resulted in heavy losses on both sides, with the UN forces making a tactical withdrawal. PVA casualties were estimated at just under 50,000, while the U.S. is said to have lost nearly 18,000 men.
Following Lake Changjin is this year's second-best earner, Hi, Mom—another Chinese movie. It has grossed $822 million to date, about $50 million more than No Time to Die, Daniel Craig's last outing as James Bond, which is currently in third with global box office sales of $774 million.
However, despite the enthusiastic domestic reception for Lake Changjin in China, the propaganda film could still lose top spot before the year is out. Spider-Man: No Way Home has rewarded cinemas with $751 million less than a week after its release on December 17.
At the current rate, the superhero movie could make up enough ground over Christmas to beat China's patriotic war story. But if it does achieve that feat, it won't be thanks to Chinese audiences, who are still awaiting the domestic release of Marvel's latest film.