The biggest elephant in Botswana has been killed by trophy hunters for its near 8-foot-long tusks.
The elephant had been carrying 200 pounds of ivory in its tusks, and was the largest to be hunted in the country since 1996, according to Wildlife At Risk International.
The trophy hunter had traveled to Botswana and paid $50,000 to partake in the hunt along Botswana's northern border, The Times reported.
Photographs of the trophy hunter standing next to the ginormous tusks have sparked debate on social media.
African elephants are an endangered species and Botswana has one of the largest populations. According to National Geographic, there are around 130,000 elephants in the country and this accounts for a third of the remaining population in Africa.
In recent years, poaching for ivory has been on the rise. Ivory is typically used to make figurines, ornaments and other trinkets. It has high demand in China and is mainly seen as a status symbol.
Former Botswana president Ian Khama imposed a trophy hunting ban across the country in 2014 to better protect the nation's wildlife. However, this ban was scrapped in 2019 by Khama's successor, Mokgweetsi Masisi.
Masisi lifted the ban in an attempt to manage human-wildlife conflicts. In some areas, elephants can prove problematic to local people by damaging crops and infrastructure. Large bulls in particular can also pose a danger to human life if they stray too close to populated areas.
Khama said on his Facebook page that the dead tusker elephant had been an "iconic attraction" for tourists in the country.
"How does it being dead benefit our declining tourism due to poor policies. Our tourism is wildlife based," he said. "No wildlife means no tourism, no tourists no jobs, and no revenue stream. Incompetence and poor leadership have almost wiped out the rhino population, and now this!"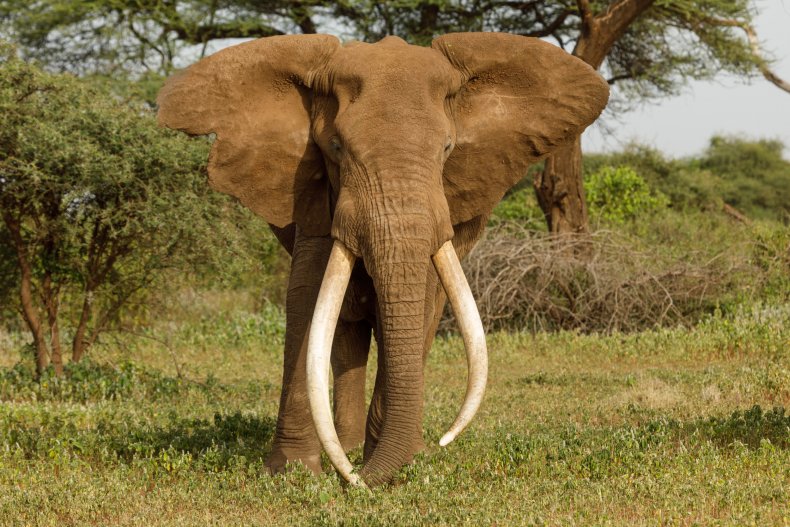 Blood Origins, a non-profit in favor of the hunting industry, posted details of the hunt on its Facebook page. The group claims the elephant was killed in line with Botswana's "elephant management plan," a government initiative that aims to manage the country's population.
The page slammed the former president's comment that the elephant had been a tourist attraction as "there are no ecotourism operators" in this area.
"Elephant populations are at their highest level and have stabilized in Botswana. Hunting is NOT a population control measure. Hunting is a mechanism to relieve small amounts of human wildlife conflict and provide meat and income into areas that likely have very little of both," the Facebook post said.
The location the hunt took place is considered a "fear zone" for elephants, according to Africa Geographic CEO, Simon Espley.
"The surgical removal of Africa's remaining large-tusked elephants by trophy hunters will not solve any human-elephant conflict or habitat issues," Espley said in a statement.
"The volume of elephants hunted is not sufficient to reduce elephant populations. Instead, the likely result of the selection of large-tusked elephants as trophies will be to hasten the disappearance of tuskers from the African landscape."
The tusks of elephants (in African elephants they can be found on both males and females) are elongated incisor teeth, with one third hidden from view and embedded in the elephant's head. African elephant tusks are mainly used for protection, digging, lifting objects, and gathering food.
According to travel company Safari Ventures, African elephant tusks can range from 1.5-2.5 meters in length (males tend to have larger ones), and weight around 23-45 kg each.