Best Moments from the Republican Presidential Debate in Miami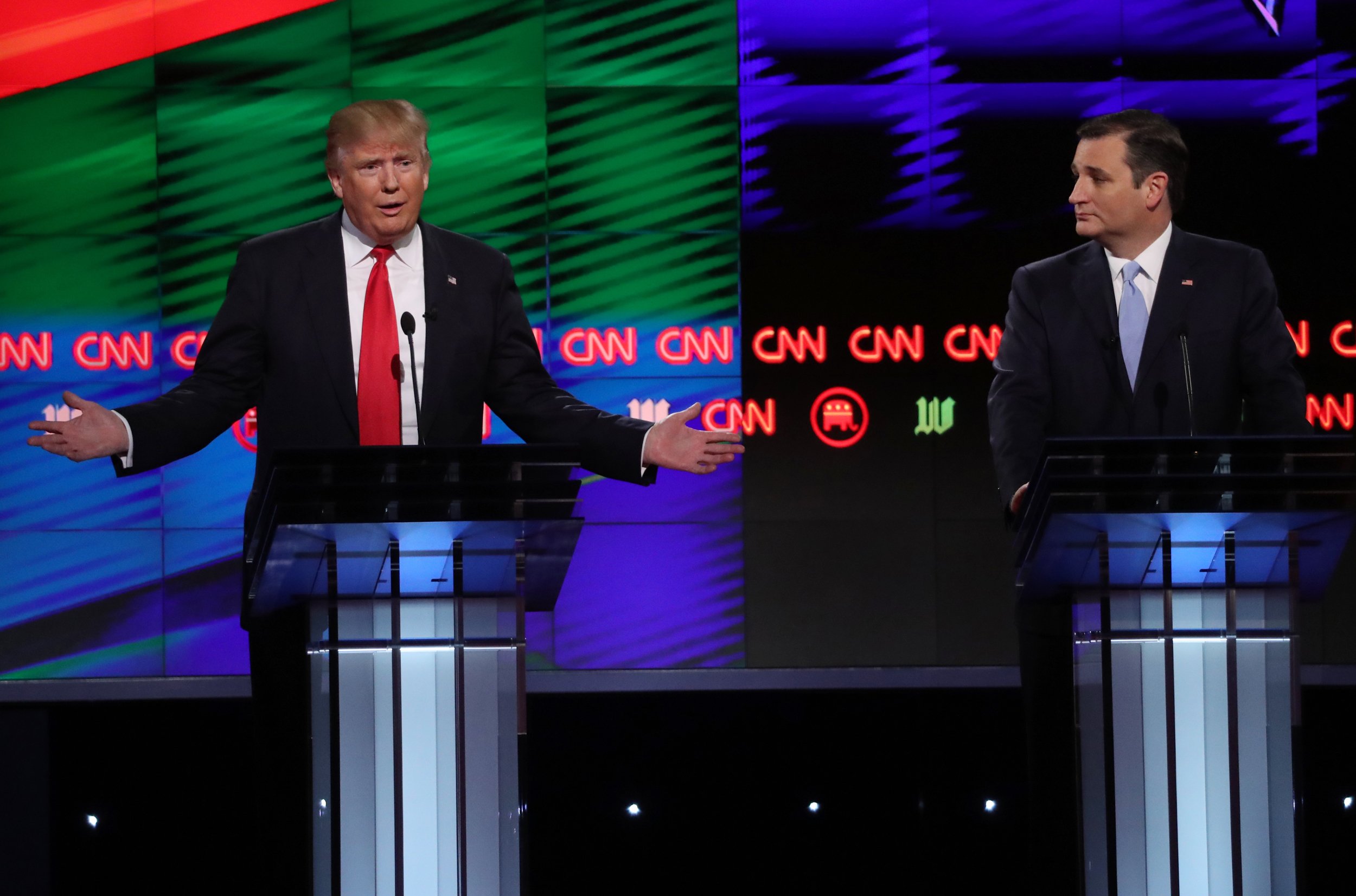 Tonight is the last time the four GOP candidates will meet before the crucial primaries in Florida and Ohio next week on March 15. The prime-time forum, held at the University of Miami, includes Donald Trump, Ted Cruz, Marco Rubio and John Kasich. Following it all are Newsweek's Matthew Cooper, Emily Cadei, Taylor Wofford and Michele Gorman.
11:04 p.m. ET: In a post-debate interview with CNN's Chris Cuomo, Trump called it an "elegant" evening. — Michele Gorman
11:03 p.m.: Well, things have wrapped up in Miami. That has to be the chummiest Republican debate yet. I don't think there was one episode of name-calling! Rubio and Trump gave each other a pat on the back as they walked off-stage. Unthinkable a week ago. — Emily Cadei
11 p.m.: That was a pretty good line from Cruz, talking about what an amazing nation America is "that the son of a bartender and the son of a mailman and the son of a dishwasher and a successful businessman can all stand on this stage." Got some laughs, and more importantly, painted a contrast with Trump. As much as the real estate tycoon styles himself as a man of the people, he is the only one in the GOP race who isn't self-made. — Emily Cadei
10:51 p.m.: "It depends on what comes up," Trump says, when asked about what sort of issues he will be "flexible" about. That's the sort of answer that terrifies the Republican establishment. — Emily Cadei
10:47 p.m.: Trump declines to say that he will not accept outside donations during the general election. Trump has said again and again he is "self-funding" his campaign. That's not true. Trump doesn't have an affiliated Super PAC, but he accepts donations. Here's a list of his donors. — Taylor Wofford
10:45 p.m.: Rubio, meanwhile, acknowledges that he didn't do as well as he wanted to on Tuesday (the night's greatest understatement) and "I was a little disappointed," but he insists that he's not going to give up on the race yet. If he loses Florida next Tuesday, that may be another story. — Emily Cadei
[Related: Full Transcript: Why Marco Rubio Isn't 'Looking To Be Anyone's Vice President']
10:43 p.m.: "There are only two of us who have a path to the nomination," Cruz says, echoing Trump. But then he breaks from the front-runner: "If we nominate Donald Trump, Hillary wins," Cruz says. Trump retorts: "I beat Hillary in many of the polls…and believe me, I haven't even started on her yet." — Emily Cadei
10:37 p.m.: Cruz says he thinks Trump's practice of having supporters raise their hand and pledge support to him is "exactly backwards…we are here pledging our support to you." Emily Cadei
10:32 p.m.: Trump gets a question on the man who sucker-punched a protester at his rally earlier today in North Carolina. "When they see what's going on in this country, they have anger that's unbelievable," Trump says, by way of explanation. "But I certainly do not condone that at all." CNN's Jake Tapper then reads back several Trump quotes, verbatim, of him encouraging violence against protesters. Ooof. — Emily Cadei
[Related: Charges Filed Against Trump Supporter After Punch Video]
10:27 p.m.: On his past comments that Russian President Vladimir Putin is a "strong" leader, Trump says he wasn't endorsing the leader. "Strong doesn't mean good," he says, adding that he doesn't mean it in either a good or bad way. — Michele Gorman
10:19 p.m.: The Republican mayor of Miami told Tapper he wants the Republicans to do something about climate change, which threatens to swamp his city. He endorsed Rubio, but is probably not going to be happy with the Florida senator's response: "The climate is always changing." And he insists there are no laws that will help combat warming. "I am not going to destroy the U.S. economy for a law that will do nothing." Kasich is a bit more moderate on the issue: "The fact is you can have both" jobs and environmentally-friendly policies. "It is important that we develop renewables." — Emily Cadei
[Related: South Florida Is Sinking. Where Is Marco Rubio?]
10:13 p.m.: Clearly the audience at this Miami debate is with Rubio and Cruz on this issue, however. Rubio just got a HUGE roar for his hardline stance on Cuba, including a call for the island to hold free and open elections. — Emily Cadei
10:10 p.m.: Experts I've spoken to suggest that President Obama's rapprochement with Cuba is a poison pill for Republicans. This makes sense to me. Since the 1980s, the attitudes of the Cuban-American exile community have shifted dramatically. Today's Cuban Americans were, by and large, not born in Cuba. Castro is less of a tangible threat and more of a boogeyman their grandparents told them about. The third generation of Cuban exiles is interested in returning to a homeland they've never known. If that means dealing with the Castro regime, so be it. Unfortunately for Rubio and Cruz, the GOP is increasingly out of step with most Americans on this issue. It's a bit surprising, then, that Democrats haven't pressed this issue a bit harder. — Taylor Wofford
10:09 p.m.: CNN's Dana Bash notes the majority of Americans support re-engagement with Cuba. Rubio, the son of Cuban immigrants, suggests that's a mistake. "There has not been a single Democratic opening," Rubio argued. "The only thing that has changes as a result of this opening is now the Cuban government has more money." This is the old-school Cuban-American attitude, but younger generations of Cuban Americans, as well as other segments of society, are much more open to moving away from the Cold War mentality with the Communist island. — Emily Cadei
10:06 p.m.: Rubio gives Democratic presidential candidate Bernie Sanders a shout-out on Veterans Affairs reform legislation. But he blames crises at the VA and its inconsistent care on a lack of accountability. — Emily Cadei
10:01 p.m.: Ted Cruz loves Egyptian strong Abdel Fatah al-Sisi. For the last time Cruz praised al-Sisi, read this. — Taylor Wofford
9:59 p.m.: "The policy Donald has outlined is an anti-Israeli policy," Rubio argues, suggesting that the Israelis can't negotiate with the current Palestinian leadership. "Maybe in 30 years the conditions will exist," for negotiations (30 years!). Trump says that he is "very, very pro-Israel…but I would love to give it a shot," referring to peace negotiations. He insists that Israelis want a peace deal hashed out. — Emily Cadei
[Related: Trump: I Would Be 'Neutral' on Israel and Palestine]
9:48 p.m.: Rubio just gave an extremely effective retort to Trump's anti-Muslim generalities without even raising his voice. Points out that Americans abroad rely on kindness of friendly Muslims and that there are Crescent moons, the symbol of Islam, in the Arlington National Cemetery, the burial ground for American service members. "We are going to have to work together with Muslims who are not radical," says Rubio. — Emily Cadei
9:46 p.m.: Tapper asks Trump about his comments to CNN's Anderson Cooper yesterday, when he said "Islam hates us" and called for an end to letting people come into the country "who have this hatred of the United States." Tonight, he said, "I will tell you there is something going on that maybe you don't know about and maybe a lot of people don't know about...I will stick with exactly what I said to Anderson Cooper." — Michele Gorman
9:43 p.m.: So far, we're experiencing the most sedate debate of the cycle. Forty-five minutes in and no insults. Maybe that's good for democracy and civil discourse, but is it good for Trump? Trump's supporters love his bluster. But maybe Trump, sensing the nomination is his, is gearing up for a general election, when he's going to have to convince voters he's presidential material. — Taylor Wofford
9:42 p.m.: "How does it help you to have a president who says…I'm going to put a 45 percent tax on diapers?" Cruz asks in response to Trump's proposed taxes on imports. "We've got to get beyond the rhetoric of China: bad." This is a fascinating debate playing out right now on an issue that, at least in the Republican party, has rarely been questioned in recent years. — Emily Cadei
9:37 p.m.: Trump is now playing up the fact that he's going against the GOP orthodoxy on trade, says it's the one thing that makes him different than the other candidates. "Trade deals are absolutely killing our country," the billionaire says. — Emily Cadei
9:35 p.m.: Best GIF of the night so far:
— Taylor Wofford
9:34 p.m.: Even Trump is noticing the lack of attacks tonight! "So far I can't believe how civil it's been up here," he says. — Michele Gorman
9:30 p.m.: Rubio and, to a lesser degree, Cruz, have dropped the attack-Trump strategy they pursued in the last couple debates. They've taken on a much calmer, more serious tone. A reflection that, for Rubio in particular, stooping to Trump's level didn't work. — Emily Cadei
[Related: Marco Rubio Regrets Insulting Donald Trump]
9:27 p.m.: "I want to leave Social Security as is," Trump says. He doesn't say how. It's one of his populist positions that is seen as apostasy among conservatives. — Emily Cadei
9:24 p.m.: Rubio not-so-subtly reminds voters of Trump's age. "People like myself and Ted, who are 45 years old…" Rubio says as part of his answer on social security. Trump is 69. Months ago, pundits said Rubio's relative youth would be his keenest weapon against Hillary Clinton. Now, it looks like he won't even have a chance to challenge her. Still, he has a long career of lobbying in front of him. — Taylor Wofford
9:23 p.m.: Wow, a social security question! This is a huge policy issue (especially for all the retirees in Florida) but it's rarely been raised in a GOP debate this election. Already, this forum is covering a wider array of questions than many of its predecessors, which tended to focus intensely on immigration, taxes and foreign policy. — Emily Cadei
9:18 p.m.: Rubio says the U.S. should create a merit-based immigration system. The U.S. should allow only the best-skilled immigrants into the country, Rubio says. Problem is, he also says his parents had no skills at all when they came here. If Rubio's proposal had been the law when his parents had arrived on these shores, Rubio would never have become a senator. — Taylor Wofford
9:17 p.m.: Trump says he thinks Common Core is a terrible idea because education shouldn't go through the government, it should be local. Oh yeah, and he admits a day early that ex-rival Ben Carson, who dropped out of the race just last week, will endorse him at a news conference on Friday morning. — Michele Gorman
[Related: Ben Carson Drops Out of 2016 Presidential Race]
9:16 p.m.: Cruz and Rubio are now suggesting a rethink not just on policy towards illegal immigration but legal immigration, as well. That's always been an underlying part of the angst about illegal immigrants, but it's interesting to see it become more openly discussed. — Emily Cadei
9:14 p.m.: Trump says he uses H-1B visa loopholes, which is detrimental to U.S. workers, but also says he shouldn't be able to. Why doesn't he just...not? Unclear. — Taylor Wofford
9:12 p.m.: Kasich says he'd be running for president of Croatia if not for immigration. He might also be running for president of the Czech Republic, as Kasich's father was of Czech ancestry. His mother was of Croatian ancestry. — Taylor Wofford
9:07 p.m.: It's incredibly telling that CNN is starting with free trade in this Republican debate, and that it's putting the candidates on the defensive. Rubio and Kasich are both trying to thread the needle on supporting free but fair trade. It shows just how much Trump's rhetoric is rubbing off on the party as well as how much his victory (and Bernie Sanders's) in Michigan on Tuesday night has been a wake up call for the political class about the lingering angst among the middle class over foreign trade and jobs. — Emily Cadei
9:04 p.m.: Tapper's hideous aquamarine paisley pocket square is really distracting. He should ditch it. — Taylor Wofford
9:01 p.m.: The candidates seem a little twitchy tonight, there've been a few verbal stumbles in the opening statements. Maybe these guys realize this is their last best shot to stop Trump before the big winner-take-all elections in Florida and Ohio. — Emily Cadei
8:59 p.m.: Not sure when singing the national anthem at debates got to be a thing and am not really sure why. Lincoln, Kennedy, Reagan—they never had them. — Matthew Cooper
8:55 p.m.: To me, it sounded like Rubio got the loudest cheers from the crowd as he was introduced. Thankfully for him, since this is his home state, after all. — Michele Gorman
8:47 p.m.: "This party is going to support the nominee, whoever that is," RNC chairman Reince Priebus says, trying to deflate speculation that the party might not back Trump. "Any one of these four men would be a world better than Hillary Clinton," Priebus says. The fact that Priebus has to say this after 12 debates tells you all you need to know. —Taylor Wofford
8:45 p.m.: In any other year, Kasich might be leading the pack. He's a popular two-term governor of a swing state with a proven ability to sway Democrats and Independents plus he's conservative enough to keep the party happy, what with his being pro-life, against gun control and boasting decades as a fiscal hawk. But this is not, of course, that kind of year. And whenever Kasich talks about his work on the House Budget Committee 25 or 30 years ago, he reminds his audience that belongs to a different era. In an age of Trump and Cruz, can an old school Republican take the lead? — Matthew Cooper
[Related: March Presidential Primary Election, Caucus and Debate Calendar]
8:30 p.m.: Similar to last night's Democratic debate, this GOP forum—hosted by CNN—is being held in Miami. Florida residents head to the polls in just five days to cast their votes for who they think should replace President Barack Obama next January. Rubio has said he realizes he needs a win on his home turf, which is a delegate-heavy state. But it remains unknown whether the young senator can pull off a win in this ongoing, unpredictable presidential race. — Michele Gorman
Best Moments from the Republican Presidential Debate in Miami | U.S.