Biggest R-rated Horror Films in U.S. Box Office History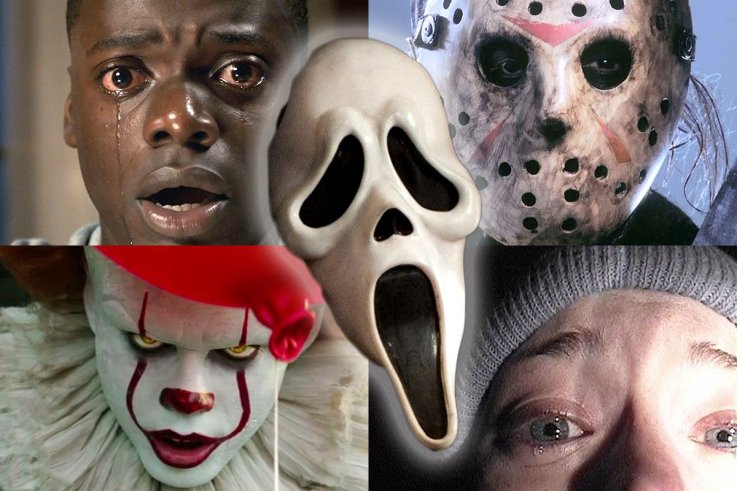 Sitting in the dark, with terrifying images glowing on a huge screen, surrounded by the gasps of fellow movie-goers, the cinema is a perfectly designed space for facing our fears. It's fun to be scared while safe in the knowledge that very soon the lights will come up and you can return safely home.
Hollywood has always relied on horror tropes to draw audiences. In the 1930s, directors recognized the thrilling power of scary movies, and made adaptations of gothic literary classics like Dracula and Frankenstein. By the 1950s, contemporary fears began creeping into horror movies. Godzilla (1954) played into anxiety around nuclear attacks on Hiroshima and Nagasaki, while The Incredible Shrinking Man (1957) tackled existentialism.
Alfred Hitchcock's Psycho (1960) represented a huge step forward for genre, turning the traditional plot structure on its head and making even the editing scary. The 1968 repeal of the Motion Picture Production Code—which censored violence and controversial themes—allowed directors even greater freedom to delve into the deepest reaches of the audience's psyches.
Decades after classics such as The Exorcist (1973) and Scream (1995), horror movies show no sign of slowing down. 2017 was widely declared the biggest year in horror history, with scary movies collecting their highest ever revenue from ticket sales.
But which individual horror movie can claim the all-time number one spot at the U.S. box office? Using data from Box Office Mojo, here are the top fifty horror highest-earners—and to make sure they're really scary, they're R-rated only. Turn on all the lights, check under your bed, and dive right in.