Marine scientists have found what they believe to be the world's biggest seagrass ecosystem in the Bahamas, significantly increasing previous estimates on how much seagrass exists on Earth.
Seagrass refers to dozens of different species of flowering plants that live entirely underwater, generating energy through photosynthesis by absorbing sunlight. Like their land-based relatives, seagrasses have roots and leaves and also produce seeds.
Seagrasses grow in salty coastal waters around the world, usually in shallow waters where sunlight is more abundant. They can form vast meadows that are thousands of square miles in size.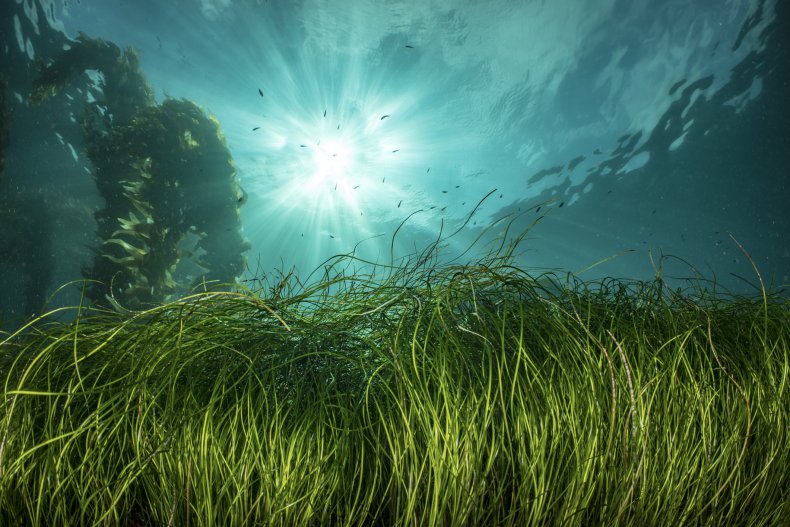 Since seagrasses carry out the process of photosynthesis, they are known to be very effective at storing carbon dioxide, the greenhouse gas. This is because photosynthesis involves plants using sunlight to convert carbon dioxide into oxygen.
These underwater plants play an important role in carbon sequestration, in which carbon is stored in the environment rather than being allowed to float freely in the atmosphere where it can contribute to global warming.
In a study published in the journal Nature Communications on November 1, scientists describe a seagrass ecosystem in the Bahamas that could be the biggest in the world. It is estimated to cover an area of at least 25,500 square miles.
"This is a 41 percent increase over the predicted global estimate for seagrass, which is around 160,000 square kilometers [62,000 square miles]," Austin Gallagher, one of the new study's authors and CEO and lead scientist at ocean conservation non-profit organization Beneath the Waves, told Newsweek.
Gallagher said the ecosystem is likely to be the most significant blue carbon sink—referring to carbon stored in marine ecosystems—on the planet.
"Carbon enters the ocean through air-sea interactions naturally as part of the carbon cycle, and the seagrass takes in this carbon through photosynthesis via their blades. This is part one," Gallagher said.
"The second part is when the seagrass transports this carbon through its tissues, burying and storing it in its root system, which then becomes a carbon sink. Seagrass stores this carbon indefinitely."
The purpose of the study by Gallagher and his colleagues was to map seagrass in the Bahamas, using data from 15 tiger sharks equipped with tracking instruments that could also take images of the sea floor. That information was then combined with reports from 2,500 surveys by human divers.
Mark Huxham, professor of teaching and research in environmental biology at Edinburgh Napier University in the U.K., told Newsweek: "This brilliant study uses imaginative and exciting new technology, in partnership with tiger sharks, to help us answer what should be a simple question; how much seagrass is there on Earth?
"We know seagrass is important for the health of our seas and our planet, but there are major gaps in our understanding about it," said Huxham, who was not involved in the study.