World's Largest Recorded Spleen Removed From Man in Florida Was Almost 9,000 Percent Bigger Than Normal
The largest spleen ever recorded has been removed from a man in Florida, with the organ weighing almost 27 pounds—more than 12 percent of his total body weight and 8,800 percent larger than an average spleen.
The patient was a 44-year-old man with a history of a low grade B-cell lymphoproliferative disorder. This is where there is an uncontrolled growth of lymphocytes—a type of white blood cell involved in immune response. According to the Mayo Clinic, B-cell lymphoproliferative disorders include cancers such as Hodgkin lymphoma and chronic lymphocytic leukemia. The man's disorder had previously been treated with chemotherapy.
The patient was seen by physicians at the University of Florida College of Medicine after his abdomen had grown quickly over a three-month period. CT scans showed he had splenomegaly—a condition where the spleen becomes enlarged because of a number of conditions, including cancers of the blood.
Doctors performed a splenectomy to remove the organ, which is when they discovered it to be the largest on record. The case was reported in the journal Case Reports in Surgery in February.
"The spleen measured 45 cm [17.7 inches] in greatest dimension and weighed 12.14 kg [26.7 lbs], more than 12 percent of the patient's total body weight, making this both the largest spleen on record as well as the largest spleen ever surgically removed," the team, led by David Hall, wrote in the paper.
Hall told Newsweek: "At the time of the operation, we knew it was certainly the largest that our surgical team—myself and attending surgeon Dr. Christiana Shaw—had ever taken care of. Afterwards, searching in the reported medical and scientific literature revealed that this was almost twice the size of the largest on record. Incidentally, we have submitted the case to the Guinness Book of World Records with the application currently under review."
A 2012 study looking at the average weights of organs for men found the mean weight for a spleen was around five ounces.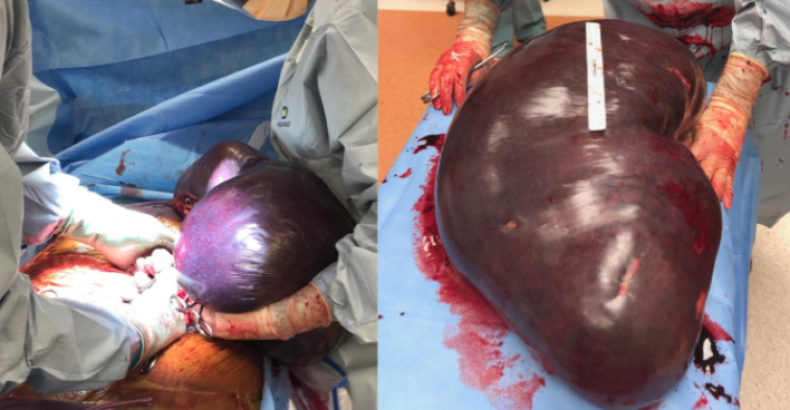 The spleen acts as a blood filter and is part of the immune system. In the 44-year-old's case, the spleen enlarged as a result of a cancer called splenic marginal zone lymphoma (SMZL). This is a type of slow growing B-cell non-Hodgkin lymphoma. A study published in 2015 found SMZL accounts for around 2 percent of all non‐Hodgkin lymphomas.
SMZL, Hall said, "predominantly affects the spleen and results in rapidly progressive and symptomatic splenic enlargement."
The man was discharged from hospital three days after surgery. He is now being monitored and may be treated with chemotherapy.
Hall and colleagues say that because of it being a fairly rare condition, the best treatment for SMZL is controversial. However, they say more awareness of the disease would help improve referrals so patients can be treated appropriately. "SMZL is an infrequent condition, but leads to rapidly progressive symptomatic splenomegaly," they wrote. "We demonstrate that even cases of massive splenomegaly can be managed surgically providing equally rapid symptomatic improvement and an overall satisfactory oncologic outcome."
This article has been updated to include quotes from David Hall.