Religious Bigotry on Display at Mississippi's Flagship University? | Opinion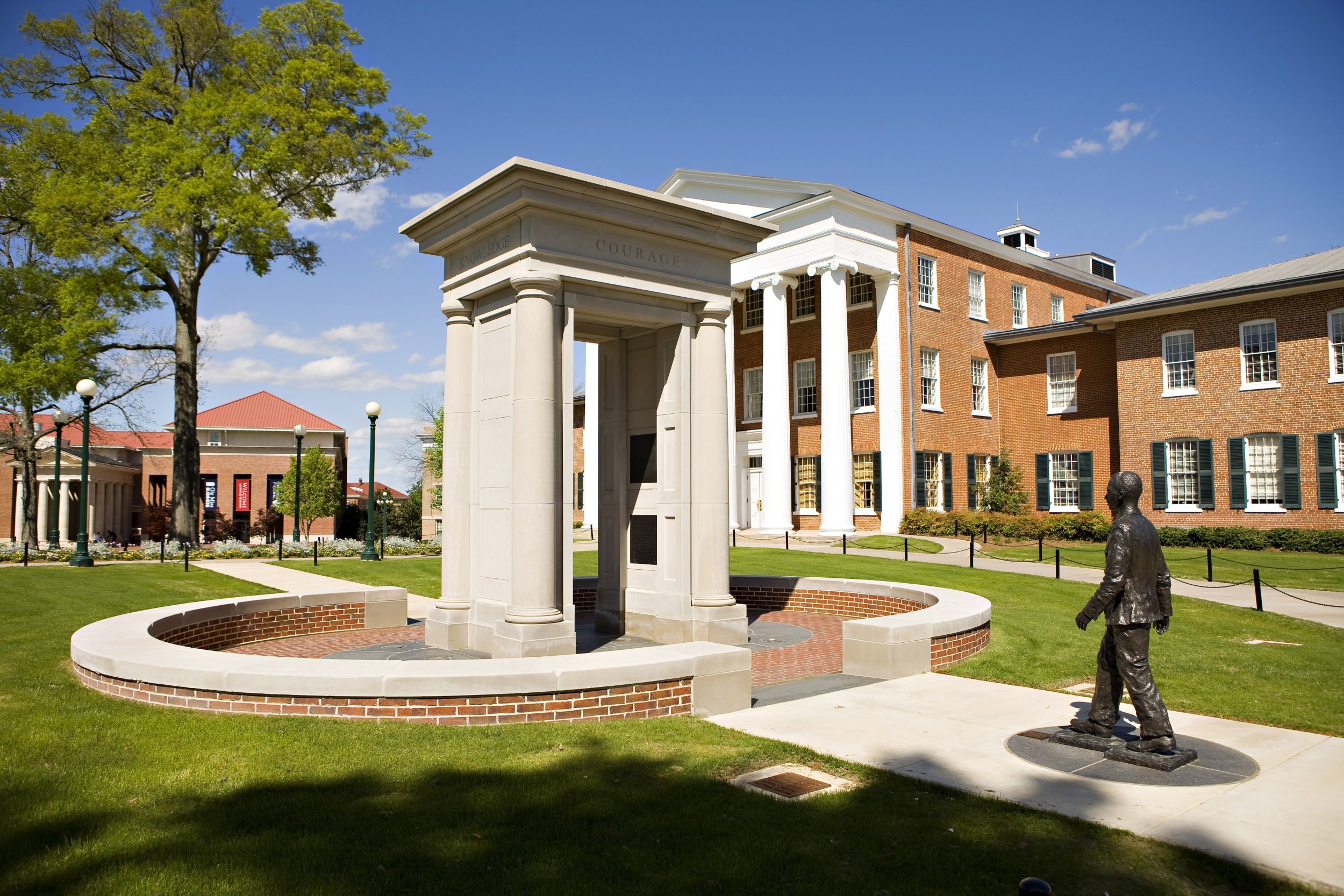 There are, it seems to many of us living in Oxford, the hometown of Ole Miss, two Daily Mississippians, the student newspaper: one that wins awards for outstanding student journalism, as the paper reported recently. And one that pushes distorted narratives about Christians or ignores big Christian stories.
Let's talk about the former before talking about the latter. And why this story matters no matter where you live in America and whether you happen to be a Christian.
Back in April 2018, Dan Cathy, the CEO of Chick-fil-A, gave a talk on leadership on campus. It was about how to lead a values-driven company while adapting to a rapidly changing marketplace. The many of us who attended were there because few companies are run as beautifully—and treat their employees and customers as well—as Chick-fil-A. From wages to training to investing in its communities, Chick-fil-A is a model corporate citizen. And did I mention they make a tasty chicken sandwich?
Then came the Daily Mississippian coverage of Cathy's visit. The paper ran a story about the event, but somehow, a handful of protesters who showed up made their way into the story, too. And got the all-important photo.
Anyone who's ever run a paper knows the importance of the picture in a story. It is a big editorial decision. Perhaps the biggest. Because people remember what they see as much—or more—than what they read.
The student protesters in the photo were holding signs that made some scathing charges against the company. One read, "Chick-fil-A Is Anti-gay." The other, held by a prominent left-wing student activist named Jaz Brisack, had these words: "Mississippi Does Not Need More 'Leadership' in Bigotry. Chick-fil-A = Anti-gay."
Brisack even managed a smile for the photographer. As if she knew that she'd be the one to get the lead DM photo, and not Cathy. Or the multitudes who admire him, and turned out to see him.
Chick-fil-A runs a remarkable company, with remarkable values. Complaints about discrimination on the gay or gender front by employees are nearly nonexistent. The company routinely ranks high for quality of life in national workplace polls. And in 2018, USA Today reported that Chick-fil-A was among the best large companies for working women in America.
Yes, Chick-fil-A supports groups that are Christian with its profits. But it doesn't give money to target gays or women.
For the DM to put forward in a photo the students' claim that Chick-fil-A is a bigoted company without evidence isn't just bad editorial judgment. It's slander.
Worse, it represents a form of anti-Christian bigotry, something Ole Miss leaders should be more sensitive to, as it should with all forms of bigotry.
Brisack is openly anti-Christian. One of her Facebook posts quotes one of the leading Marxist anti-Christians of the 20th century, Bill Hayward: "To me, Christianity was all nonsense, based on that profane compilation of fables called the Bible."
Brisack added these words: "Big Bill was right."
Didn't DM readers deserve to know this about Brisack? And would the DM allow such broad and ugly characterizations of all followers of Islam and the Koran? Or Jewish, gay or black people?
Why did the DM choose that picture of Brisack and not one of Cathy, or of the many folks who showed up to see him?
In the DM story, there was also this sentence about the protest: "A group of students protested Cathy's speech outside of the Pavilion." But it wasn't a group. It was three students. Why use the word "group" but to suggest that the protest was bigger?
Brisack, as the poor turnout proved, didn't represent anyone but herself and a few other student activists. Her views—which are radically left—don't represent even a slim minority of the campus student body, but she's a campus celebrity nonetheless, thanks to the DM, and to the leftist journalism faculty that feted her with awards, praise and scholarships for her brand of activism last year.
Many of us wondered if a young female student active in pro-life efforts or free markets or the Second Amendment would get the same coverage from the DM. And the same praise from the journalism faculty.
When Newsweek contacted the DM for permission to use the photo that's still on the DM's website, the editor in chief had this to say: "We do not feel comfortable sharing the image for a column."
But this story gets worse, this tale of two DMs.
Flash forward to February 2019. Four Ole Miss students got an idea to bring one of the nation's most prominent Christian worship bands (Passion) and most popular Christian speakers (Louie Giglio) to campus.
They quickly formed an organization called Come Together Oxford and raised $100,000 from local business and church leaders to put together a worship night for Ole Miss students and the North Mississippi community. That's a story almost by itself, don't you think?
As the countdown to the concert continued, the students met with fraternities and sororities to talk up the event, posters were placed all over campus and town, a Facebook campaign ensued, and excitement grew by the day as thousands of Ole Miss students looked forward to the big night.
A DM writer interviewed a few of the students who engineered the event, but the story never made it to print. And up until the day of the big concert, there wasn't a single mention of it in the paper or its website. That would surely change, most of us thought, after the big night.
Then came the event on April 9. Over 4,200 people attended: 2,400 Ole Miss students and over 1,800 local residents. The music was great, with students and grown-ups singing together for well over an hour praising God.
And then came Louie Giglio's talk on the prodigal son, a Bible story that's influenced Western literature through the centuries. During Giglio's message, he made what's known as an altar call, where attendees are invited to walk up to the stage and commit or recommit their lives to Jesus Christ.
A remarkable thing happened: one courageous young lady answered the call. All alone, she walked her way up to the stage. Another student followed, and then another. Soon, upward of 200 students walked up to the stage. That's a big deal in Christian circles. Many of us cried watching. And it was an especially big deal to the hundreds of Ole Miss students who made that commitment in front of their peers.
Then came the day after, and all of us were stunned, students and adults alike. Not a single story in the DM. Not a picture. Not a word. Nothing.
If Brisack had been outside protesting, many of us joked, the DM surely would have been there!
How in God's name did the DM miss this story? And the story of thousands of Christian students gathering at the school's basketball arena? And all of those students publicly recommitting their lives to their God?
Does the DM blackball Christian stories, or just not care? Or is it a reflection of a deep bias of the grown-ups at the journalism school—the very people who hand out awards and honors—that the DM missed this big story? Young people, after all, respond to the cues and incentives and accolades of their elders. Of their professors.
Does the DM represent all of the Ole Miss students, including the very large number of conservative and Christian students on campus? Or is it—as many of us have come to believe—a tool of activist leftist student journalists and their professors interested in advancing their social justice agenda?
These are important questions. Media bias may be tolerable to the mostly left-leaning newsrooms across this country. That's the prerogative of the outlets' owners. But state-funded universities—especially our journalism schools—and student newspapers should be a place for all student stories and voices to be represented. And not just those that a loud leftist minority deem important. It is an abuse not just of power, but of trust.
Those of us who call ourselves Christians want answers. This much is certain: If this kind of thing is happening in a state like Mississippi, one can only wonder what's happening in the student newspapers at flagship state universities across this country as it relates to anti-Christian bigotry.
Lee Habeeb is VP of content for Salem Radio Network and host of "Our American Stories." He lives in Oxford, Mississippi, with his wife, Valerie, and his daughter, Reagan.
The views expressed in this op-ed are the writer's own.