Inauguration 2017: Bikers for Trump Stakes Out Turf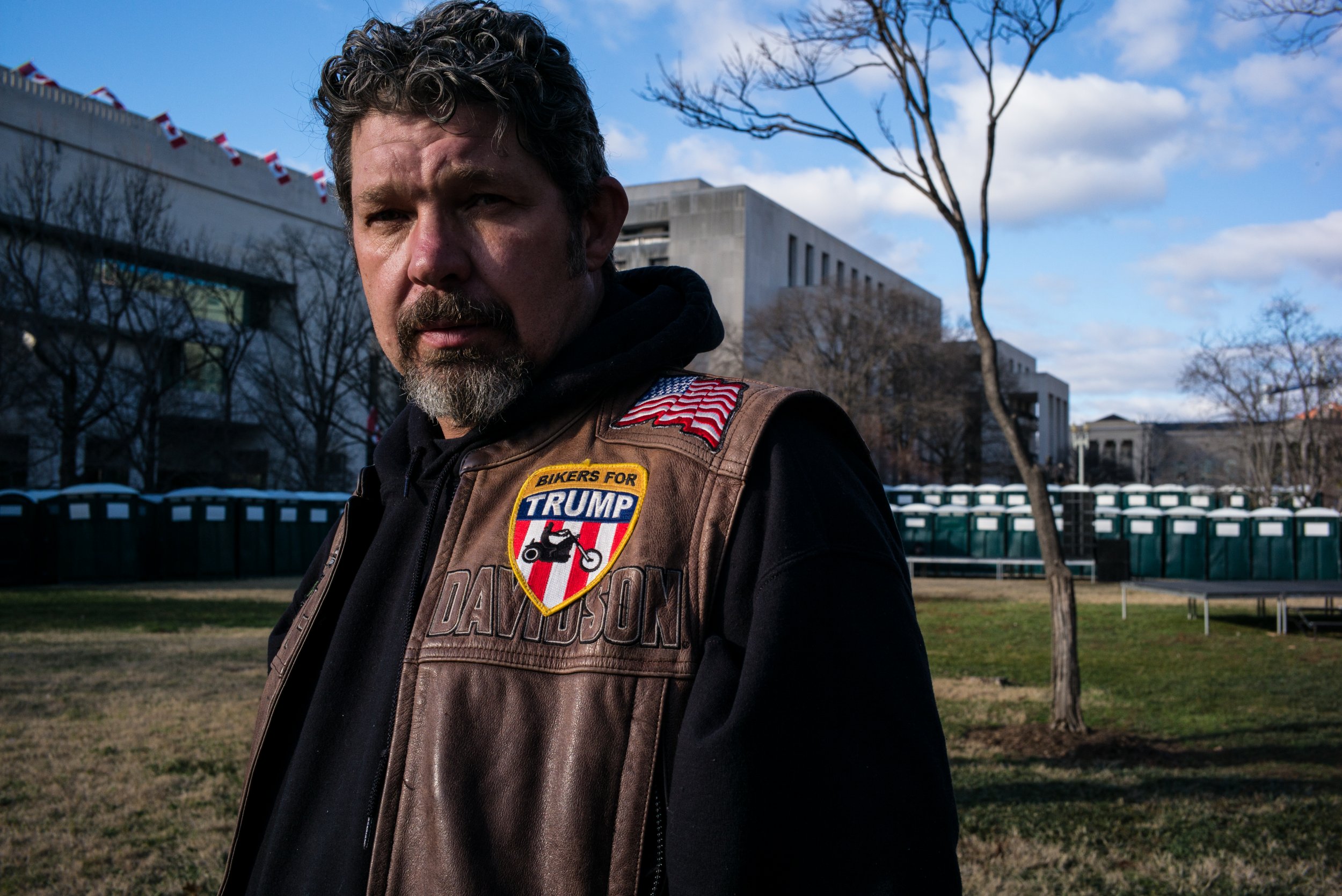 Amid dozens of "Don's Johns" port-a-potties with their brand labels taped over for Inauguration Day and beneath a flurry of helicopters, two leaders of Bikers for Trump surveyed a small patch of park on Washington's Pennsylvania Avenue where they claim they will gather some 5,000 bikers for Friday's inaugural parade after Donald Trump is sworn in as president.
Bikers for Trump founder Chris Cox was an advance man for Dan Quayle back in the 1980s, but he couldn't look less "Washington," at the Inauguration, wearing jeans and a leather jacket with Bikers for Trump emblazoned on the back, and a pair of white headphones emblazoned with the Bikers logo clamped on his ears. He has rather cheekily offered up his group's bikers to be a "wall of meat" between Trump, cops and the protesters expected to line the parade route. (Tweets on Friday morning claim a biker has already tussled with a protester.)
Bikers are often associated with violence—most famously at a 1969 concert at Altamont, where an attendee was killed when the Hells Angels were providing security. To sweeten the group's image, Cox also invited "a biker band" to perform on the small riser in the park, and has instructed the band to break into the National Anthem 10 minutes after Trump is sworn in.
"We're the only pro-Trump group to get a permit on the route out of 90 permits," Cox says. The D.C. mayor's office, which issues the permits, confirmed that Bikers has a permit, but couldn't confirm or deny the accuracy of the rest of that statement. If there is a wall of meat, it'll likely be spread as thin as government Spam on a refugee's sandwich along the more than mile-long parade route.
Trump touted his biker backers during a Tuesday night dinner in the capital, while predicting "record crowds" at his inauguration (though early estimates are that he will have around a million fewer people than Barack Obama in 2008). "I saw the Bikers for Trump — boy they had a scene today," he said. "And they had a scene today where they had helicopters flying over a highway some place in this country. And they had thousands of those guys coming..."
Trump supporters have been using social media to share old pictures of highways jammed with streams of motorcyclists, supposedly en route to Washington. But the pictures reportedly were taken in 2013, of bikers en route to a 9/11 commemoration.
Cox, who hails from North Carolina and who makes chainsaw sculptures in his spare time, organized a biker rally Thursday, at an At Home parking lot in Dale City, Virginia, about half an hour down I-95 from D.C. But those motorcyclists apparently will not be part of the parade.
Cox is a man in hot demand right now. His phone buzzed incessantly—calls, he said, from journalists—as he talked. Television crews from the U.K. and the U.S. milled around waiting for him. While he was occupied with some of them, retired Pennsylvania electrician Dennis Egbert, who travels with Cox, talked to Newsweek about why he'd put in thousands of miles on his own motorcycle, traversing the country to stump for Trump before the election.
Egbert, 64, clad in a Semper Fi Marine baseball hat and Bikers for Trump regalia, voted for Obama in '08, but "went full bore Republican" after the attack in Benghazi, Libya. "I was a good union boy," he said. "But in 2013, I worked exactly five weeks" and earned a total of $11,000 that year. He blames Obama. "Any work I got was runoff from Bush," he said.
Egbert took his pension early and quit the union, which he says didn't represent his interests. "They just wanted me for the voting. Unions, they might have done something for my people back in the day," he says. "Not anymore."
Egbert currently has no health insurance, and he's hoping he doesn't get sick in the year before he turns 65 and Medicare kicks in. "In my opinion, Obamacare was made to help immigrants and refugees," he says. "If something happens to me, I'm going to write a letter to Trump. I'm not saying he's going to save me, but..."
His wife has congestive heart failure and couldn't afford the Obamacare premiums, so she's managed to get on Medicare. Egbert, who served in the Marines during peacetime, accused Obama of "throwing aside" Gold Star families and vets to focus on un-gendered bathrooms, another policy idea he's looking forward to being dropped. "If my daughter went into a bathroom with a male figure, she'd be in trouble and so would he!"
Egbert was so distressed by debts and lack of work in recent years that, until Trump came along, he says he felt literally emasculated. Trump "gave me my balls back," he says. "I felt I was castrated. I was getting defeated by job redistribution, and all my ready cash was sucked up by Obamacare."
After his television interviews, Cox explained the political demographics of Bikers for Trump. He says that an estimated 6 million to 8 million American bikers are "politically like-minded" and that he's enrolled 220,000 of them for Trump so far. The biggest single group is veterans, followed by the "3 percenters"—Tea Party-styled bikers—the evangelical Bikers for Christ and the blue-collar union guys, like Egbert.
"We want to show this demographic has sustainability for the Republican Party," he says. "There are two types in unions. Guys who shower in the morning, and guys that shower at night. And the guys that shower at night broke away from the guys that shower in the morning. They used to be the sweet spot for the Democrats."
Cox says he's in touch with the president-elect. "He called me a week ago and we talked for 12 minutes. He talked to me like like we were old college buddies. It was like, a regular guy conversation."