Members of the Bikers for Trump organization gathered outside the location of the Democratic National Convention (DNC) in Milwaukee, Wednesday on Wednesday as a show of support for President Donald Trump.
According to the Bikers for Trump website, the group is a "grassroots organization of patriotic citizen crusaders who are committed to supporting President Trump's agenda and upholding American liberties."
Although much of the 2020 DNC is being held virtually and using pre-taped speeches from Democrats, the Bikers for Trump can be heard in a video posted online announcing their approval of Trump's reelection campaign.
Newsweek reached out to the DNC for comment.
In an interview with Fox News on Wednesday, Bikers for Trump founder Chris Cox said his organization was not in Milwaukee to "poke the bear, but we're here to keep an eye on things."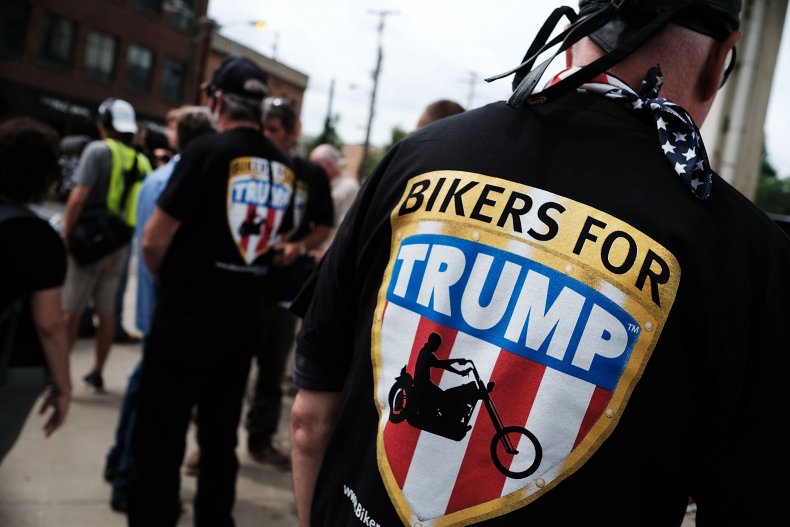 Cox said that when his group was in Cleveland, Ohio, "the Democrats were all around. Some of them were throwing what they call 'urine bombs' into the crowd."
The presence of the group at the DNC, according to Cox, is to support law enforcement and the Milwaukee Police Union. On Tuesday, the Milwaukee Police Union endorsed Trump's reelection bid.
Cox said the difference between Bikers for Trump and Democrats is the biker group's insistence on keeping an open line of communication. "We're not here to shout," Cox said.
Protests at the 2020 DNC have been small but could grow in number as the convention progresses. One group called #BernieOrVest protested on Monday in support of Vermont Senator Bernie Sanders. Wearing fluorescent yellow vests as they marched, the protester said they would not vote for the Democratic presidential ticket of its platform did not include Sanders' national health care program, Medicare for All.
When Democratic nominee Joe Biden accepts the party's nomination on Thursday, the Coalition to March on the DNC is expected to protest near the Wisconsin Center, the convention's physical location. Aspects of the group's demonstration are expected to be centered on the Democratic Party's responsibility in crimes involving police brutality and racism.
"It's clear that Trump is provoking violence against protesters and encouraging police killings of Black and other people," said Milwaukee Alliance Against Racist and Political Repression leader Lauryn Cross in a Wednesday statement, "it's Democrats who run the majority of the cities where cops get away with these murders."
Wednesday's installment of the convention is expected to include remarks from former President Barack Obama and former Secretary of State Hillary Rodham Clinton. Democratic Vice Presidential candidate Kamala Harris is also slated to formally accept the Democratic Party's nomination.