Bikers for Trump Prepared to Ride for President if Republican Senators Appear to be 'Flipping' on Impeachment
Riding into Washington, D.C., to protest the impeachment vote in the House of Representatives would serve no purpose, according to the Bikers for Trump, but they're ready to make their voices heard if Republican senators appear to be changing their tune and ready to convict President Donald Trump.
"This is a witch-hunt and we all know it, so why try to publicize it for the Democrats with doing a ride," Dale Herndon, director of Bikers for Trump, told Newsweek ."...The Democrats have shown that they don't listen to anyone other than their inner circle."
On Wednesday, the House is expected to vote on the two articles of impeachment that the House Judiciary Committee approved. Bikers for Trump, a political PAC composed of a group of motorcycle riders and Trump supporters, claimed Democrats already had their minds made up and therefore, a protest would be of little use in stopping them from voting in favor of the articles of impeachment.
Even if the House votes against Trump, removing him from office would require the Republican-majority Senate to convict him. At least 20 Republican senators would have to vote in favor of removing Trump from office, but Senate Majority Leader Mitch McConnell told reporters on Tuesday he anticipated a "largely partisan outcome" if a trial is launched.
In the Facebook video, Herndon encouraged McConnell to put it to a vote so it could be "over with" and expressed confidence that the Senate would "handle this." If Republican senators appear to be "flipping" on the issue of convicting the president, though, Herndon told The Washington Examiner that the organization is ready to protest.
"We are getting up support just in case," Herndon explained.
For a ride to be effective, it must have meaning and be timed appropriately, Herndon told Newsweek. Bikers for Trump has groups in every state, but if a ride is necessary, everyone would be encouraged to ride into Washington, D.C., together.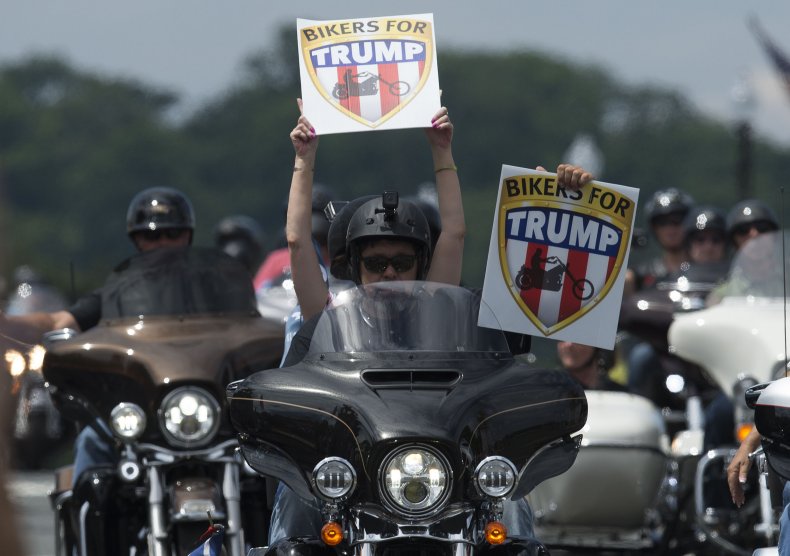 While the Bikers for Trump are preparing to show support for the president if his position in the Oval Office is at risk, Herndon isn't worried about Trump's fate in 2020. Herndon predicted in the video that Trump would be victorious and that Republicans would regain control of the House and maintain the Senate majority, giving Trump "all the tools he needs to do what he's got to do."
Although he expected the Democrats' pursuit of impeaching Trump would be advantageous to the president in the election, Herndon encouraged people to not fall into complacency.
"Don't worry about tomorrow folks, or today, whenever you hear this," Herndon said in the video. "We're gonna win, Trump's gonna win, but we still gotta do what we gotta do; register people to vote, get people to the polls, do any rallies you gotta do."
On Wednesday morning, Trump, who remains steadfast about his innocence, encouraged people to "say a prayer" and read the transcripts.
"Can you believe that I will be impeached today by the Radical Left, Do Nothing Democrats, AND I DID NOTHING WRONG! A terrible Thing," Trump posted on Twitter. "...This should never happen to another President again."
At the heart of the impeachment inquiry is a July 25 phone call between Trump and Ukranian President Volodymyr Zelenskiy. During the call, Trump asked Zelenskiy to look into former Vice President Joe Biden's alleged influence over the Ukranian government dropping an investigation into Burisma, a company in which the former vice president's son, Hunter Biden, sat on the board.
The House is expected to vote to impeach Trump Wednesday on two articles: abuse of power and obstruction of Congress. He would be the third president in American history to be impeached, along with former Presidents Andrew Johnson and Bill Clinton.