'Bikini Baristas' Need to Wear More Clothing, Federal Appeals Court Rules
"Bikini baristas" will remain banned in Washington State, according to the 9th U.S. Circuit Court of Appeals, which upheld two city ordinances barring servers from serving coffee while wearing swimsuits or pasties.
The decision on Wednesday overturned a previous ruling by a district judge, who ruled that the laws violated First Amendment rights.
In 2017, Everett, Washington (approximately 30 miles north of Seattle) passed two ordinances: One expanded the lewd conduct law, the other established a dress code at "quick-serve" restaurants like coffee stands and food trucks. The code requires employees to cover their torso, upper legs, buttocks and pubic areas.
City officials said the laws were necessary to stop "dangerous and unlawful conduct," after they received over 40 complaints, including of public masturbation by customers. Others complained the stands were too close to preschools and daycare centers.
Newsweek subscription offers >
According to the ruling, an investigation by the Everett Police Department found that some baristas went entirely nude and one stand, Java Juggs, was revealed to be a front for a prostitution ring. The EPD also discovered some baristas were not paid an hourly wage and depended solely on tips, "resulting in pressure to engage in lewd acts."
After the laws were passed, the owner and five baristas at Hillbilly Hotties, a drive-through coffee chain, sued the city, claiming that the new ordinances violated their rights to free expression.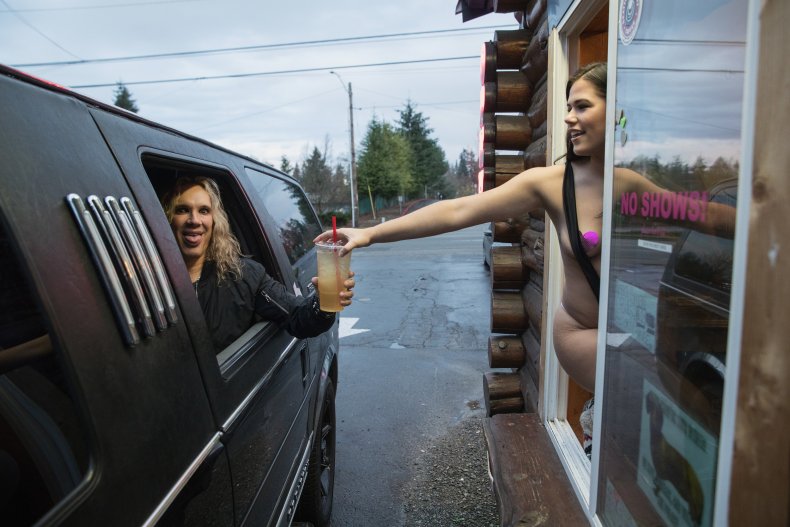 "A bikini is not a sexual message, [it's] more a message of empowerment," read an afadavit from one barista. "We are empowered to be comfortable in our bodies," and that they are "empowered, confident, and free."
Newsweek subscription offers >
They also argued that the lewd-conduct law was constitutionally vague, and that phrases like the "bottom one-half of the anal cleft" were "not well-defined or reasonably understandable."
The lower court agreed, and ordered an injunction placed on the two ordinances.
However, Circuit Judge Morgan Christen did not: She wrote that context made it clear what was being described in the lewd-conduct law, and that the dress-code ordinance did not violate the First Amendment.
The baristas might have felt they were demonstrating empowerment and "fearless body acceptance," she added, customers may not agree, as the baristas solicited tips.
"Because plaintiffs have not demonstrated a 'great likelihood' that their intended messages related to empowerment and confidence will be understood by those who view them, we conclude that the mode of dress at issue in this case is not sufficiently communicative to merit First Amendment protection," Christen wrote. "We stress that plaintiffs deny that they engage in nude dancing and erotic performances, thereby disavowing the First Amendment protections available for that conduct."
Judge Christen vacated the district court's ruling and returned the case to U.S. District Judge Marsha Pechman in Seattle for further proceedings.
'Bikini Baristas' Need to Wear More Clothing, Federal Appeals Court Rules | News