'Keeping Our Beaches Beautiful': Outcry Over Cosmetic Surgery Billboard Featuring Scantily Clad Woman
Social media users have slammed a cosmetic surgery advertisement featuring a woman in a swimsuit and the words: "Keeping Our Beaches Beautiful."
The poster, for Gabay & Gottlieb Cosmetic Surgery Center, appears on a large sign on the I-95 in Philadelphia.
Facebook user Erica Evans commented on the company's Facebook page: "HORRIBLE advertisement [on] 95. Body shaming and flat out unacceptable."
User Lauren Rooney agreed, calling the advert: "Body shaming nonsense!"
User LuAnn Marsha added: "Shameful 95 advertising…absolutely disgusting."
Plastic surgeon Neil Gottlieb told local station 6ABC the company had not intended to shame anybody with the advert. The center has used the same billboard design a number of times over the last three years, but had never had this response, the station reported.
Gottlieb said the poster was meant to be lighthearted, but if it's causing offense it definitely isn't serving its purpose. 6ABC reported the company was considering removing the sign altogether.
The Gabay & Gottlieb Cosmetic Surgery Center did not immediately respond to Newsweek's request for comment.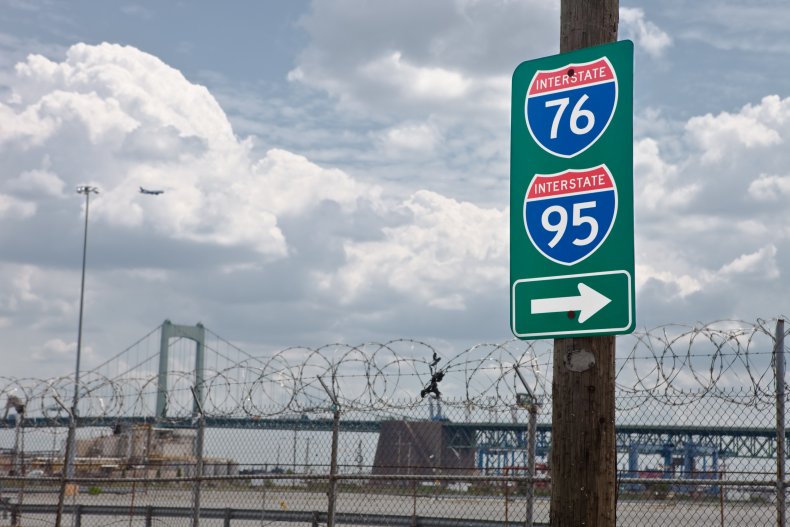 Other adverts have faced similar criticism in the past. Back in 2015, nutrition company Protein World sparked a backlash with a series of controversial posters on London's transport network. The ads featured a woman in a bikini and the words: "Are you beach body ready?"
More than 70,000 people signed an online petition to get the ads removed from London's transport network. Others defaced the posters with comments including: "Stop encouraging women to starve themselves."
Protein World responded to the controversy with a statement: "It is a shame that in 2015 there are still a minority who aren't focusing on celebrating those who aspire to be healthier, fitter and stronger."
Although the posters sparked nearly 400 complaints to the U.K.'s Advertising Standards Agency, the watchdog decided the ad was not "irresponsible" and didn't break guidelines.
The ads were launched in New York City that summer. Although it was met with some criticism across the pond, The Guardian reported the posters did not provoke such an intense response.
But some residents placed "this oppresses women" stickers on the ads in protest, Cosmopolitan magazine previously noted.
In 2016 London mayor Sadiq Khan pledged to ban ads that promote "unhealthy or unrealistic" body image from the city's transport network.
The next year, Protein World launched ads featuring Khloé Kardashian in a bathing suit with the words: "Can you keep up with a Kardashian?" Although these were also criticized by some transport users, they were given the all-clear by Khan's office, Cosmopolitan reported.