Bilderberg 2018: Welcome to the Super Bowl of Corporate Lobbying | Opinion
If you're a fan of elite policy conferences, then this is your lucky weekend. The political planets have aligned, and the two most important meetings of the year are taking place at the same time: The G7 summit in Quebec and the Bilderberg conference in Turin.
Both are heavily guarded, influential affairs; both are attended by prime ministers with government staff and both will tackle some of the most pressing issues of the day. But that's pretty much where the similarity ends.
One of them is surrounded by about 4,000 journalists, feeding hungrily off the multi-million dollar PR operation that tosses them constant juicy press releases and footage from the event. The other is surrounded by scowling Italian police who tell you to delete your photos if you get too close to the security cordon.
Already this year, an American journalist, Josh Friedman, has had armed police burst through the door of his rented flat, at 3:30 a.m., and stick a gun in his face. "It all happened super fast," he told me, "different guys screaming different things, they checked my passport and were out in under 10 minutes."
In my 10 years of covering Bilderberg I've never had a gun pulled on me, but I've been surrounded by a circle of yelling cops, been taken out of my room by armed police at 1 ia.m. and made to stand under a searchlight for half an hour, and I've tussled with an undercover Greek policeman in the Athens underground. It's been fun.
The publicity-shy Bilderberg summit is a three-day policy forum, attended by senior politicians, central bankers, elite financiers and the heads of some of the world's largest companies. It is run by the Vice Chairman of Nestlé, Henri de Castries, who is also on the board of HSBC.
The G7 pampers its vast army of reporters with free food and booze. At Bilderberg, the only journalists who get a free buffet are the ones actually taking part in the conference. Every year, a select group of friendly columnists and editors are invited to attend Bilderberg.
There are even two editors on the Bilderberg steering committee: Zanny Minton Beddoes of the Economist and her predecessor, John Micklethwait of Bloomberg. The Economist's connection with Bilderberg runs deep: On the board of the Economist Group are three members of Bilderberg's steering committee, including John Elkann who runs Exor, the holding company for the Agnelli billions. What's more, the Economist is actually part-owned by Exor.
Look into John Elkann's connections, and you'll find multiple editors. George Osborne, the former U.K. Chancellor and Bilderberg regular, is editor of the London Evening Standard. He's just been appointed by Elkann as chair of Exor's new business advisory council.
Also in Turin is Lucio Caracciolo, the editor-in-chief of the Italian geopolitical monthly, Limes, which is owned by GEDI Gruppo Editoriale. The vice president of the group? Che sorpresa! It's John Elkann.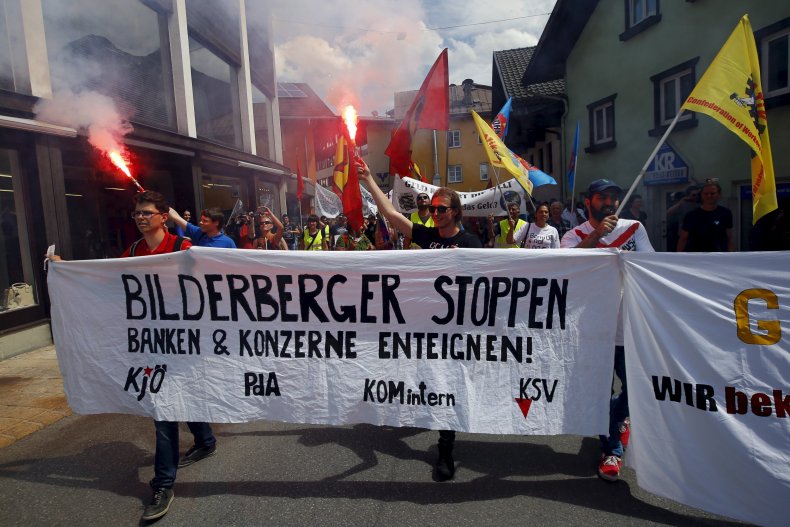 Elkann is organising the Turin conference, which kicks off today at Fiat's former headquarters. Already this year the billionaire grandson of Gianni Agnelli has pulled off a diplomatic coup by securing the invitation of Cardinal Pietro Parolin, the Secretary of State of the Vatican.
The talk of Turin is that Cardinal Parolin is in with a shout to be the next Pope. Bilderberg is well known for inviting rising stars to their conference: Governor Bill Clinton in 1991 is a good example. This year it's Colorado Governor John Hickenlooper, who's been touted as a candidate for the Democrats in 2020.
My own hot tip is for Canada's Minister of International Trade to become Prime Minister. I watched François-Philippe Champagne leave the airport and get into his limo, and in that short time he shook hands with everyone around him. Lots of eye contact, smiles, cheery remarks—completely at ease. A born politician. If he shakes the right hands and kisses the right rings at Bilderberg, he's a shoe-in.
That said, it's not great optics for the minister to be seen grinning and waving as he plunges headlong into a three-day maelstrom of big business lobbying to talk trade with Wall Street tycoons or blue-sky thinking with silicon valley venture capitalists, like his fellow Canadian Patrick Pichette—formerly a senior Google executive, now on the board of Twitter. All hungry for a piece of him (and his government contracts).
The Bilderberg conference is the Super Bowl of corporate lobbying. It's where the heads of giant corporations get to chew over policy with the policymakers; where the billionaire owners of colossal conglomerates get to mingle with ministers in glorious privacy.
What Bilderberg would say is that privacy is essential to the whole enterprise: If the group is going to solve the world's problems, it needs to brainstorm behind closed doors. This argument is made by Bilderberg itself: "Thanks to the private nature of the meeting, the participants are not bound by the conventions of their office."
And with the conventions of their office cast aside, discarded like a pair of trunks next to a jacuzzi, the politicians can happily clamber into the bubbles and frolic around with the heads of Shell, BP, Airbus, Total, Saab, Vodafone and Goldman Sachs International. And heaven forbid there should be any sort of conversation with the press about what went down in the tub. You know the rule: What happens at Bilderberg stays at Bilderberg.
But that's ok—because what happens is all for the good of everyone. According to Bilderberg itself, the conference is working for the "public good" by enabling participants to address "political, economic and social problems." These are the exact phrases used in the annual report of the Bilderberg Association, the U.K.-registered charity that enables corporate donors like BP and Goldman Sachs to cover conference costs.
What this requires, on the part of an assenting public and press, is a Bilderburgian leap of faith. You have to believe, honestly and sincerely, that the chairman of Goldman Sachs International is at Bilderberg to do "public good."
It's as simple as that. If you think it's ok (perhaps even preferable) that our elected officials should secrete themselves away to discuss global economic and social policy with all these brilliant financiers, media barons and billionaire industrialists, then you have to believe—truly believe—that the CEOs of Royal Dutch Shell, Ryanair and the Titan Cement Company have come to Bilderberg to do "public good."
You have to believe—say it out loud—that Brian Gilvary, the Chief Financial Officer of BP (the world's 12th biggest company, by revenue), has come to Bilderberg at the invitation of a director of BP, Sir John Sawers, in order to do "public good."
You have to believe—give me an amen!—that David Petraeus, the former director of the CIA and now a Wall Street investor, is trying to solve the problems of the world on our behalf. And not on behalf of KKR and his boss, Henry Kravis. He's in it for the love of fellow man.
And if you believe that Henry Kravis is at Bilderberg to do good, then fine, I'll see your Kravis and raise you a Kissinger.
And if you're still happy, then you've accepted the technocratic bargain. Let the technocrats reign: Let them quietly get on with running our societies, sorting out our problems, shaping our future, and telling us what's what in our "post-truth" world, and we can get on with watching Netflix. Because quite frankly, that's a full-time job.
Charlie Skelton is U.K.-based writer and journalist.
The views expressed in this article are the author's own.​​​