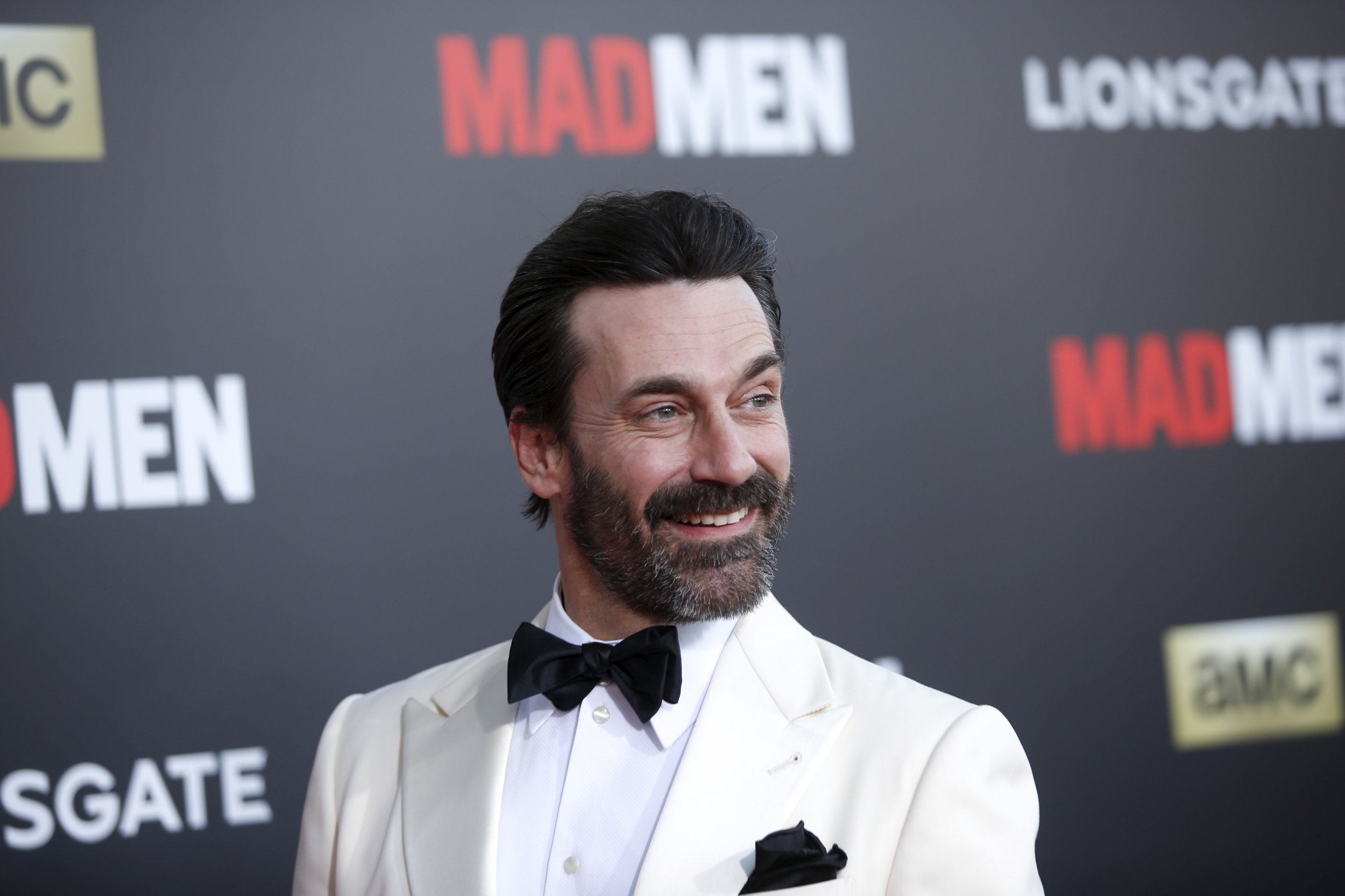 Updated | Warning: Mad Men spoilers ahead.
Don Draper sits in lotus position on a hilltop, the Pacific Ocean behind him. A meditation bell chimes, he grins and the sound of Coca-Cola's 1971 ad "I'd Like to Buy the World a Coke" begins to play. (Newsweek's John Walters predicted it would.) Then the real-life TV spot comes on screen and when it ends, Mad Men ends too. In the hours since Sunday night's finale, bloggers have suggested that perhaps the ending means Draper returned to McCann-Erickson and pitched the Coke idea. (The timing would work, as the episode takes place in late 1970 and, earlier in the episode, Peggy Olson tells Draper if he just returns to the office, he could work on Coke.) But the real ad has a long and storied history and a real McCann creative director behind it: Bill Backer.
Backer, who was born in 1926, joined the mailroom at McCann and ascended the ranks before leaving to create his own firm. He tells Newsweek he came up with "I'd like to buy the world a Coke" not while meditating in California, but while stranded at an airport in Ireland.
"We were on our way to London to record a group called the New Seekers, but we couldn't get into London. One of those yellow, soupy fogs had set in, so we were marooned in the Shannon Airport, which was not set up to handle big loads of offloaded passengers. So we were stuck in a tiny motel, sharing rooms, sleeping in the lobby, and we sat around with people from all over the world because the plane was going from London to Germany and then on to the Far East. So you had all types of people thrown together. And they sat with coffee or tea or Coca-Cola. Coca-Cola always prided itself on being the great social catalyst of the world."
That's when the tagline came to him. "Right there, I wrote it on an envelope…. I'd like to buy the world a Coke and keep it company."
"Like a lot of the best commercials, it was written while watching the product perform," he says.
According to Coca-Cola legend, when Backer finally arrived in London, he worked the idea over with a songwriting team that included Billy Davis, Roger Greenaway and Roger Cook, who helped turn it into a jingle. It ran first as a radio spot and later as a TV spot called "Hillside," which appears in Mad Men's final frames. The shoot didn't go smoothly—because of bad weather and other complications, production "eventually topped $250,000, a staggering amount in that era," according to Coke.
The TV spot audio features the New Seekers, who went on to record a pop song version of the jingle and still tours with original member Paul Layton. The song was a sleeper success for the group. "The New Seekers were rather taken aback at the interest," says Layton. "We had recorded a whole bunch of jingles for McCann-Erickson and thought nothing else of them really and certainly 'Buy the World a Coke' didn't stick in our minds at the time." After they recorded subsequent versions, however, "it all exploded…. The song has remained our biggest hit."
Nic Culverwell, the group's manager, adds, "They still sing the song as their finale in their shows around Europe."
The soft drink company also had another group, the Hillside Singers, named after the TV spot, record a pop song version. Al Ham wrote some new lyrics for that version of the song, and his wife and daughter are among those who sang on the track. "It was an amazingly popular song, and I'm still realizing how popular and how many lives it touched," says Lorri Hafer, Ham's daughter, who was 15 during recording.
Though the commercial featured the New Seekers, not the Hillside Singers, Hafer says, "People were emailing me today and telling me my song was on."
"It was one of these amazing things that happened and it turned into this amazing phenom," she says, adding that it was a career highlight for her father, who passed away in 2001.
Backer left McCann around 1979 to start his own agency, Backer and Spielvogel, which New York magazine later called "the hottest ad agency in town." Saatchi and Saatchi acquired it in 1986. These days, Backer is retired and lives on a farm in Virginia, where he races thoroughbred horses. He also serves as president of the Piedmont Foundation, which manages the funds for a local environmental council. He says he stopped watching Mad Men early on after "it became more and more of a soap opera and less about advertising." What he saw, he says, appeared to be "an accurate portrayal of a medium-size agency."
In the late 1960s, he adds, McCann's executive "began acquiring smaller agencies," though unlike the plotline in Mad Men's final episodes, "he left them separate."
Coming from Charleston, South Carolina, he says, he felt better equipped to handle an account like the Atlanta-based Coke. "It had been not a choice assignment at McCann-Erickson for some time because people in the North just didn't understand the iconic view that the South had of Coca-Cola. I shared the view of the product that Atlanta had, and my time was easier than my predecessors'."
As for Don Draper's final moments, Backer says it's unlikely that a creative director would have gotten away with skipping town and wandering around the country. "It's pretty hard to leave your clients totally without communication. I was never able to do that. Even when I was on vacation, I was available for problems that a client might be having…. In my day, you could take off, but not be on a mountaintop without a telephone."
He's not necessarily rushing to watch the finale. "I doubt that if I get it and watch it I'll have any better idea than you do now," he says.
Correction: This article previously stated that another former adman helped create the Coca-Cola "Hilltop" TV spot. That person has subsequently said that he cannot recall the extent of his participation.