Should Bump Stocks Be Illegal? Republicans Consider Banning Gun Tool After Las Vegas Mass Shooting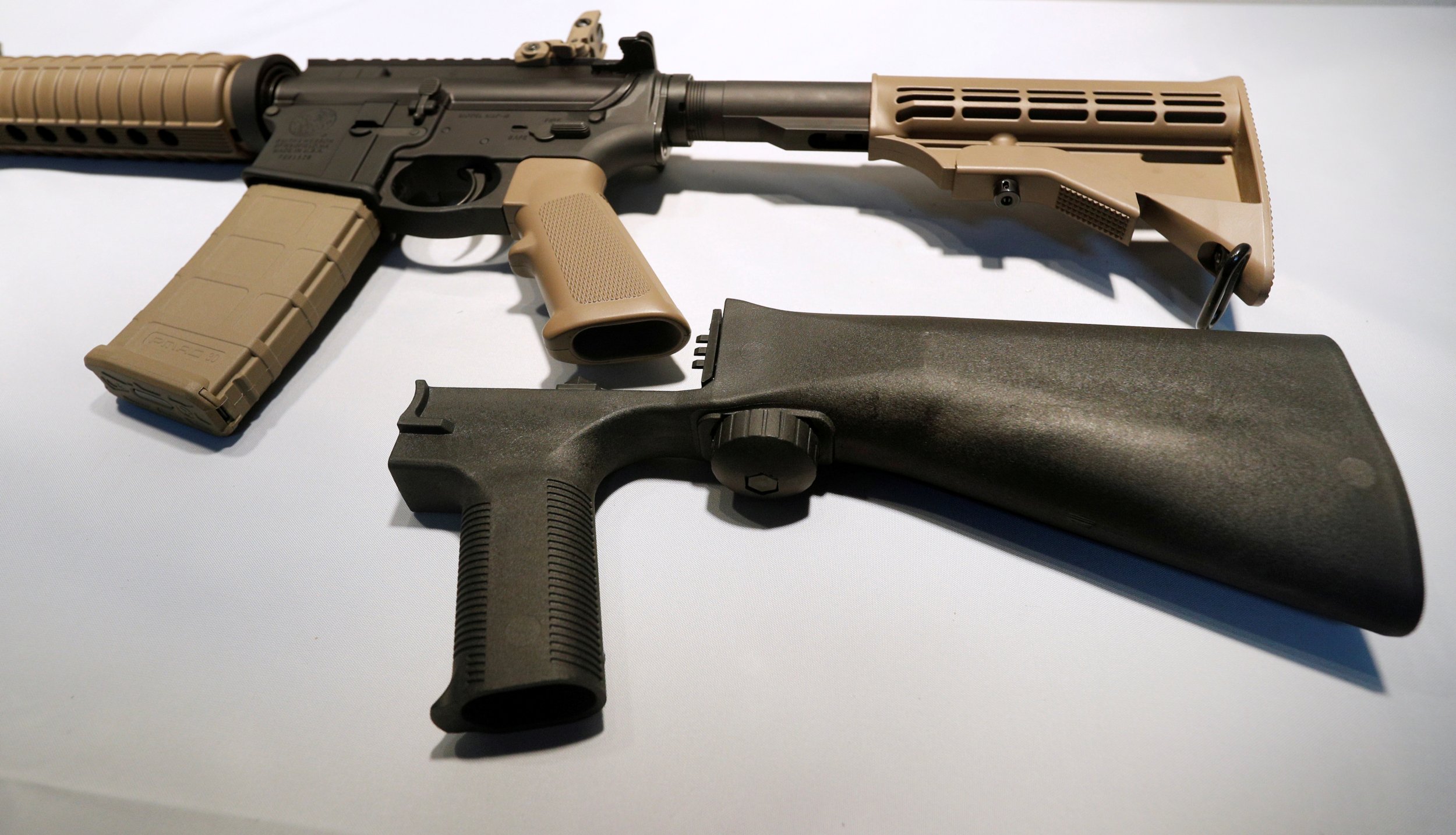 Bills banning rapid-fire bump stock devices, which were used by Las Vegas mass killer Stephen Paddock, are picking up GOP support. Under the bipartisan bill, to be introduced by Republican Florida Congressman Carlos Curbelo, the sale of the devices that are used to allow rifles to fire faster would be prohibited.
Police said that several of the 23 weapons stockpiled by Paddock in a Vegas hotel room for the Sunday night attack had been fitted with the devices. Paddock killed 58 people and wounded more than 500 when he opened from a 32nd floor hotel window.
Under current federal laws, fully automatic weapons are banned. However bump stocks, which were first developed to help disabled people to shoot weapons, are currently considered a part and are not regulated as firearms.
The devices constitute a shifting stock that allow a gun to slide backwards and forwards with the recoil of each shot fired, firing off up to 800 rounds a minute without the need to pull the trigger.
Curbelo's bill is expected to be filed in the House by the end of the week, while a bill banning the devices by Democrat Dianne Feinstein's is picking up cautious GOP support in the Senate.
The Curbelo bill has the backing of several House Republican moderates.
"I think they should be banned. There's no reason for a typical gun owner to own anything that converts a semi-automatic to something that behaves like an automatic," GOP Congressman Bill Flores, a gun owner, told The Hill in an interview Wednesday.
"Based on the videos I heard and saw, and now that I've studied up on what a bump stock is — I didn't know there was such a thing — there's no reason for it," he said. "I have no problem from banning myself from owning it."
A bill easing restrictions on the sale of silencers will not be voted on in the wake of the Vegas shooting, House Speaker Paul Ryan said Monday, with Republicans having previously opposed measures restricting firearms.
The Senate bill is being spearheaded by Feinstein, the ranking Democrat on the Judiciary Committee, and would ban bump stocks and other rapid fire devices.
Senate Republican Whip John Cornyn on Tuesday said the Judiciary Committee should hold hearings on the issue. "I think we need a hearing in the Judiciary Committee. I know everyone thinks they have all the information they need but I think that needs to develop as part of this investigation," he said, as cited by The Hill.
Senator Chuck Grassley, the chairman of the Senate judiciary committee, has called for a full investigation into the massacre in Las Vegas before he will call a meeting, reported CNN Thursday.
In order to pass, bills banning bump stocks would require the support of Congressional GOP leaders and President Donald Trump.