Bill Barr Mocked After 'Playing Dumb' Over Legality of Voting Twice
Attorney General William Barr was mocked for "playing dumb" after he claimed to be unaware of what state laws said on the legality of voting twice after President Donald Trump appeared to tell people to try and commit the crime.
Appearing on CNN on Wednesday, Barr said the president was trying to make the point that election monitoring was not good enough to prevent people from voting at polling stations if they already cast their ballots by mail.
But when he was pressed on the fact that such an action would be illegal, he said he was unaware of what state laws said about the legality of voting twice.
"I don't know what the law in the particular state says, and when that vote becomes final," Barr told CNN.
The network host Wolf Blitzer then asked: "Is there any state in which you can vote twice?"
"Maybe you can change your vote up to a particular time, I don't know what the law is," the attorney general replied.
Barr went on to say questions about the president's suggestion people vote twice were "cheap talk" surrounding concerns about mail-in voting being prone to acts of fraud. The administration has regularly floated theories about mail-in voting leading to mass voter fraud without evidence.
Reacting to Barr's remarks on Wednesday night, CNN host Chris Cuomo told viewers: "You're not allowed to vote twice. Like you need me to tell you that. Can you believe the attorney general of the United States is playing dumb about something like that? And why? Just to help his boy, because he's a trumpet. He's a pawn."
He later added that Barr knew "exactly" what Trump was trying to tell his supporters yesterday, and said the administration had no proof to show mail-in voting was more susceptible to abuse and fraud.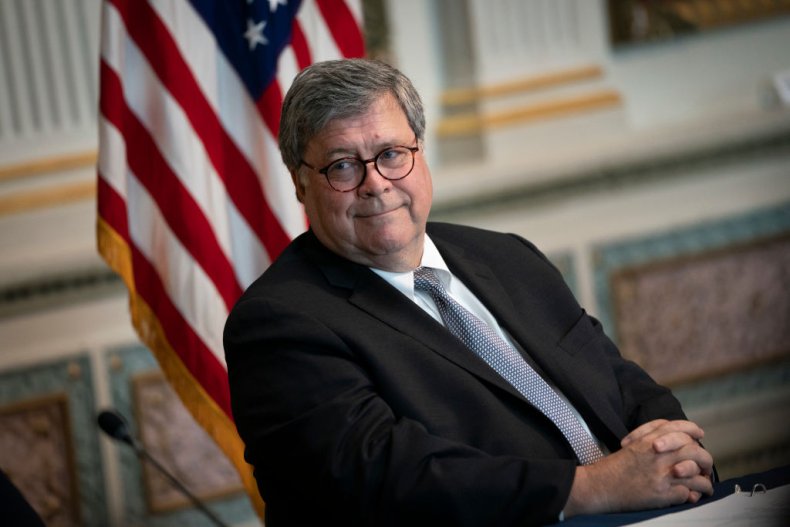 U.S. Congressman Ted Lieu of California (D) also weighed in on the attorney general's remarks to Blitzer yesterday.
"Dear anyone at [the Justice Department]: Can you please educate Bill Barr that it is illegal to vote twice," he tweeted. "And it's really, really easy to get caught since you are giving the evidence directly to the state."
Newsweek has contacted the Department of Justice for comment. This article will be updated with any response.
Barr claimed to be ignorant of laws against voting twice after Trump told North Carolina voters to send off their mail-in ballots and then try to vote at a polling station.
"Send in your ballots, send them in strong, whether it's solicited or unsolicited... and you send them in, but you go to vote," he told reporters. "And if they haven't counted it, you can vote."