Former White House Ethics Chief Calls Bill Barr 'Most Dangerous Attorney General in US History'
A former White House Ethics Chief under President George W. Bush described Attorney General William Barr as the "most dangerous" in United States history, citing what he described as religious zealotry.
Richard W. Painter shared a New York Times opinion article Tuesday saying that Barr is on a theocratic mission and is using Justice Department power to promote "religious nationalism." Painter argued that Barr is subverting the Constitution and appealing to conservative evangelicals for support. The former Bush administration attorney also touted a congressional candidate in Indiana who was the lone Notre Dame University Law School faculty member to publicly criticize what he called Barr's "dominionist rant" there in an October speech.
"Dominionist Attorney General Bill Barr in October attacked 'militant secularists' in an official speech before adoring crowds at@NDlaw. In 2020 he plans to put his plans into action. Barr is the most dangerous Attorney General in U.S. history," Painter declared on Twitter Tuesday.
In October, Barr gave a speech at Notre Dame Law School promoting "religious liberty" and warning about secular damnation – issues similar to those touted by Vice President Mike Pence. Painter remarked that "no decent Christian — or any other American committed to our founding principles — could accept the theocratic extremism of Attorney General William Barr." He shared a Times op-ed Tuesday entitled, "Bill Barr Thinks America Is Going to Hell," to illustrate his wider criticism of what he saw as Barr's attempt to hijack the DOJ and turn it into a weapon of religious fanaticism.
"Mr. Barr has embraced wholesale the 'religious liberty' rhetoric of today's Christian nationalist movement. When religious nationalists invoke 'religious freedom,' it is typically code for religious privilege," wrote religious extremism authors Katherine Stewart and Caroline Fredrickson in the op-ed.
Painter complained that he was blocked on Twitter by Richard "Rick" Garnett, a law professor and authority on religious liberty, after requesting in November that the faculty condemn Barr's "rant against 'militant secularists.'" Garnett described the same Times article shared by Painter as overblown and having received the "scare quote treatment."
Painter went on to say that religious extremism and "Bill Barr's 2020 America" is exactly the type of dystopian world envisioned in The Handmaid's Tale. He also told his 670,000 Twitter followers to donate to Democratic congressional candidate and Notre Dame Law Professor Pat Hackett.
"Meet @HackettCongress the only faculty member at @NDLaw to publicly condemn Attorney General Barr's dominionist rant last October. Now it's our turn to support Pat's bid for Congress!"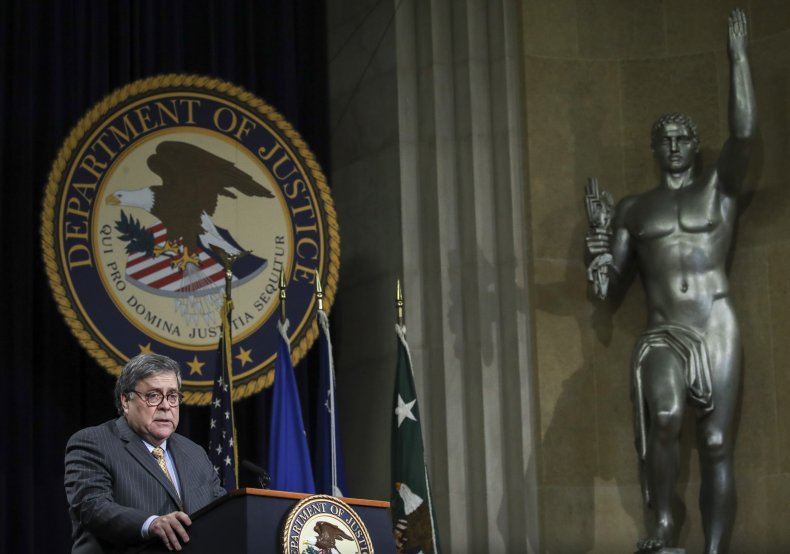 Painter did not immediately respond to Newsweek's request for comment Tuesday afternoon.