Bill Barr Praises Trump for Delivering COVID-19 Vaccine in Resignation Letter
Attorney General William Barr praised the accomplishments of President Donald Trump in his Monday resignation letter, including the Trump administration's quick actions in providing a COVID-19 vaccine.
The distribution of the COVID-19 vaccine began in the U.S. on Monday. According to data from Johns Hopkins University, the U.S. has reported 16,420,309 positive cases of the coronavirus. Trump had expressed displeasure with some of Barr's actions and statements which appeared to run in opposition to Trump's state policies. In his resignation letter, Barr said that Trump's actions on quickly creating a vaccine for COVID-19 were admirable.
"With Operation Warp Speed," Barr wrote, "you delivered a vaccine for coronavirus on a schedule no one thought conceivable—a feat that will undoubtedly save millions of lives."
Barr wrote that he was "greatly honored" to serve as Trump's Attorney General, saying Trump's record "is all the more historic because you accomplished it in the face of relentless, implacable resistance."
Barr is expected to be replaced by Deputy Attorney General Jeff Rosen. Newsweek reached out to the U.S. Department of Justice for comment.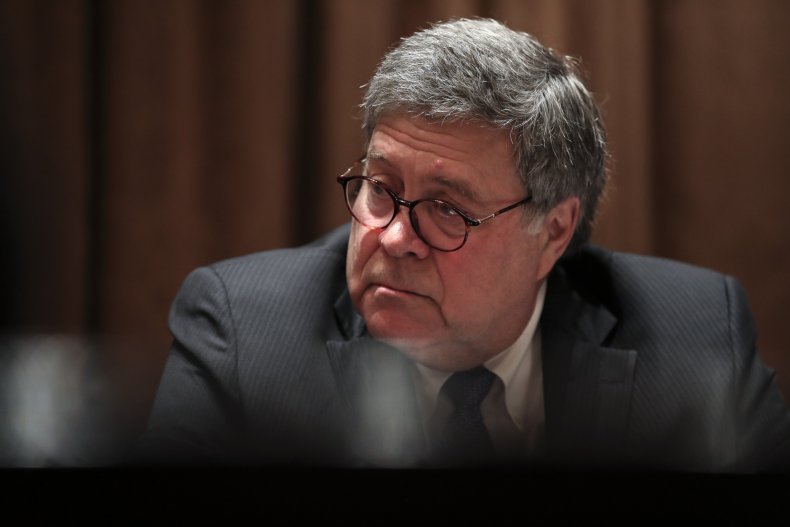 Barr was potentially exposed to COVID-19 in September after attending a White House event in celebration of the nomination of U.S. Supreme Court Justice Amy Coney Barrett. Some attendees, including former New Jersey Governor Chris Christie and former Trump adviser Kellyanne Conway, tested positive for the virus after the event. Barr declined to self-quarantine after receiving a negative COVID-19 test.
Trump has refused to concede the 2020 presidential election to Democratic President-elect Joe Biden. Instead, the president has baselessly alleged that his defeat was caused by widespread election fraud. Barr told the Associated Press in December that DOJ investigators had not uncovered "fraud on a scale that could have effected a different outcome in the election."
After Barr's comments, Trump declined to tell reporters in December if he still had confidence in Barr as his Attorney General. "Ask me that in a number of weeks from now," Trump said. "They should be looking at all of this fraud."
On Monday, Biden obtained more than the required number of votes to win the electoral college. Biden is expected to become president in January. While he has announced some members of his incoming administration, he has yet to announce who he will nominate to be the next Attorney General.