How Debra Messing, Rex Chapman and Others Reacted to Bill Barr Resigning
Attorney General William Barr has resigned from his position at the White House after clashing with President Donald Trump over the 2020 election in a move that prompted a huge reaction on Twitter.
Many celebrities and political commentators have reacted to the news, with several famous faces sharing their thoughts on the social media platform.
Trump tweeted Barr's resignation letter on Monday afternoon to confirm that his last day at the Justice Department would be December 23.
"I am greatly honored that you called on me to serve your Administration and the American people once again as Attorney General. I am proud to have played a role in the many successes and unprecedented achievements you have delivered for the American people. Your record is all the more historic because you accomplished it in the face of relentless, implacable resistance," Barr wrote.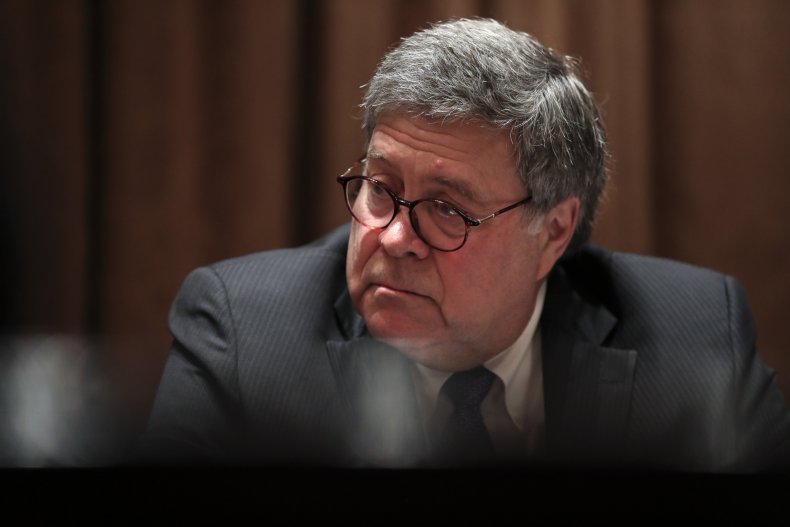 The announcement comes following Barr's declaration that the Justice Department found no evidence of widespread fraud at the 2020 presidential election.
Deputy Attorney General Jeff Rosen is set to become the acting attorney general, with Richard Donoghue now filling the deputy position.
"#BillBarr was #Trump's FIXER," actress Debra Messing tweeted.
"THEN Barr announced after an investigation, that there was NO widespread FRAUD in the 2020 election," the Will and Grace star added. "NONE. No evidence. NOTHING. THUS Bill Barr is OUT."
While former professional basketball player and social media influencer Rex Chapman said he wants "Barr investigated to the fullest extent of the law."
In another tweet he added: "It's weird how Bill Barr's resignation letter can say he's leaving — while at the same time making clear his lips will always be attached to Trump's a**."
Chapman also compared Barr to an official escaping onto a lifeboat during the sinking of the Titanic and shared a clip from the movie.
Author Don Winslow questioned whether Barr actually resigned or if he was fired, joking: "If Bill Barr resigned, I am six foot with a full head of hair."
TV writer Bryan Behar added: "Americans getting vaccinated, Biden wins the electoral college, and Bill Barr resigns. All the same day. Maybe I do believe in Hanukkah miracles."
Comedian John Fugelsang had some harsh words for Barr, retweeting a poem about the shooting of Jacob Blake.
In a newer tweet, he added: "Bill Barr has covered up more s*** than Cat Litter."
Billy Baldwin suggested that Barack Obama could replace Barr as Attorney General in Joe Biden's administration, tweeting: "Hey... Obama's available!!"
Founder of the Dem Coalition Scott Dworkin also tweeted that Barr was possibly fired, writing: "Let's be real. Barr was fired. And then likely forced to sign that weird resignation letter/love letter to Trump."