Bill Barr: Trump Accepted Resignation Over 'Bulls**t' Election Fraud Claims
Former U.S. Attorney General Bill Barr claims that former President Donald Trump let him go because Barr didn't believe the 2020 presidential election was stolen.
In an upcoming interview with NBC Nightly News, Barr told Lester Holt that he doubted Trump's claims of election fraud, calling them "bulls**t" in the process. In a heated exchange, the former Trump ally said that if Trump could not accept that election fraud claims were not real, Barr would have to resign.
"Then, boom, he slaps the desk," Barr said, "and then he said, 'accepted, accepted.' And then, boom, he slapped again. 'Accepted. Go home. Don't go back to your office. Go home. You're done.'"
Barr criticized the way that the election fraud claims were handled, saying that he thought it was wrong "to be shoveling it out the way his team was."
The interview was conducted to promote Barr's new memoir, One Damn Thing After Another: Memoirs of an Attorney General, due to be released in the coming days. In an excerpt published in The Wall Street Journal, Barr further described the conversation, claiming that Trump believed Barr was turning against him because he did not believe in the fraud claims.
"You must hate Trump. You would only do this if you hate Trump," Barr claimed Trump told him.
"Our mission is to investigate and prosecute actual fraud," Barr claimed to have responded. "The reason you are in this position is that you wheeled out a clown show, and no quality lawyers who would otherwise be willing to help will get anywhere near it."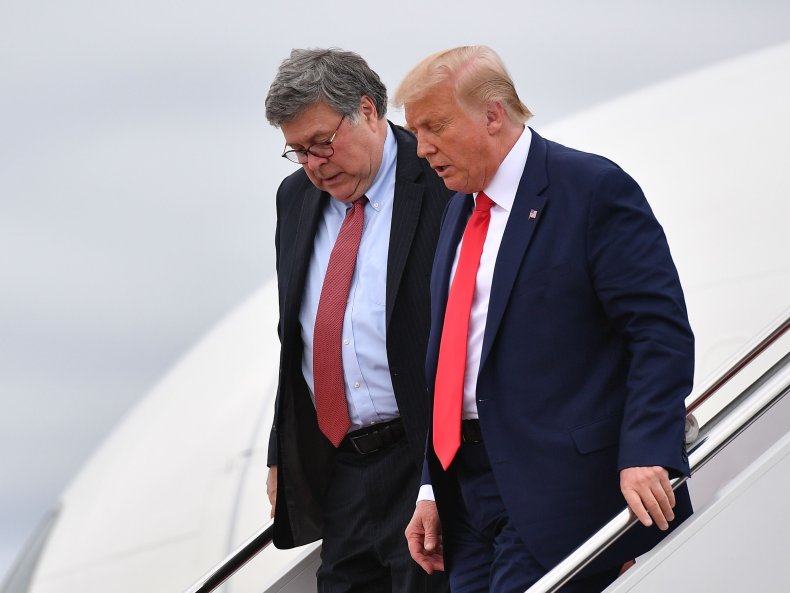 The interview is set to air partially on March 3, with the entire interview scheduled for March 6. It will be Barr's first televised interview since his departure from the Trump administration in December of 2020. However, it is not the only time that he has publicly spoken out against the former president's unproven claims of fraud after Joe Biden was voted into office.
"To date, we have not seen fraud on a scale that could have effected a different outcome in the election," Barr said in 2020, shortly before he left his position.
"Most claims of fraud are very particularized to a particular set of circumstances or actors or conduct. They are not systemic allegations, and those have been run down; they are being run down. Some have been broad and potentially cover a few thousand votes. They have been followed up on."
Barr's comments were made when the Department of Justice was still investigating Trump's claims that mass election fraud occurred during the 2020 presidential election. As of 2022, several investigations into the claims have been made, all of them concluding that there was no evidence of mass fraud that could have significantly affected the election.
Update 3/3/22, 3:29 p.m. ET: This story has been updated with additional information.