Bill Barr Rips Trump's 'Bulls***' Election Fraud Claims in New Book: 'It's Just a Joke'
William Barr, the former U.S. Attorney General, reportedly pulled no punches as he tore into Donald Trump's claims of widespread election fraud, insisting: "It was all bull****."
According to a new book, the Trump-appointed AG said he also told the then-president that attempts to overturn the 2020 presidential vote resembled a "clown show," adding: "No self-respecting lawyer is going anywhere near it. It's just a joke."
The remarks were detailed in a series of interviews with ABC's Jon Karl for the reporter's upcoming book Betrayal—the latest in a string of publications on the politics of Tump's White House.
Speaking last spring, Barr—a one time loyal supporter of Trump—told Karl that the claims mooted by the president and his allies were baseless, and that Republican Senate leader Mitch McConnell had been urging him to speak out against the allegations.
McConnell, according to Barr, wanted Trump's help in two runoff election campaigns in Georgia in January (both later lost by the GOP, giving Democrats control of the Senate).
"Look, we need the president in Georgia," McConnell reportedly told Barr, "and so we cannot be frontally attacking him right now. But you're in a better position to inject some reality into this situation. You are really the only one who can do it."
Instead, Barr at first gave prosecutors the go-ahead to investigate "substantial allegations" of vote irregularities that "could potentially impact the outcome," and told Karl that he set up his own unofficial inquiry into the most serious election claims.
He found no evidence of widespread voter fraud.
"My attitude was: It was put-up or shut-up time," Barr said according to an extract in The Atlantic. "If there was evidence of fraud, I had no motive to suppress it. But my suspicion all the way along was that there was nothing there. It was all bullshit."
One theory being spread by Trump allies at the time involved voting machines that were allegedly rigged to switch Trump votes to Biden votes. Again Barr found no cause for concern after briefings by DHS and FBI cyber-security experts, he said.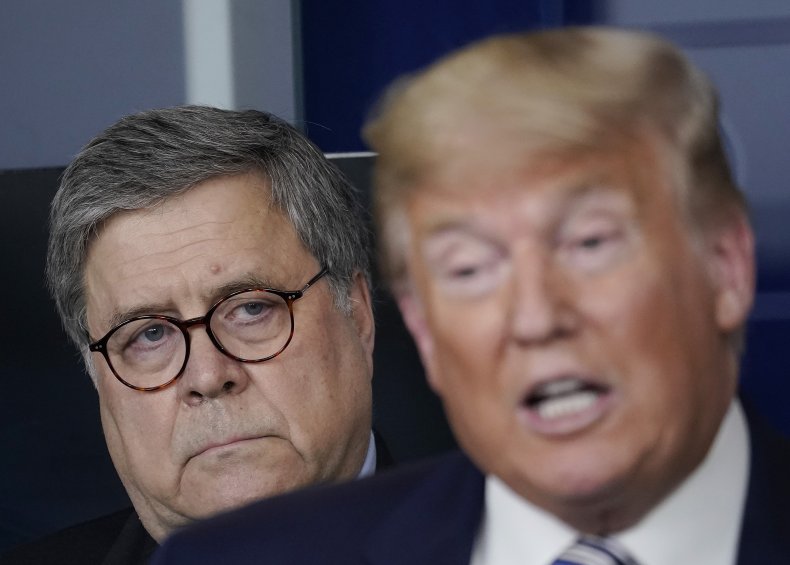 "We realized from the beginning it was just bullshit," said Barr, who reportedly noted any such changes would have shown up when they were recounted by hand.
"It's a counting machine, and they save everything that was counted. So you just reconcile the two. There had been no discrepancy reported anywhere, and I'm still not aware of any discrepancy."
On December 1, Barr—between bites of his salad in he AG's private dining room—reportedly told Michael Balsamo of the Associated Press that the DoJ had found no evidence of widespread voter fraud. The story dominated the day's news agenda.
On his next visit to the White House, later that same day, Barr reportedly met with Trump.
"Did you say that?" asked the then-president. "Yes," Barr responded.

Trump: "How the f*** could you do this to me? Why did you say it?"

"Because it's true," Barr riposted.
The book says that Trump was livid and exclaimed: "You must hate Trump. You must hate Trump."
At the same White House meeting, Barr reportedly told Trump: "You keep on saying that the Department of Justice is not looking at this stuff, and we are looking at it in a responsible way. But your people keep on shoveling this s*** out."
But he issued a warning to the then-President: "You know, you only have five weeks, Mr. President, after an election to make legal challenges," Barr said.
"This would have taken a crackerjack team with a really coherent and disciplined strategy. Instead, you have a clown show. No self-respecting lawyer is going anywhere near it. It's just a joke. That's why you are where you are."
Donald Trump and Mitch McConnell have been contacted for comment.